Ruby on Rails is one of the most in-demand back-end frameworks written in the Ruby programming language. It is the complete package to give life to your ideas and bring them to fruition. Whether you need to prototype or bootstrap a project from scratch using the best practices, RoR is undoubtedly one of the best choices for your software development. 
It wins the heart of entrepreneurs when it comes to web development. Ruby on Rails is the complete MVC framework to get started with web app development. This is because it comes with accurate solutions for databases like MySql. It's compatible with standards such as JSON or XML for data transfer through front-end languages that include HTML, JavaScript, and CSS for great UI.
If you're looking to outsource your software development, keep reading to find out more about Ruby on Rails developer rates in Asia; one of the most budget-friendly destinations to hire developers overseas.
1. Factors That Affect Ruby On Rails Development Cost
Skill Set & Experience of Developer
The Ruby on Rails development cost may vary depending upon the skillset and experience of the developer. Organizations prefer to hire developers who are able to seamlessly fulfill business requirements and complete the development successfully. Usually, developers' experiences can be categorized into 2 major categories, namely, junior and senior developers, with those with 5+ years of experience being categorized as seniors in their fields. As expected, the Ruby on Rails developer rates vary based on their experience levels as illustrated below: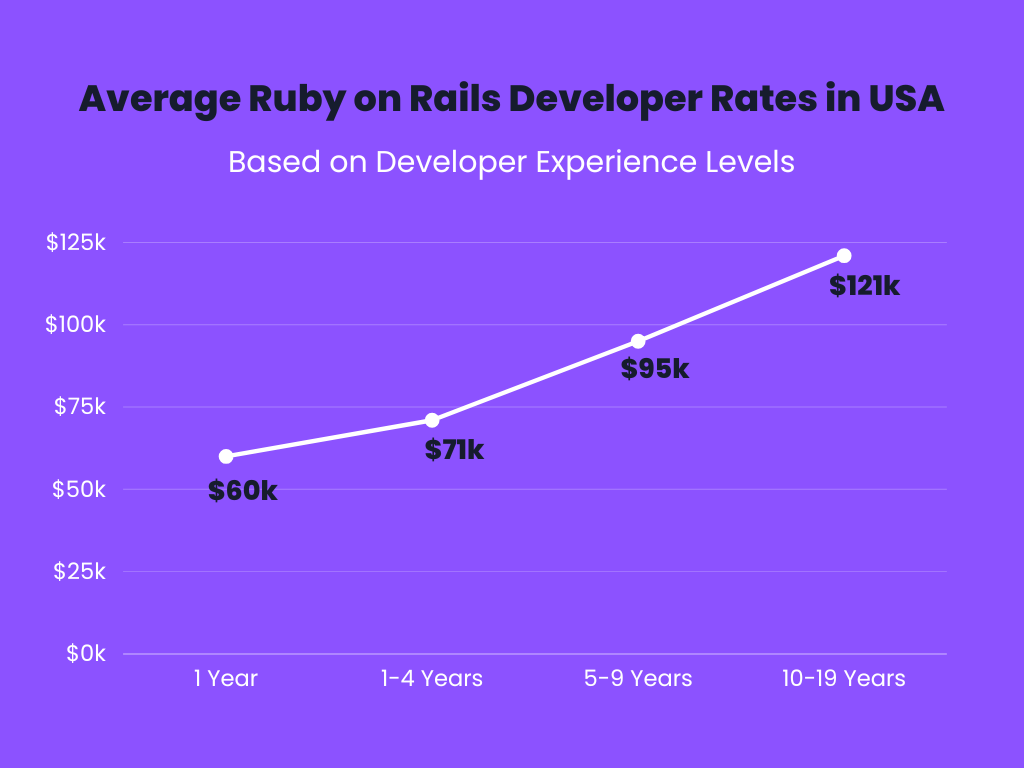 Junior Ruby on Rails Developer
These are the developers who have experience of fewer than 03 years. These developers have basic skills and knowledge of Ruby on Rails such as SQL. According to Upwork, the average hourly cost to hire a junior developer ranges from $35 to $50.
Senior Ruby on Rails Developer
Senior Ruby on Rails developers are highly experienced in Ruby on Rails technology and are also skilled in other back-end languages and frameworks. As a result, the average hourly cost for senior Ruby on Rails developers ranges from $40 to $100+ in the USA which can amount to a pretty steep price point if you are searching for senior RoR developers for hire. This is one of the reasons why it's more appealing to hire developers in Asia, as you can find senior talents at a much better price point from the Asian region.
Ruby on Rails Developer Rates Based on Pricing Model
The cost of hiring Ruby on Rails developers will depend partly on the talent pricing model utilized by the company/ platform you hire from. Some of the most popular developer pricing models used today include fixed-price mode, time and material model, and dedicated development team model.
Fixed Price Model
Just as the name suggests, the fixed-priced engagement model defines requirements and pricing for an entire project from the onset. However, this model comes with a few restrictions as it is expected that the project is completed within the initially stipulated deadline, and you have very little room to change the requirements or specifications while application development is in progress as changes are not accounted for the project price that's set at inception. Project management by the client is not mandatory in this engagement as it most often comes with a project manager in tow.
Time & Material Model
This engagement model is generally chosen by organizations that require talent partnerships for the long run with pre-defined business requirements. The time & material model brings more flexibility when compared to the project-based pricing model, and it divides the development process into multiple stages. This model permits negotiation for all development expenses. However, the project managers and supervisors will need to manage and supervise the project to ensure timely delivery as well as quality. If you hire a company like Unicorn.Dev, the flat rate for hiring developers is $35/hr and you're offered a 7-day risk-free trial for all of its talent. If you aren't satisfied with the developer, you can ask for a replacement or get a refund right away.
Dedicated Development Team Model
The dedicated development team model is a widely used engagement model for remote application development. The client will choose the development journey, plan, and strategy. A dedicated development team will work for the client and adapt to the client's working style. Enterprise-grade organizations and startups tend to use this model, as there's greater transparency and are perfect for fast market-ready software development. The dedicated development model uses a combination of the time and material model and a fixed price model. This model tends to be higher in cost than the previous two models.
Ruby on Rails Developer Rates Based on The Scope of The Project
This is an important component to keep in mind when hiring developers to build an application. For instance, if you're setting out to build a mobile app, there are two main operating systems nowadays. That's Android and IOS. Your choice on making the application available on one or both operating systems would have an impact on the development price point. If you intend to build two separate apps for each of the systems, as each product would be reliant on specific tools, the overall cost of development would increase. However, if you develop a cross-platform app that will fit both systems, it will be considerably cheaper. 
Third-party Integrations
Third-party software integrations have become an essential constituent of software development. Most software products are connected with other solutions the likes of APIs, payment gateways, various modules, and more. The use of these third-party integrations will impact the cost of development. Some third-party platforms might be available for free until a certain level, and then you'll have to pay a monthly fee. So, the cost of using third-party features can affect the overall cost of development.
2. Ruby on Rails Developer Rates: In-House Vs Remote
One of the biggest challenges when hiring an in-house team is finding the right people with the relevant expertise within the specified budget. Hiring professionals is always a tedious process. Typically, the entire process of hiring IT professionals takes over 60 days to complete. Hiring these developers costs both time and human effort. Also hiring a full-time in-house software engineer costs around $115,000 a year. Now multiply this by the number of developers required to complete your project. In addition, the employers would have to pay several additional overhead costs to employ staff on premises such as rent, insurance costs, utilities, administrative costs, and more. 
Other than paying salaries, companies will need to focus on providing a good work environment such as providing incentives and bonuses. This is why most companies opt for hiring remote employees as it is considerably cheaper. According to Deloitte's Global Outsourcing Survey of 2020, 70% of companies outsource developers.
Hiring remote developers on the other hand is a huge saving when compared to hiring in-office employees. The hiring process is also cheaper and you can select the best and top talent from a much wider global talent pool. In addition, you'll need good infrastructure when hiring in-house developers but when you work with remote developers, you can save on IT infrastructure and additional expenses like internet, electricity bills, and more. The average rate per hour when hiring RoR developers would range from $18-$50 per hour depending on the experience and geographical location of your developer.
3. Ruby on Rails Developer Rates Depending On The Location
The section below will give you an understanding of how the Ruby on Rails developer rates will depend on the location. The figures below show the average developer rate for different geographical regions.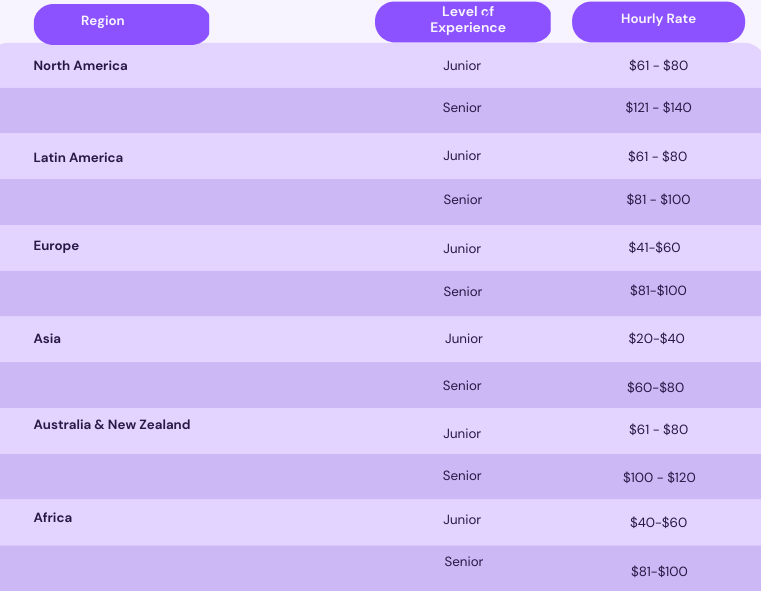 Out of all of these regions, it is evident that the Ruby on Rails developer rates in Asia is the lowest. The rates mentioned above are dynamic and can fluctuate depending on the organization you choose to hire your remote developers from. Hiring developers from emerging markets like the Philippines or Malaysia is a win-win for US-based companies. You can take advantage of the lower cost of living in these regions which thereby demands lower salaries for the workers while allowing space to work with more senior developers than your budget could afford in the US. 
4. How To Find & Hire Remote Developers: Looking For The Right Way
Direct Contractors
Direct contractors are developers who work freelance without the intervention of any platform, agency, or employment organization. These developers have a website detailing their services or use LinkedIn to promote their work. You'll have to work directly with them which means from the interviewing and onboarding processes to overseeing their work and product development has to be conducted by te clients themselves. This will save you money on recruitment fees and third-party expenses. 
Remote Freelancing Sites
Freelancing platforms like Upwork and Fiverr have grown in popularity over the years. You can either create a job listing and wait for freelancers to contact you or review available freelancers and message them straight away. There can be thousands of freelancers to choose from. Despite them being easy to use and convenient, it can be really hard to evaluate the skills of the developers and the developers will have to give a part of their pay to the platform. You'll need to do your own vetting and make sure each member can work together as a cohesive unit.
Talent Marketplaces
A talent marketplace is a platform that matches people to opportunities and potential roles based on their skills and preferences. An ideal talent marketplace will consider the entire individual, their skills, and competencies. The marketplace will build knowledge about their developers' capabilities and will match your requirements with the right developers. You do not have to waste time looking for candidates, reviewing, and selecting the right developers. If you hire a company like Unicorn.Dev, which has its own pool of elite developers. All of its developers have at least 5+ years of experience. These developers are selected based on an extensive 5-step vetting process.
Unicorn.Dev makes sure to find the right developer for your project within 24 hours. Once a suitable developer has been selected, you'll be able to communicate with the developer via a private Slack channel. In addition, you have access to flexible contracts. This includes part-time, full-time, and even project-based contracts. You can even pay as you go which involves minimum commitment. If you find a developer that you're pleased with, you can even buy him/her off the platform.
To cope with the time difference, you are provided a daily 4-hour time zone overlap. This makes collaboration between you and your team smoother. ​​Schedule a call here to find out more information about the services it offers.
5. Factors To Consider When Hiring Ruby on Rails Developers
Experience
Prior experience is of utmost importance when hiring developers. The number and the type of projects the developer has delivered, and the clients he/she has worked with will give you an overview of the developer's exposure. Always select a developer with hands-on experience. Along with the experience, the developer needs to be equipped with technical expertise.
Soft Skills
Soft skills are mandatory for the successful completion of a project and it's especially so if you're going the remote hiring route. Communication skills such as good listening and comprehension can make or break a project. Your new talents should have the skill set to understand customer requirements and be able to work collaboratively with the rest of the team. Lone rangers in a team are usually low on soft skills and this can lead to misunderstandings. Therefore it is important to hire developers that are able to listen, communicate and collaborate with the rest of the development team when needed.
Prototyping And Rigorous Testing
Do not rush into deciding which developer to hire. Give preference to developers who give importance to prototyping and testing. These are two vital elements of the software development process. The developers shouldn't be in a hurry to get the product to the market. They should be capable of polishing your end product and ensuring that no issues arise before the launch.