Discover the Best 8 Toptal Competitors for Hiring Skilled Freelance Developers in 2023
Toptal has been a top contender among tech-talent marketplaces for startups and entrepreneurs looking to hire software developers, designers, and project managers for their varying technical requirements.
TL;DR
Our list of Toptal Competitors for 2023:
Unicorn.Dev: Unicorn.Dev presents a diverse selection of remote developers and designers who have undergone rigorous screening. They offer their services at a flat rate of $35 per hour.
CloudDevs: CloudDevs offers the opportunity to hire highly vetted developers and designers from Latin America, tailored to your time zone, within just 24 hours. Their hourly rates range from $45 to $70.
Gigster: Gigster offers the option to outsource your project to an elite tech team. Their development services begin at a minimum project fee of $52,000.
Upwork: Upwork serves as a global marketplace, linking businesses worldwide with freelance talents in various industries. Rates for specific skills may vary.
Fiverr: Fiverr operates as an online marketplace connecting clients with freelancers across a wide range of digital services. The platform does not pre-screen its freelancers.
PeoplePerHour: PeoplePerHour allows clients to connect with freelancers across industries for diverse project needs. Flexible rates based on specific expertise.
Arc.Dev: Arc.Dev is a trusted platform for curated high-end remote developers and designers at 60 to 150+ USD per hour with seamless collaboration.
Codeable: Codeable specializes in connecting clients with WordPress experts for custom website development. Their rates start at $70 per hour.
So What Does Toptal Offer?‍
Toptal conducts a rigorous screening process with multiple stages of vetting in order to ensure the quality of its talent.
Their vetting process ensures that all their freelance developers and designers are some of the best tech talent available.
They offer programmers for both short-term and full-time engagements that are sourced from around the globe.
Toptal's talents are matched to the specific needs of their clients whether it's web development, product development, or application development.
Toptal offers its talent the ability to set its own rates, and as such depending on the skillset, expertise, and location of the developer you're matched with, the hourly rates may vary.
While Toptal has an extensive pool of devs, they're mostly freelancers that work full-time at some of the largest firms in the tech industry. Due to this reason, finding the right talent match for your needs would be based on the availability of developers.
Working at Toptal
Toptal careers are considered one of the most lucrative for elite freelancers. Toptal jobs offer a wider range for freelancers as the talent platform provides developers, designers, and project managers. When working for Toptal, freelancers are allowed to quote their own price allowing more flexibility to the talent compared to other Toptal competitors. The platform takes pride in its screening and vetting system that's used to select the best talent and all freelancers that wish to enter the pool are required to go through multiple screening stages. What's more, Toptal's interview questions are considered some of the toughest to get right.
Why Should You Consider Toptal Competitors for Your Developer Hiring Requirements?
Over time, the freelance talent-hiring industry has expanded. Today, more and more startups and companies of all sizes are on the lookout for remote workers and choosing to work with freelance tech talent.
According to Toptal customer reviews, it is one of the high-end talent marketplaces accessible today, with Toptal developers costing between 75 to 200 USD per hour and Toptal designers costing around 70 to 150 USD per hour.
This has given room for a range of Toptal competitors to enter the talent-hiring industry by offering their own freelancer marketplaces with distinctive talent services and varying price points that make it viable for startups, entrepreneurs as well as larger organizations looking to scale up to find pre-vetted tech talent with whom you can collaborate with ease.
‍
8 Toptal Competitors to Hire Your Next Remote Developer:
So let us take a look at some of the best Toptal competitors you should consider when choosing the best software engineers for your tech startup and development requirements.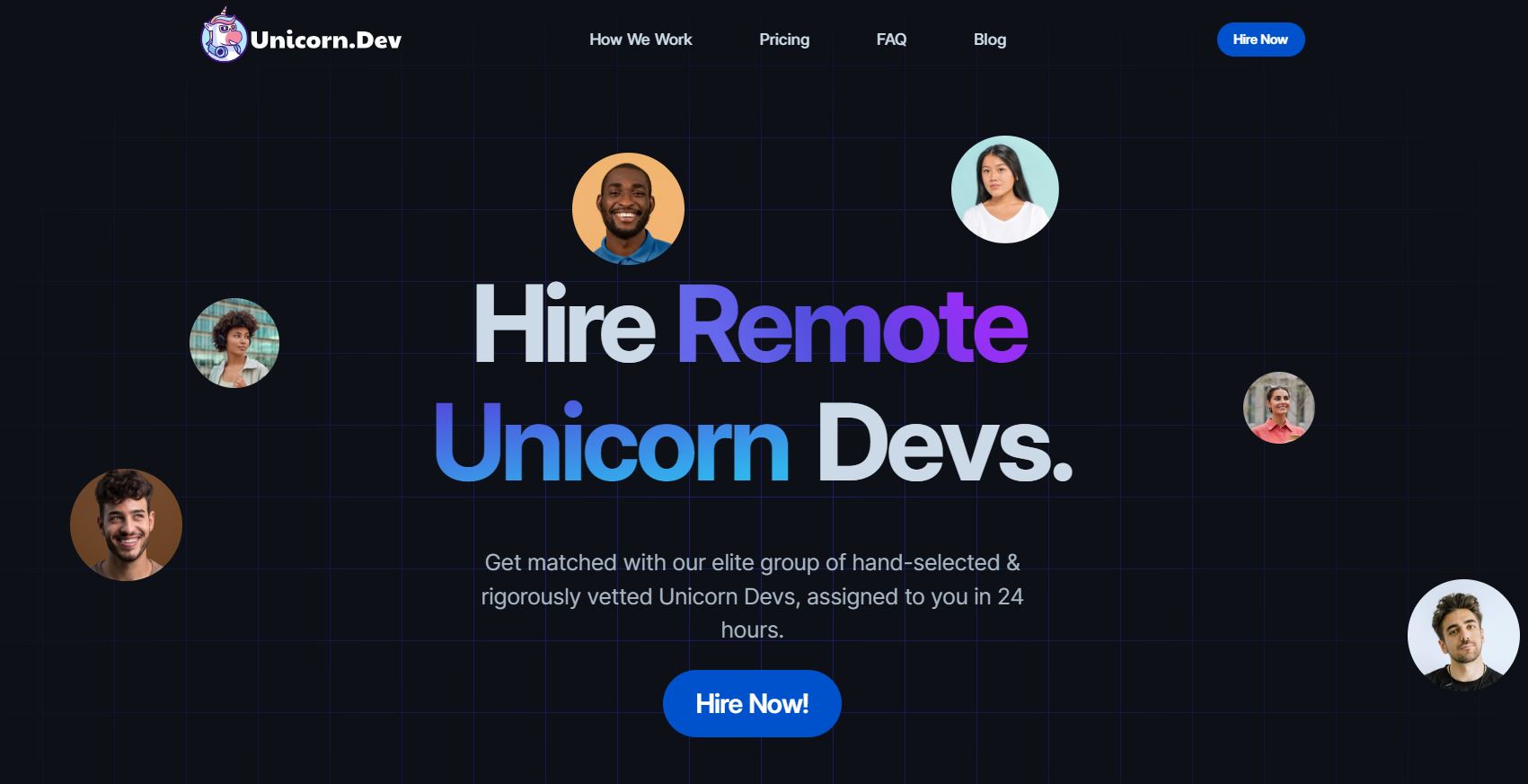 ‍
It is your one-stop shop for hiring remote tech talent. You can source senior tech talent from its global pool of 8000+ pre-vetted developers and designers. Compared to other Toptal competitors, Unicorn.Dev ensures that all their senior talent has at least 5 years of experience. Unicorn.dev handles all of your talent management, payments, and compliance, so you don't have to worry about anything else. Unlike Toptal, you'll be able to begin working with your assigned talent within 24 hours via your private Slack workspace.
Developer Pricing:
Unicorn.dev charges a flat rate of $35 per hour.
Developer Hiring Time:
The average hiring time for a Unicorn.Dev from its talent pool is 24 hours.
Developer Vetting Process:
Unicorn.Dev employs a stringent vetting process to make sure its clients from all around the world receive the best quality of work.
This includes a 5-stage vetting process:
Discovering and interviewing
Coding challenge to determine the quality and coding speed
Problem-solving challenge incorporating logical thinking
Background check to screen references
Client's evaluation process to help clients evaluate the talent themselves
Continuous monitoring and assessment to ensure high standards are maintained, making Unicorn Devs a close substitute for Toptal freelancers.
Talent Trial Period:
All Unicorn developers come with a 7-day free trial so you may test out your new talent match. If at any point during the trial, you feel they aren't the right fit, you can immediately get them replaced for a new dev that comes with another 7-day trial, or you may walk away no questions asked.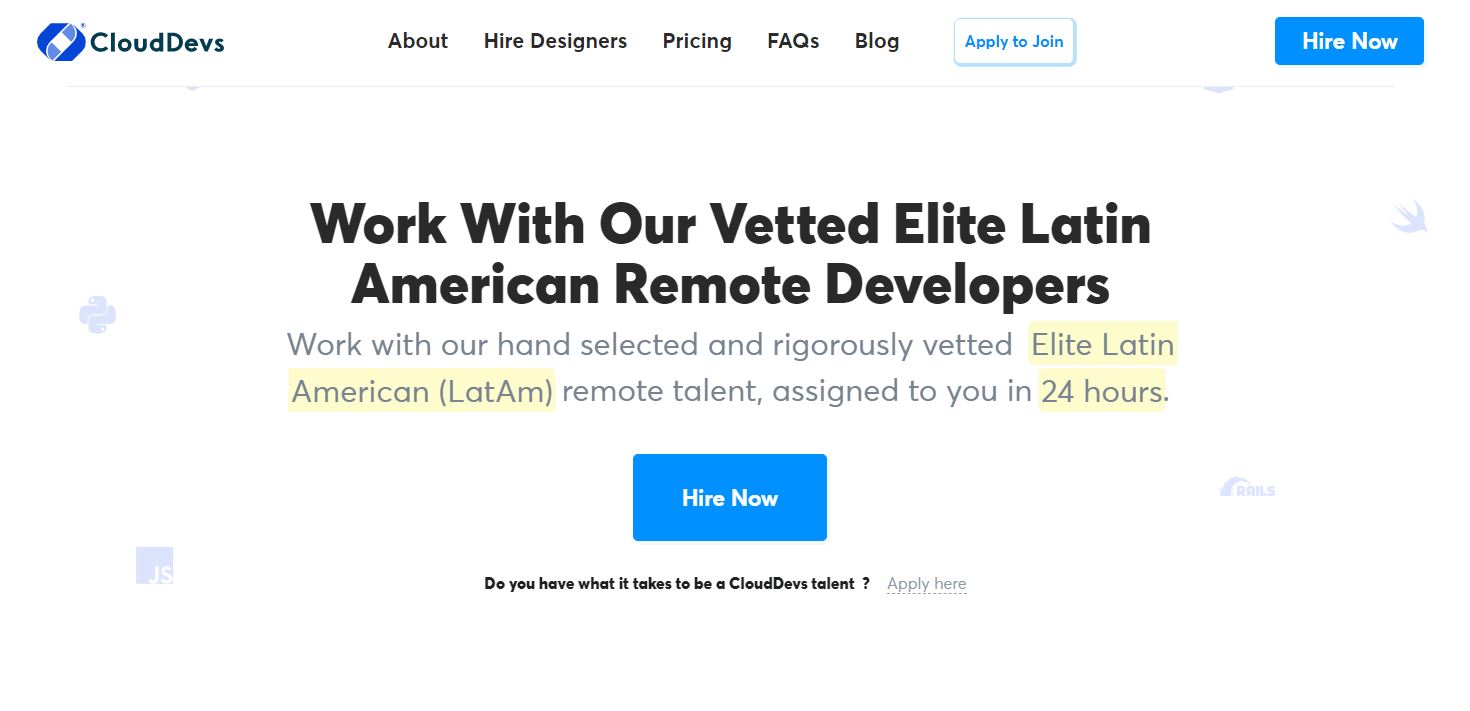 ‍
CloudDevs is a recognized Toptal alternative that offers pre-vetted freelance developers and designers for hire. With a talent pool of 8000+ elite senior developers and designers from Europe and Latin America, CloudDevs ensures that its clients' demands are met within 24 hours. The entire business is conducted remotely so they're able to keep their overheads low and provide the lowest possible rate to their clients. It is the only top-ranked Toptal alternative to offer a reasonable cost without sacrificing quality.
Developer Pricing:
CloudDevs charges a flat rate of only $40 per hour.
Developer Hiring Time:
The average hiring time for a CloudDev talent from its talent pool is between 24 to 48 hours.
Developer Vetting Process:
CloudDevs comprehensive vetting process consists of 6 steps to ensure that all candidates have the requisite technical skills and English proficiency to perform at their best.
This 5-stage screening process consists of the following steps:
Discovery
Coding challenge
Problem-solving challenge
Background check
Client's evaluation
Continuous monitoring
Talent Trial Period:
Unlike other companies similar to Toptal, all CloudDevs talents come with a 7-day free trial so you can try out your new talent match. If at any point during the trial, you feel they aren't the perfect fit, you can immediately get them replaced for a new dev that comes with another 7-day trial, or you may walk away no questions asked.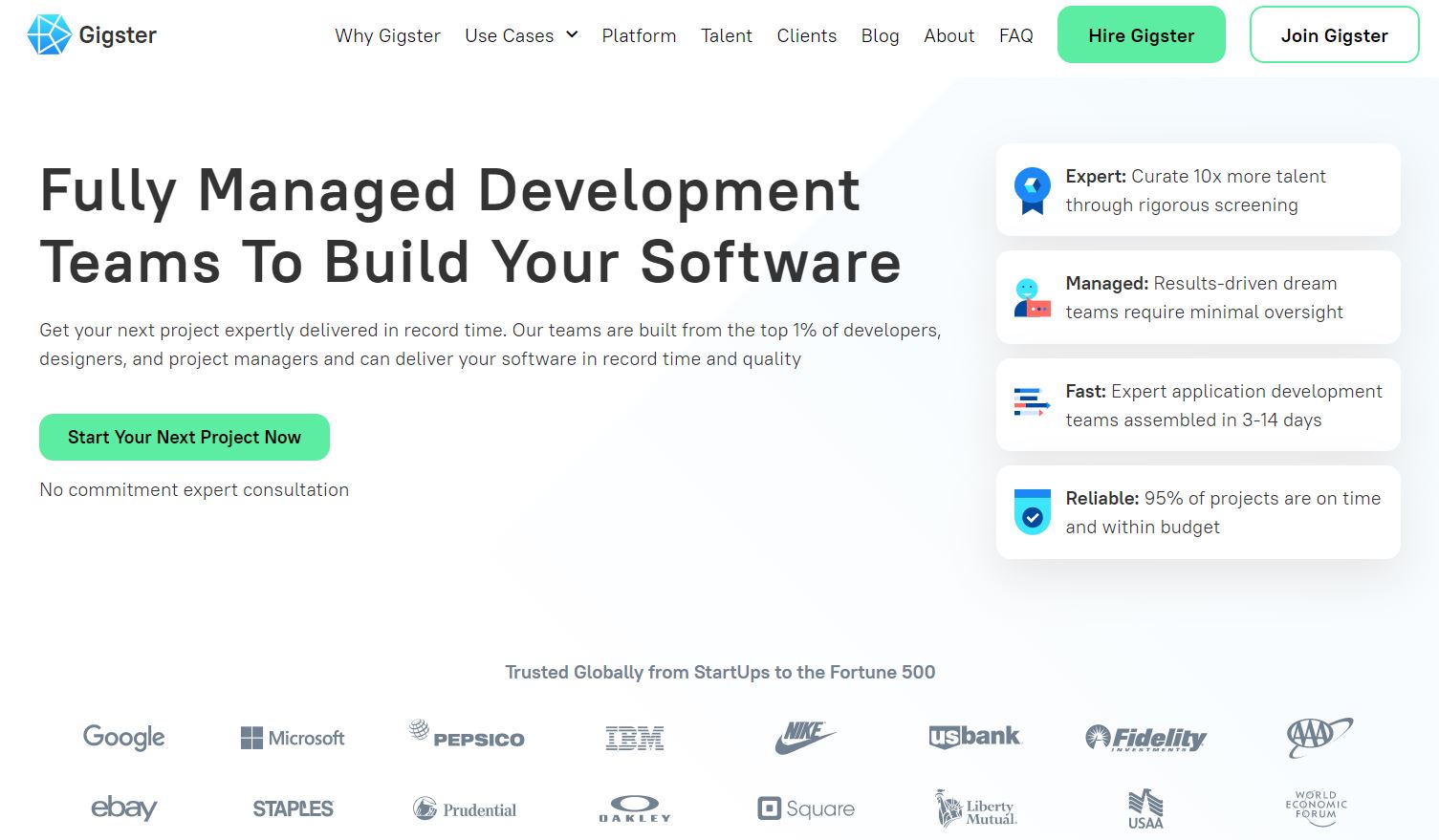 ‍
Gigster is the perfect Toptal alternative platform for enterprises looking to quickly augment their tech team. It lets you assemble an entire tech team in 3-14 days. Gigster uses AI-based algorithms to assemble the right team for your project based on the scope and customer requirements. Compared to Toptal, they only take on projects that are worth above a certain minimum threshold and you can obtain complete ownership and license for the software built.
Developer Pricing:
It depends on the complexity, type, and speed of the project. For eg: Apps for different devices can cost as little as $52,000.
Developer Hiring Time:
According to Gigster, they are able to find you a dev team for your project within 2 weeks.
Developer Vetting Process:
It doesn't have a vetting process to filter out its developers.
Talent Trial Period:
Gigster does not provide a trial period with their dev team.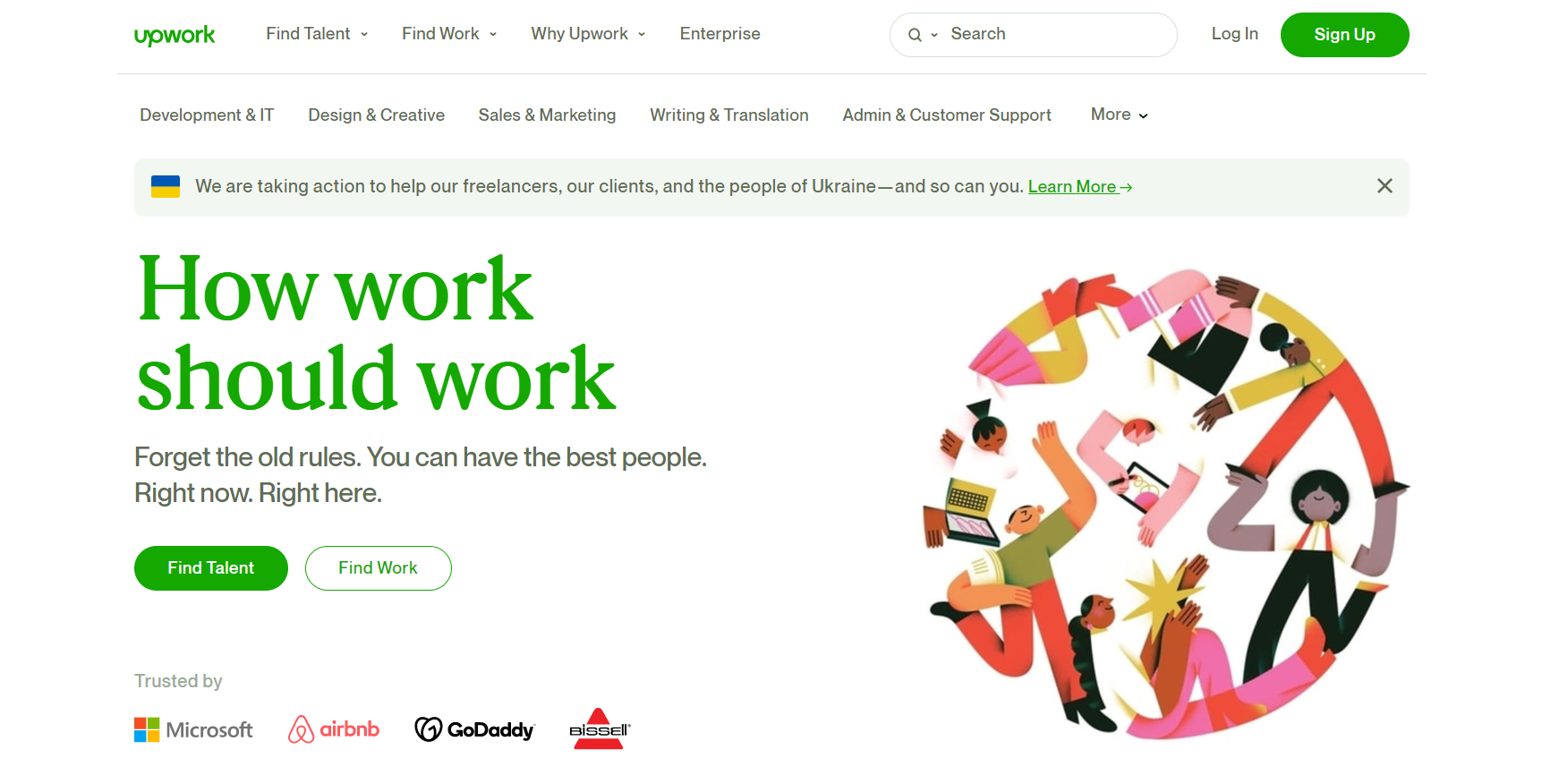 ‍
Upwork has been on the market for over 10 years and is a great Toptal alternative for small businesses where cost is the main concern. It has a huge database of freelancers in over 50 verticals, including freelance developers, designers, writers, and video editors. Unlike Toptal freelancers, Upwork talents aren't vetted, so you would have to allocate more time and resources to vetting the talent yourself when hiring from sites like Upwork. Upwork isn't as much of a fit as Toptal if you're looking for developers for a long-term project, but it is an affordable Toptal alternative where you are able to browse talent from various categories and you're provided 24/7 support if needed.
Developer Pricing:
The average rates of developers start as low as $8-$15/hr and go up to $200/hr.
Developer Hiring Time:
Hiring and finalizing talent through Upwork can take from several weeks to months as it is yet another platform that does not offer pre-vetted talent and you would have to conduct multiple interview and screening processes yourself.
Developer Vetting Process:
It doesn't screen its developers. Instead, their profiles are uploaded on the site with samples, client reviews, and identity verification to choose the most suitable one.
Talent Trial Period:
Upwork does not offer a trial period for their talent.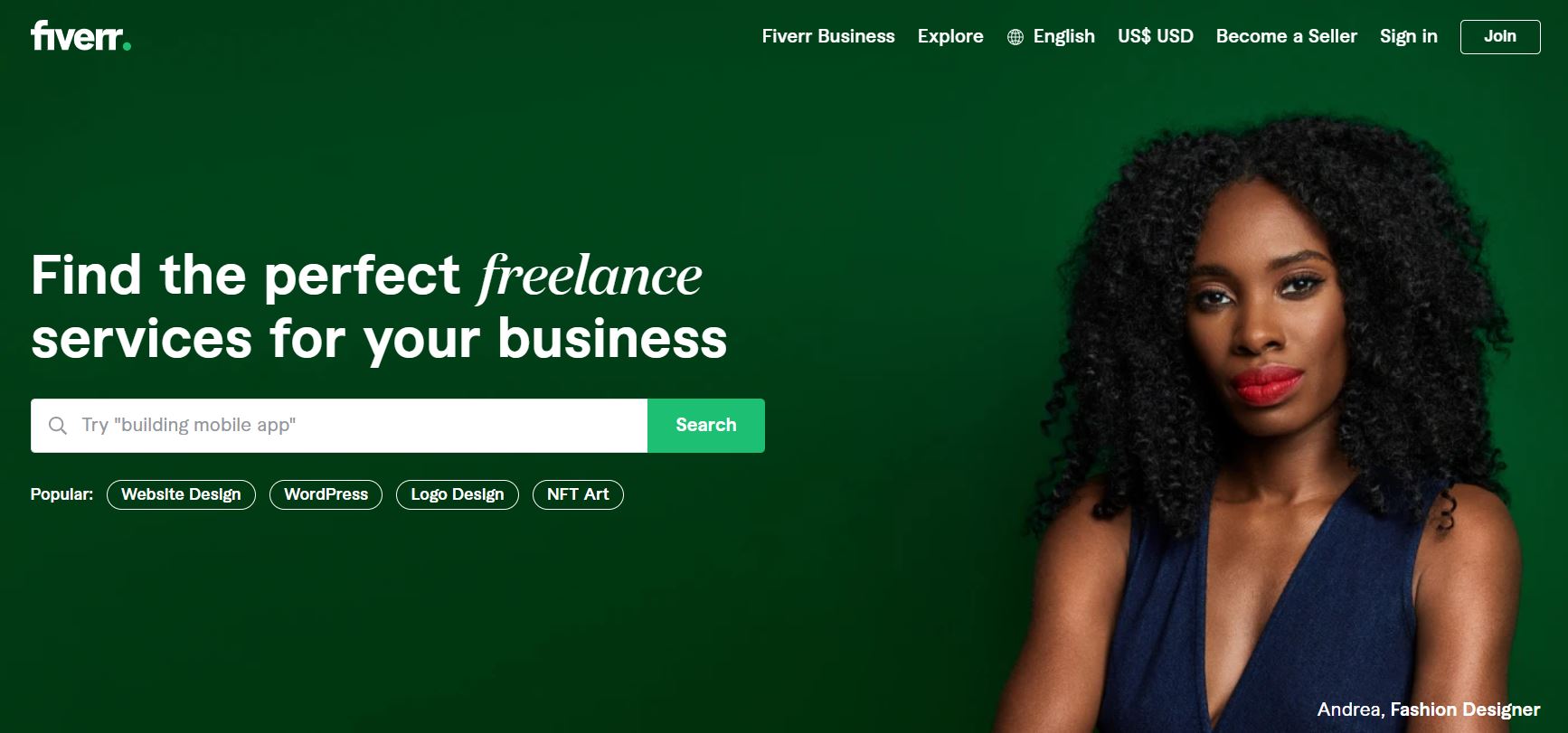 ‍
Fiverr is a convenient service that popularized the concept of hiring developers based on orders. It is the ideal Toptal alternative for hiring talent for one-time or small-scale projects. Fiverr is the hub for cheap-skilled labor and you can search for freelancers based on their profiles and review all the details and ratings to ensure you're making the right pick.
Developer Pricing:
Freelancers charge between $5-$995 depending on the project.
Developer Hiring Time:
While Fiverr claims that you can find a talent match within 1 to 3 days, you would require sufficient time to interview and screen your potential hires and this may take up to 3 weeks.
Developer Vetting Process:
Due to a large number of candidates available on the site, Fiverr is unable to check the competence level of these freelancers.
Talent Trial Period:
Fiverr does not offer a trial period for their talent.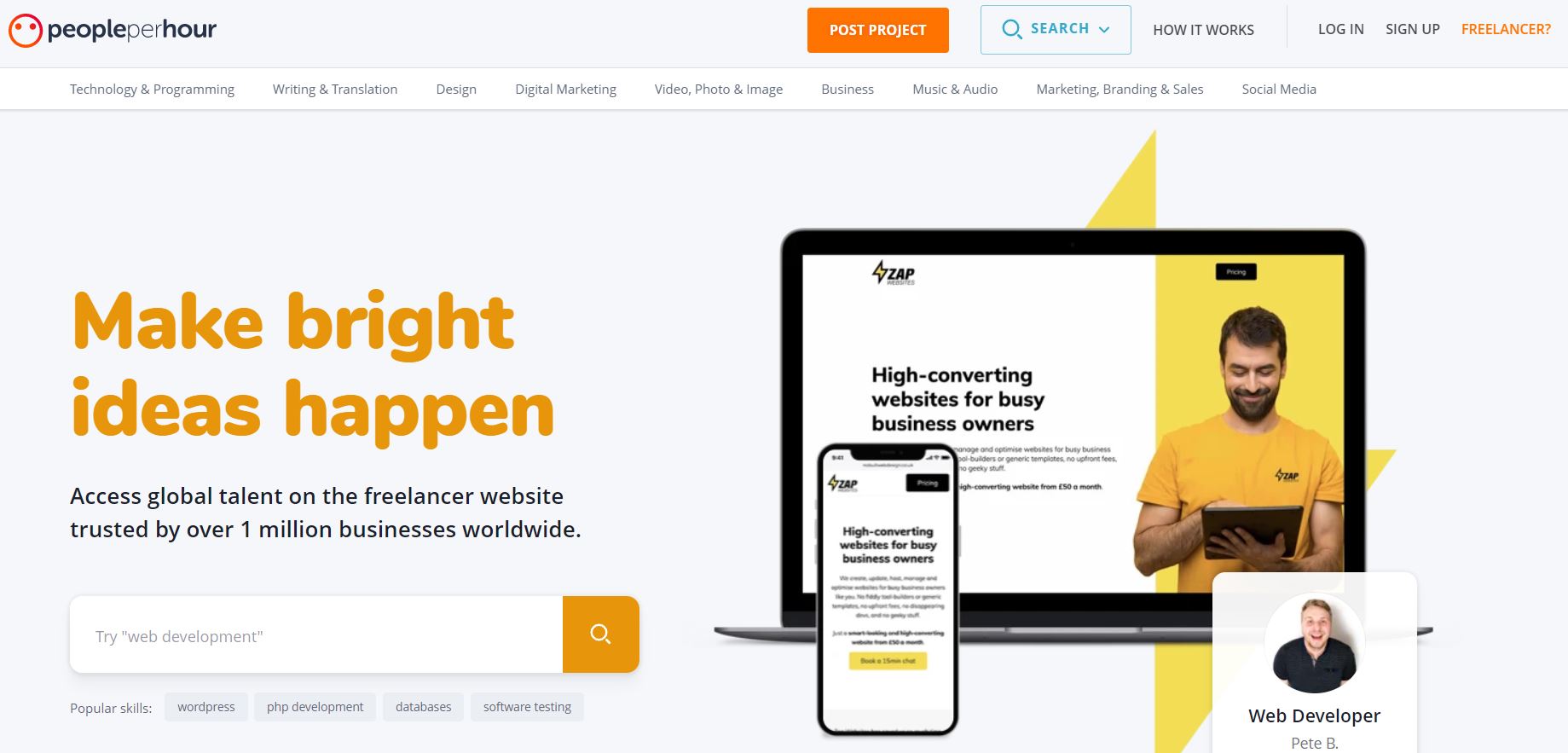 ‍
People per hour is a long-standing freelancer platform that has been in operation longer than Toptal. This Toptal alternative has been in operation since 2007 and does a splendid job of making sure that its clients are matched with expert freelancers within minutes. They have a dedicated customer service team available 24/7 to assist you. People per hour offers a money-back guarantee and anti-fraud protection to ensure the security of your transactions. Its job seekers are scattered across a range of specialties, including programmers, design developers, SEO professionals, and writers.
Developer Pricing:
You can expect to find a developer on People per hour in the range of $15-$50.
Developer Hiring Time:
It can take several weeks to find the tech talent you're searching for through PeoplePerHour.
Developer Vetting Process:
Every freelancer must be approved by People per hour in order to join.
‍Talent Trial Period:
There is no trial period on offer with PeoplePerHour talent.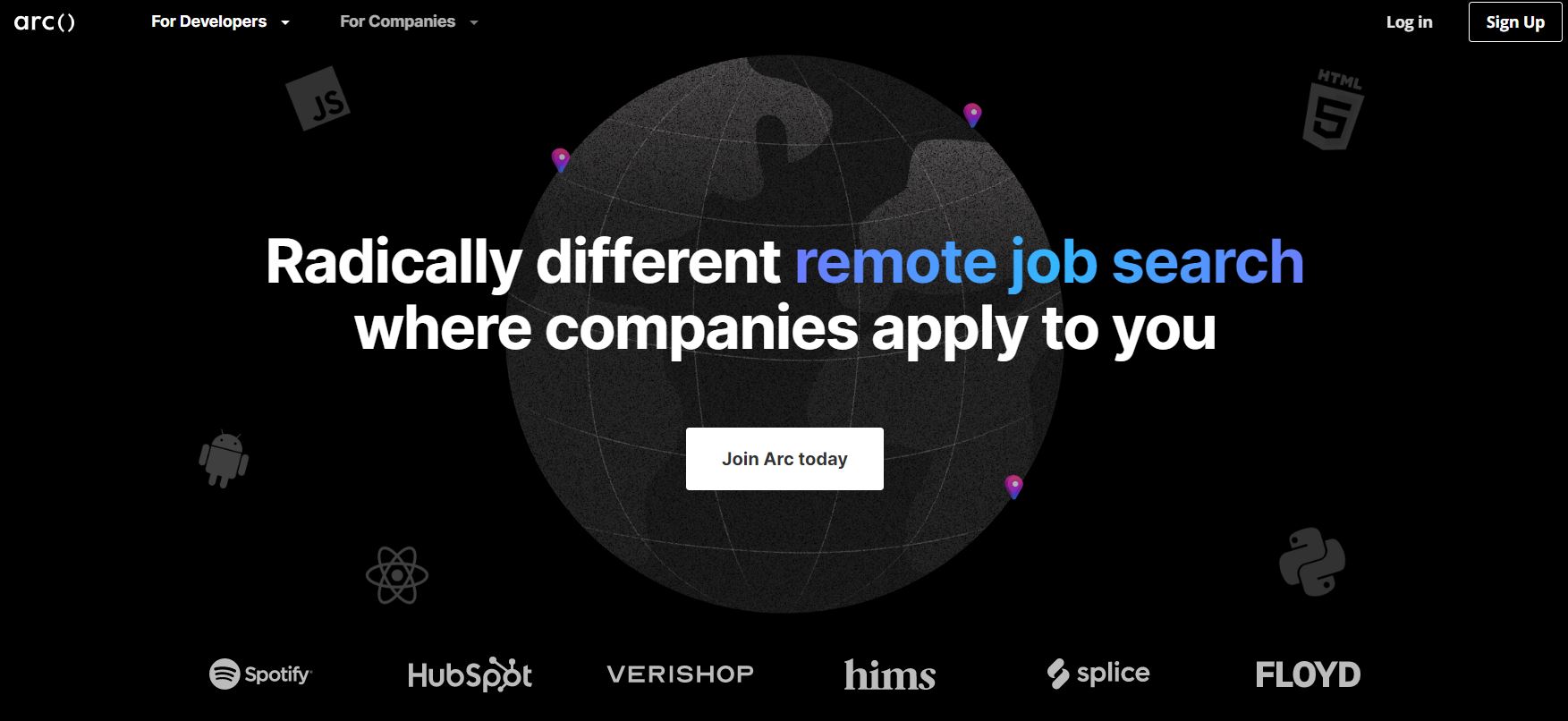 Arc.dev covers every tech stack and time zone and makes sure to deliver complex projects under tight deadlines in a variety of industries. Like most other Toptal competitors you are able to hire both permanent and freelance remote developers, as well as access "hidden gems" outside your local area. Arc.dev lets you hire freelance developers in 72 hours and permanent developers can take up to 14 days.
Developer Pricing:
Arc.dev lies in the higher price scale with developers costing anything upwards of $60 to $200 per hour.
Developer Hiring Time:
You can expect to hire a developer from Arc.Dev within 1 to 3 weeks.
Developer Vetting Process:
It uses a Silicon Valley-calibre vetting process similar to Toptal. Initially, they examine a candidate's English proficiency and technical skills. Then you'll be invited to a "Quick Chat" to introduce yourself and answer questions to verify your eligibility. This is followed by a technical skills assessment, such as a coding challenge or online technical interview.
‍Talent Trial Period:
Arc will provide you with a two-week trial for developers hired on short-term hourly hires, and up to a 3-month risk-free period for full-time hires made through their platform.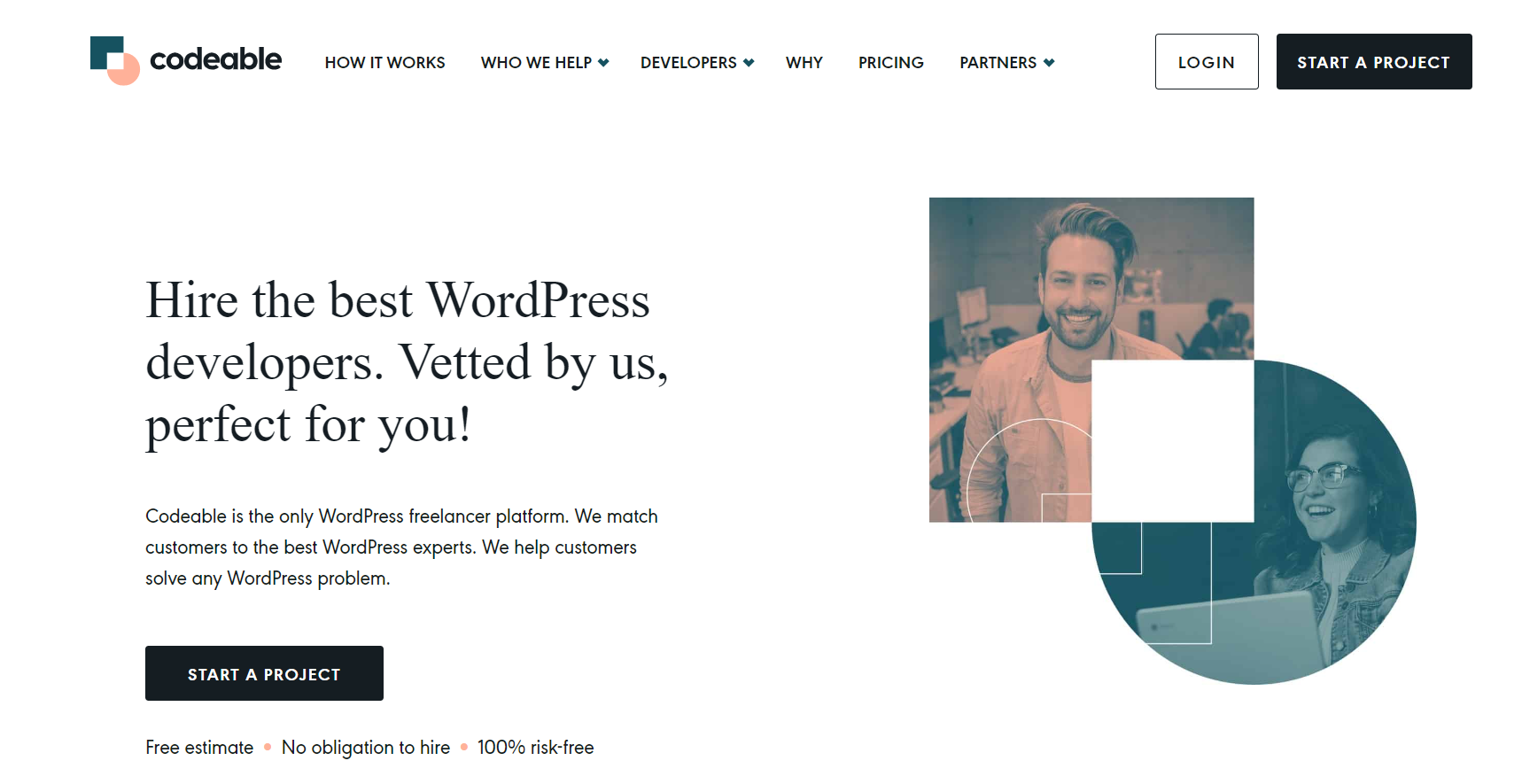 ‍
Codeable is the only Toptal alternative that purely focuses on WordPress developers, allowing you to build WordPress projects that are short-term, recurring, or full-time. It has a limited number of profiles, thus recruiting is quick. However, Toptal does not have nearly the same amount of freelancers as Codeable. 97% of its developers have 6+ years of professional WordPress experience and these specialists are spread over 60+ countries. Codeable's single-price algorithm eliminates undercutting and over-pricing.
Developer Pricing:
Codeable developers all charge the same rate of $70- $120/hr, which is determined by the scale, complexity, and urgency of a project.
Developer Hiring Time:
While Codeable declares they would review your project requirements and get in touch within 3 to 5 hours, there are no details on how long it would take to assign a talent match to your project.
Developer Vetting Process:
Codeable employs a six-step screening process to vet their freelancers. This process includes:
Professional review
Technical exam
Behavioral interview and live coding test
The Codeable Academy exam
45-day trial period
Ongoing excellence monitoring
‍Talent Trial Period:
While you do not have a trial period to test out your tech talent at Codeeable, if you're unsatisfied with your project, you may request a partial refund.