Gigster is a talent platform that allows users to get tech projects built on demand. Gigster offers a talented network for hiring highly qualified remote developers. Most of Gigster's highly qualified programmers work for some of the biggest tech companies in the world.‍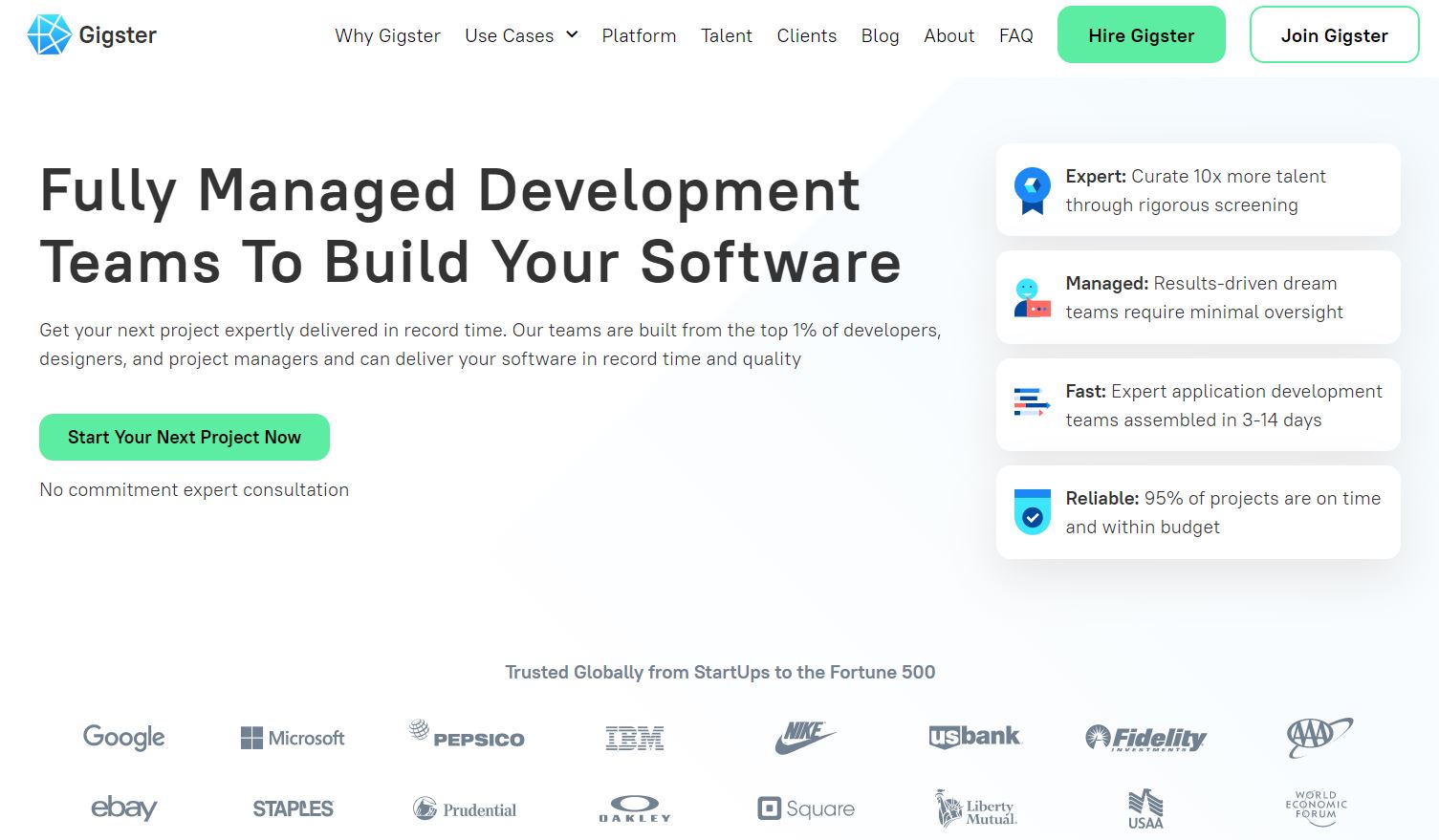 Gigster has served a wide range of customers, from tech startups to multinational organizations that require a range of projects to be outsourced and developed. Gigster's highly skilled software engineers can take on anything from web development and app development to Backend, FullStack, and DevOps engineering projects.
‍
Gigster's pricing depends on the project's complexity, type, and speed. When you outsource your project development to Gigster, you will also be assigned a project manager to oversee its entire process from start to end. Some of Gigster's most prominent features are project monitoring, top-down reporting, code documentation, all-around support, and app testing.
‍
Key Features of Gigster
‍
The cost of developers at Gigster is calculated on a project basis with a minimum fee of $52,000 per project.
You can expect to assemble your development team in 1-3 weeks.
Gigster's project quotes are determined by AI technology.
The company claims to hire only 7% of its applicants. They make sure to conduct an interview and a paid test to determine the quality of these applicants.
Gigster is perfect for projects that require complete outsourcing. If you're looking for an entire team of developers with a project manager, Gigster is the place to go.
‍
However, if you have smaller projects and are unwilling to pay a hefty price, you need to look for other Gigster competitors. Listed below are a few more Gigster competitors.
‍
Top 10 Gigster Competitors to Hire Remote Developers:
‍
‍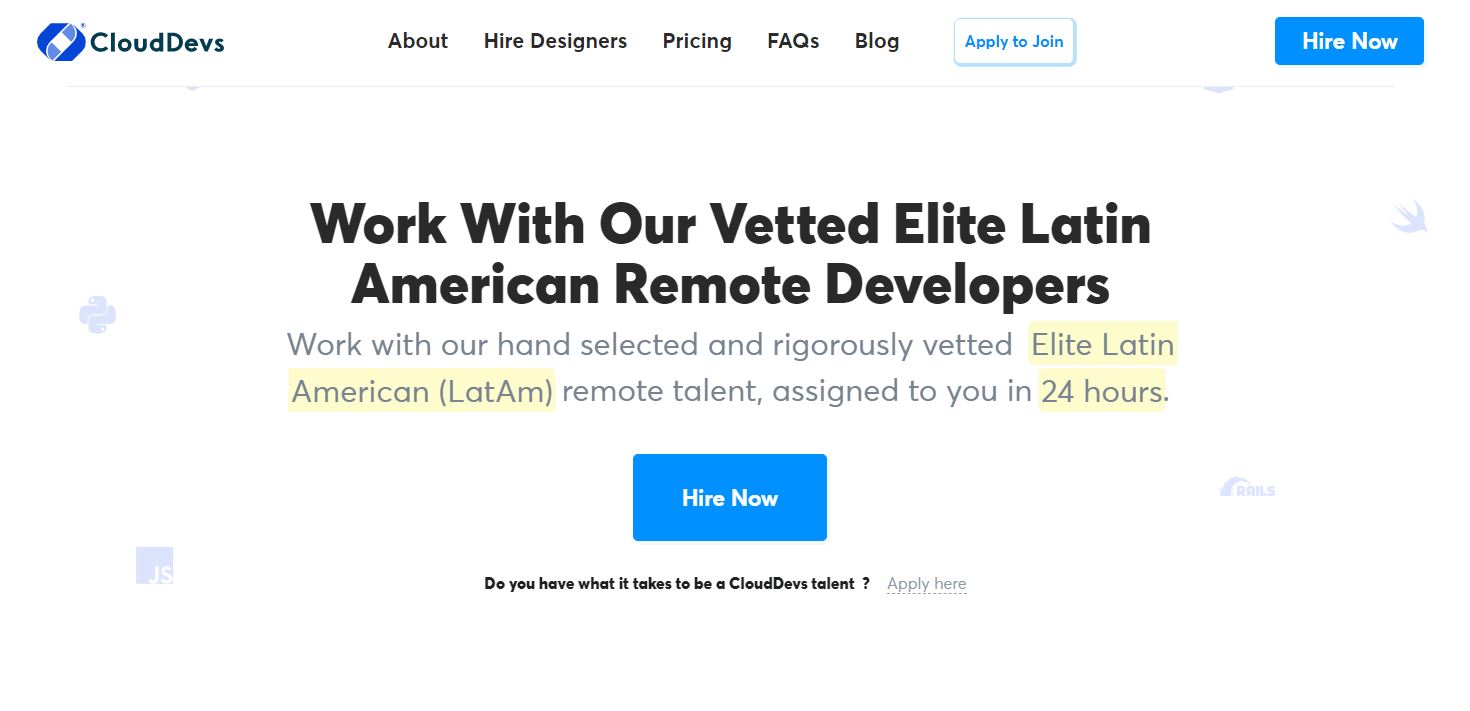 ‍
CloudDevs is an exclusive freelancer tech talent pool of elite Latin American developers and designers. It has completed over $15 million worth of projects to date and has become a highly recognized talent provider over the last 4 years. CloudDevs offers a talent pool of 8000+ elite senior developers. They are individually matched to your project specifications based on the work experience of the talent. CloudDevs offers some of the most reasonable pricing scales in the market and ensures that its clients are matched with the ideal talents within 48 hours.
‍
Why Use CloudDevs As A Gigster Competitor?
‍
CloudDevs charges a transparent rate of $40-$50 per hour for all senior talent.
Its talent base is exclusively from the Latin American regions.
Talents are matched to clients based on time-zone requirements.
7-day risk trial period to guarantee that it's the ideal talent
CloudDevs offers a weekly rolling contract so you can cancel the project when needed.
‍
‍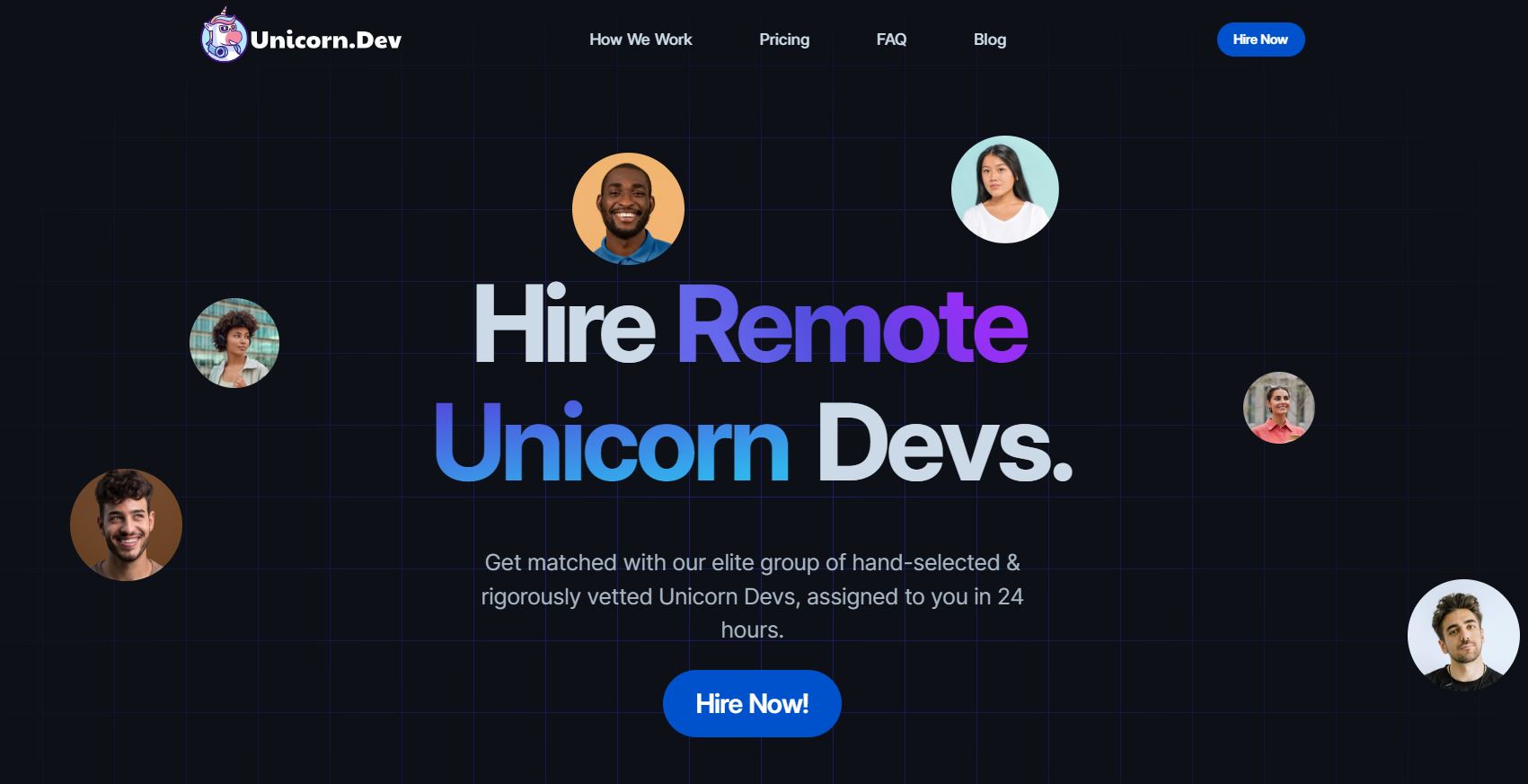 ‍
Unicorn.Dev offers an exclusive pool of highly vetted remote developers and designers. Its talent is sourced from all around the world and matched according to your requirements for tech stack and expertise. It is undoubtedly one of the most affordable tech talent platforms in the market. The company makes sure that its talent has a minimum of 5 years of work experience in order to ensure you receive only the best in the talent market.
‍
Why Use Unicorn.Dev As A Gigster Competitor?
They offer a flat rate of $35 per hour.
All talents o through a 5 stage vetting process to ensure they have exceptional standards of coding skills and English language proficiency.
They ensure that the matching process is completed within 24 hours.
You are given a week-long trial to try out developers and see if it's suitable.
A time-zone overlap of 4 hours is ensured with your global talent to facilitate collaboration.
Unlike most other Gigster competitors, you are offered flexible contracts and can buy off the talent from the platform if you prefer to bring them on full-time into your team.
‍
Toptal is an online platform that specializes in connecting businesses with elite freelancers in various fields, including software development, project management, design, and DevOps engineering. With a meticulous selection process, Toptal ensures that only the top 3% of freelancers make it into their talent pool, guaranteeing exceptional expertise and professionalism. By offering access to a curated network of highly skilled professionals, Toptal empowers businesses to find the perfect freelancers for their projects efficiently and effectively.
Why Use Toptal As A Gigster Competitor?
‍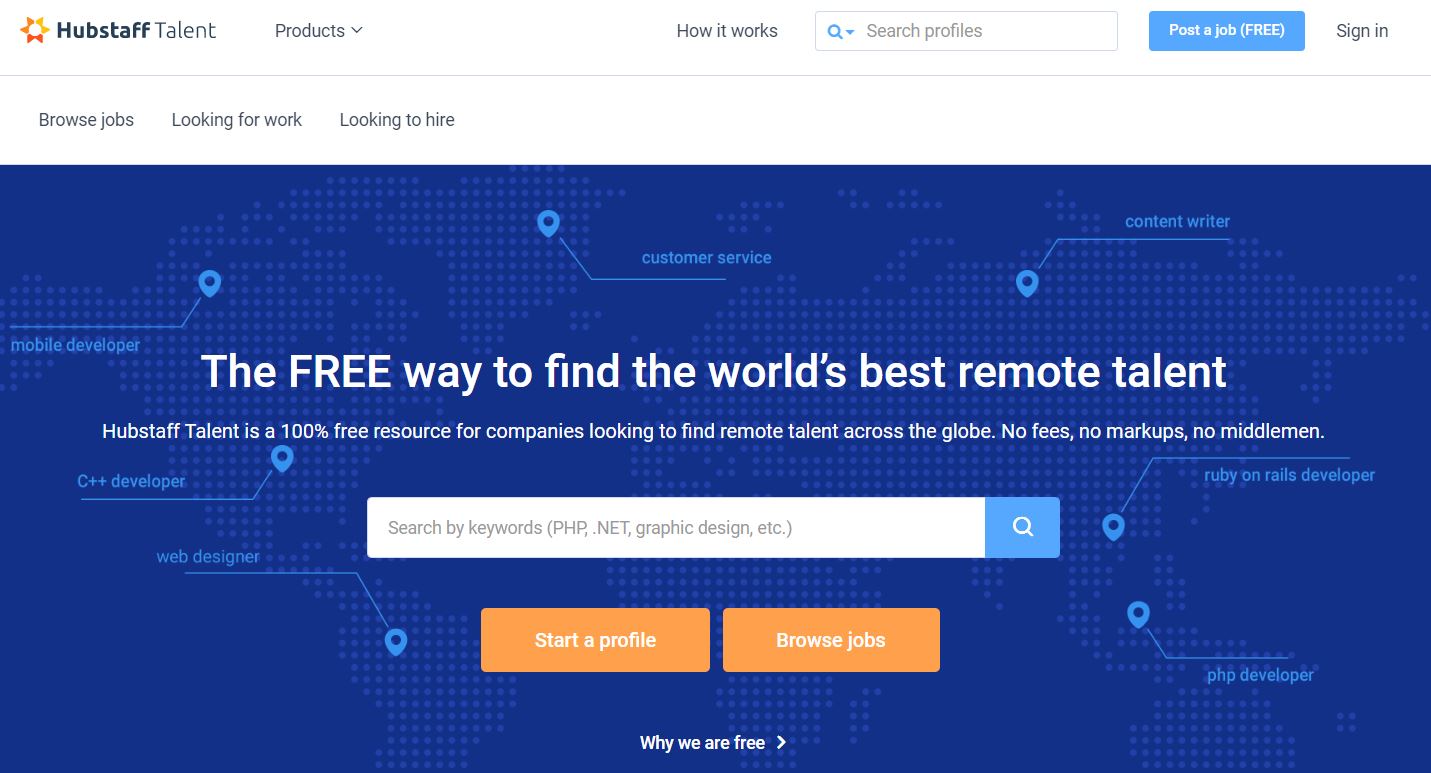 ‍
Hubstaff Talent is a web platform that offers remote teams to facilitate the development of tech projects such as software development, web design, marketing, business consultancy, and more. Remote workers and agencies can create profiles listing their skills and qualifications. These workers can apply to any open job, and you can select the most suitable candidates. Hubstaff has integrations with other third-party products such as Zapier. In case you find yourself needing help, Hubstaff Talent has plenty of articles to guide you through. Or you could simply submit a support request.
‍
Why Use Hubstaff Talent As A Gigster Competitor?
‍
It is a cloud-based application which makes it easy to implement.
There are no fees for posting a job.
You can track work hours, set limits, and get detailed timesheets.
Hubstaff handles tedious administrative tasks such as invoicing and payroll
You can filter profiles by skill, availability, years of experience, or country.
‍5.
Gun.io
‍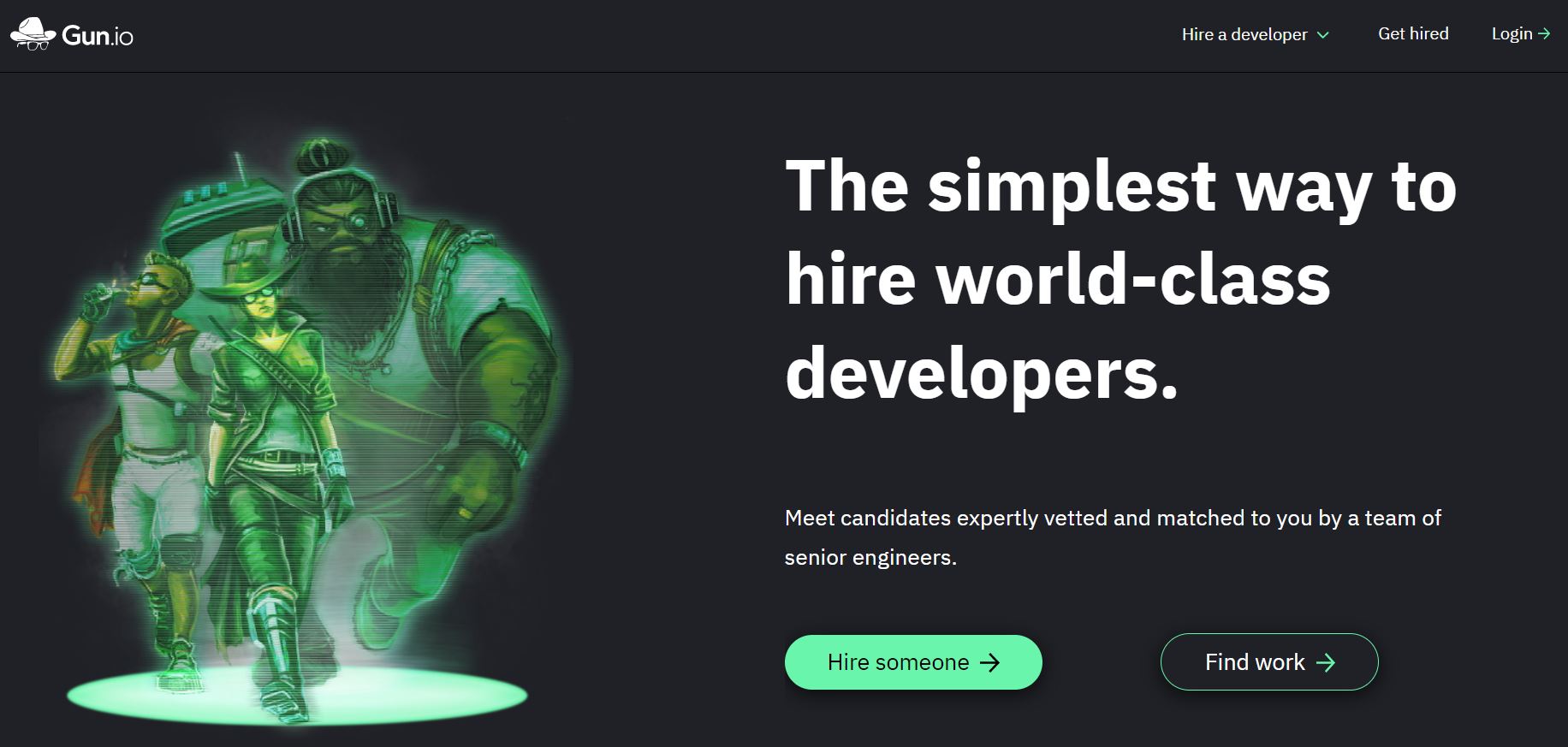 ‍
Gun.io is an online platform that offers skilled freelancers in the fields of software development, project management, design, and DevOps engineering. It has a talent pool of over 25k and ensures that they go through a thorough vetting process to test both the technical and communication skills of the freelancers they hire. It takes up to 48 hours to find a suitable freelancer for your needs, which is faster than most competitors. Overall the platform does a great job of addressing the customers' needs and troubleshooting.
‍
Why Use Gun.io As A Gigster Competitor?
‍
Its hourly rates start from $75 and can go up to $150 per hour.
Its talent is predominantly sourced from the United States.
Gun.io makes sure to assign freelancers to projects taking their cultural backgrounds into consideration.
The platform uses Striper Connect API to handle all its transfers.
You can easily switch out the developer you're working with if you aren't happy with the work at no cost.
‍ 6.
Indeed
‍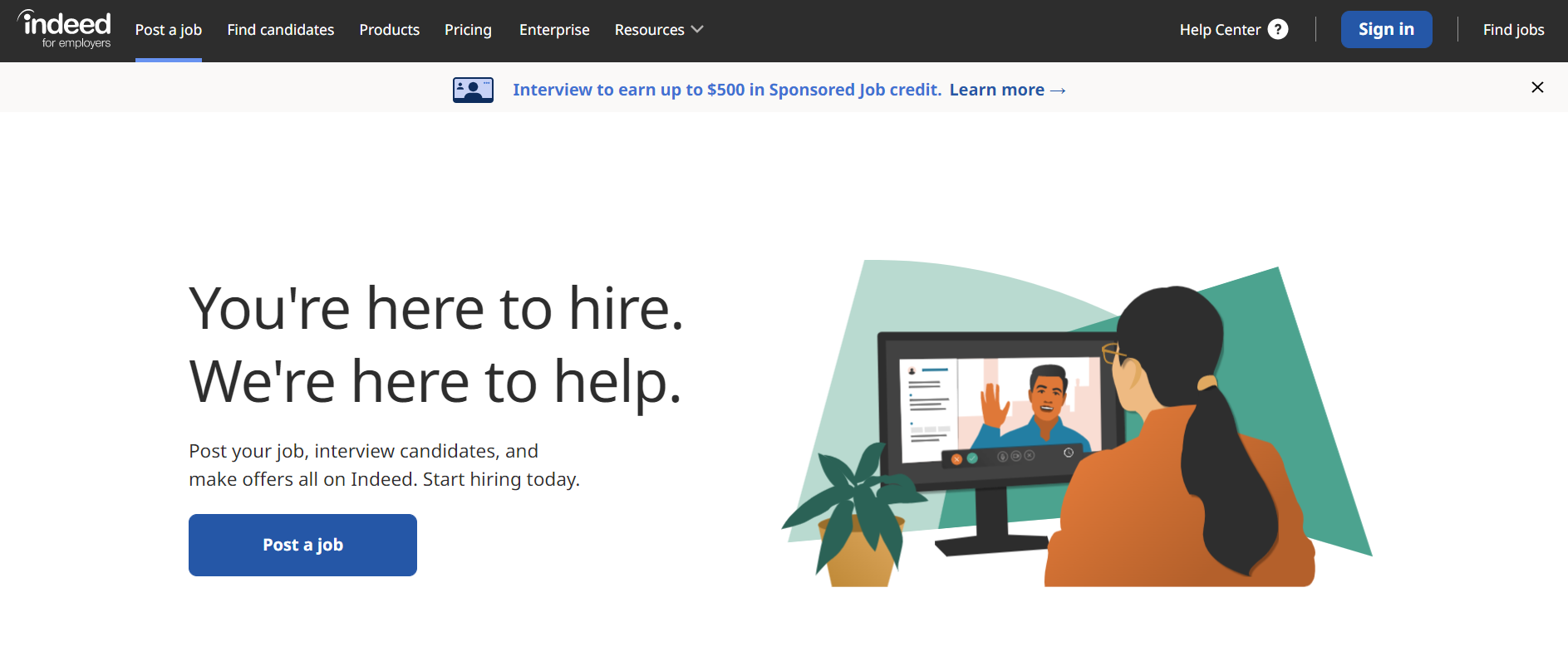 ‍
Indeed is a job listing platform that is ideal for employers looking to hire full-time employees from around the world. The platform uses a Google-like search algorithm so that job seekers can search through listings that match their skillsets and requirements. But it is up to the employer to vet the talent and decide if they're suitable. It might take even up to 6 months to assemble a team that suits your needs. It functions as an effective and comprehensive hire solution for agencies and companies that use external and online methods to find employees.
‍
Why Use Unicorn.Dev As A Gigster Competitor?
‍
Free job posting
You can make large-scale hiring
It is available in more than 60 countries.
Indeed supports multiple languages
‍ 7.
Fiverr
‍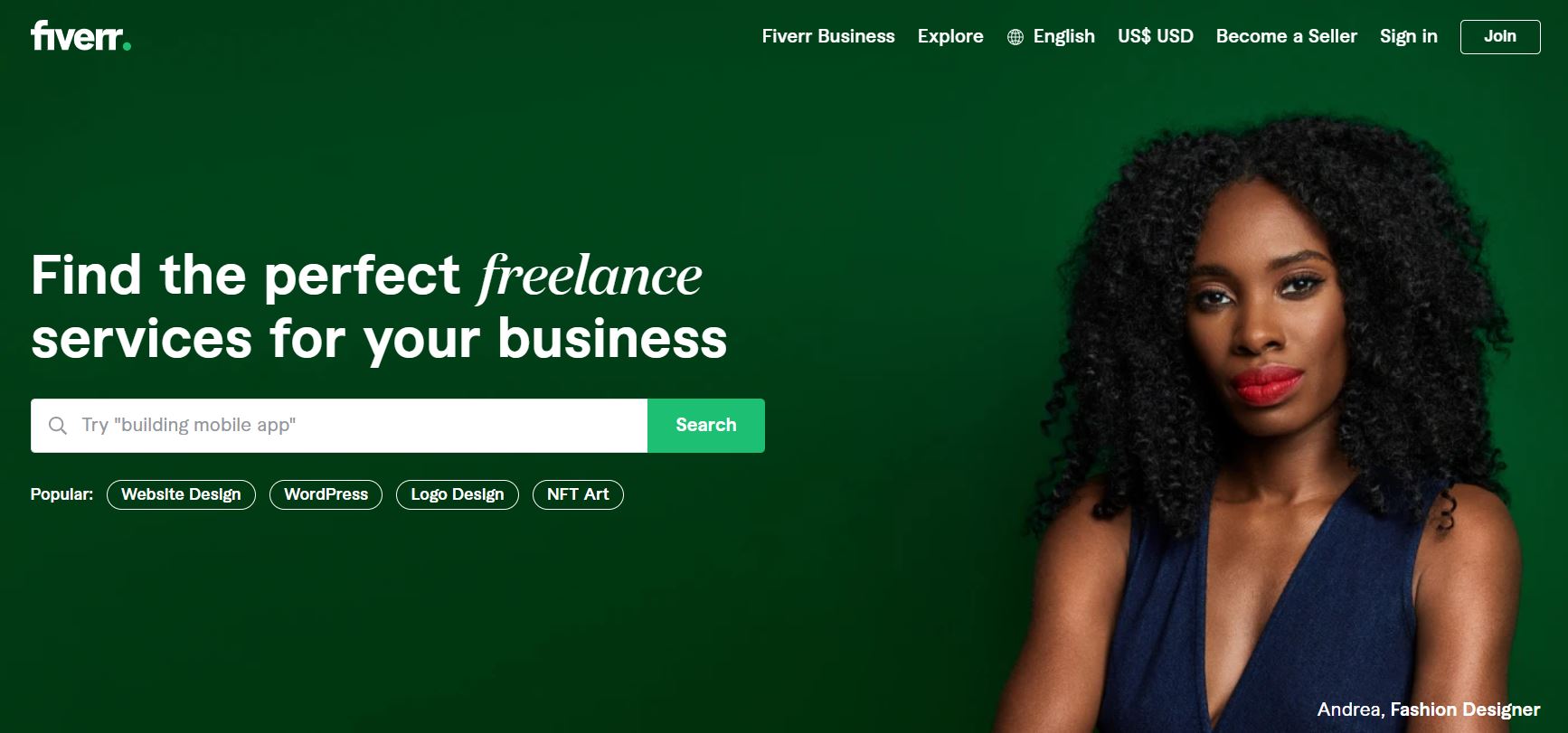 ‍
Fiverr is a global online marketplace of gigs or micro-jobs online. with millions of freelancers from around the world. It specializes in creative and digital services. Unlike Gigster, these freelancers aren't vetted, and it'll take a bit of trial and error to find the most suitable one. You can review freelancer profiles and previous feedback on their work to ensure you're selecting the right freelancer. The portal leaves room to accommodate the buying and selling of gigs or micro-jobs online.
‍
Why Use Fiverr As A Gigster Competitor?
‍
The freelancers charge somewhere between $5-$995 per project.
You can create a free account and communicate with the freelancer before placing an order.
The platform offers services of several categories with dozens of options.
It is the ideal platform for finding freelancers for voiceovers, animations, simple graphic designs, and podcast editing.
Fiverr Pro provides vetted talent that offers stellar quality services.
‍
8.
Freelancer
‍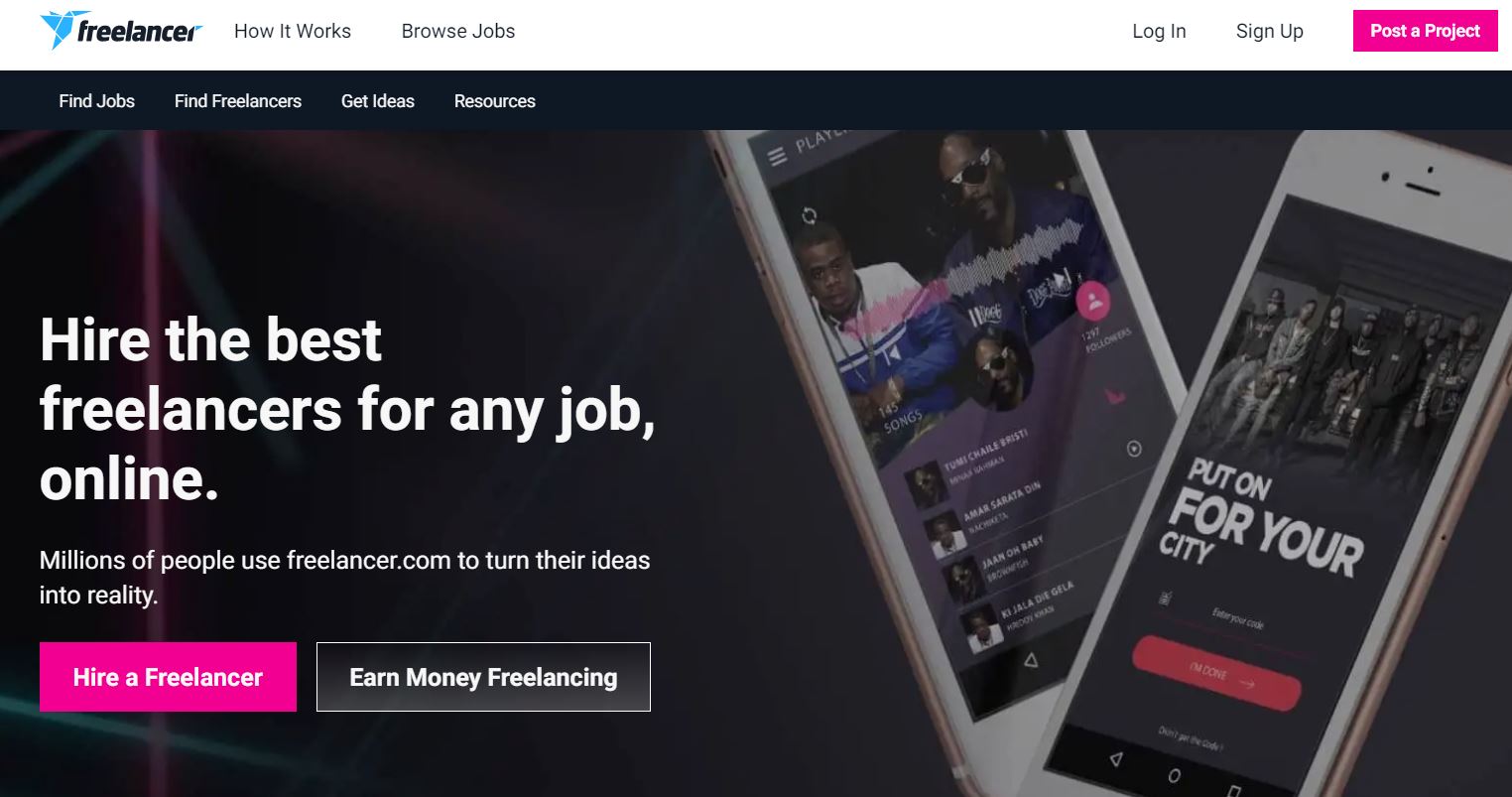 ‍
Freelancer.com is one of the world's largest freelancing, outsourcing, and crowdsourcing marketplace where businesses and freelancers meet. With over 41 million freelancers across 1350 disciplines, you can find various experts. Rather than focusing on single gigs, Freelancer focuses more on maintaining ongoing working relationships with the same freelancers.
‍
Freelancer also offers pools of all skill levels of freelancers with beginner-level freelancers on the cheaper end and the highly skilled freelancers a bit expensive.
‍
Why Use Freelancer As A Gigster Competitor?
‍
You can hire a freelancer for a fixed price or an hourly rate.
Freelancers will bid to be accepted to work on your project.
It has a time tracker to track the amount of time spent on the project.
For fixed-price projects, you have to pay an additional 3% of the sum, and for hourly-rate projects, each time you pay your contractor, the platform levies 3%of that sum.
‍
9. Outsourcely
‍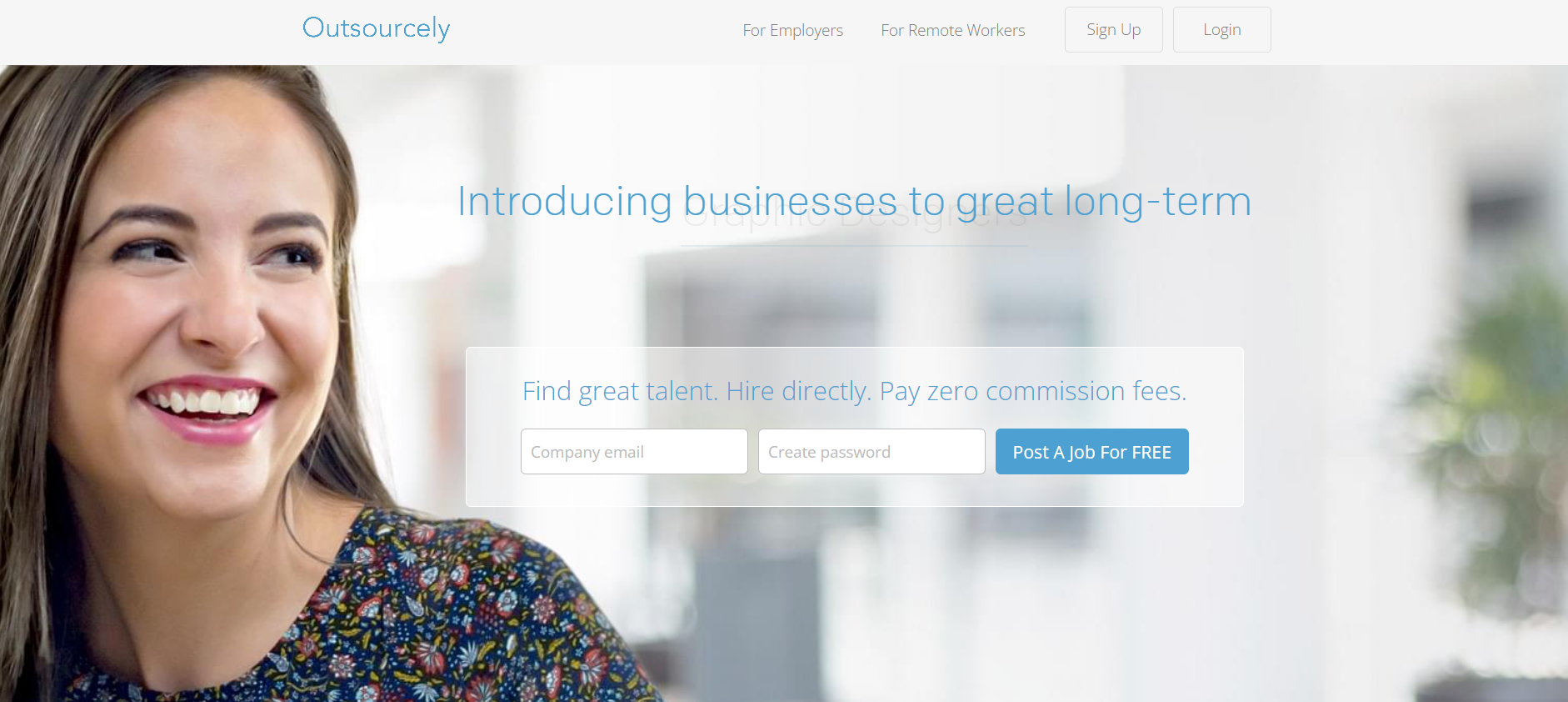 ‍
Outsourcely is the ideal network for staffing and managing your startup with remote labor rather than hiring freelancers for one-off projects. Their main focus is on reducing the costs of global workers and setting up special features for remote workers. It is the best platform if you're looking for long-term working relationships. It mainly targets small, remote, and international teams for start-ups. You engage teams in 14 primary categories such as software development and more. Its talent pool is international, with a lower hourly rate than most.
Why Use Outsourcely As A Gigster Competitor?
‍
The smallest plan starts at $19/month.
You can manage workers with real-time communication, including instant private chat and live video.
Outsourcely also uses a third-party work history verification system to help you review profiles.
You have to pay for access and the right to message and interact with freelancers of all skills.
‍
10. FreeUp
‍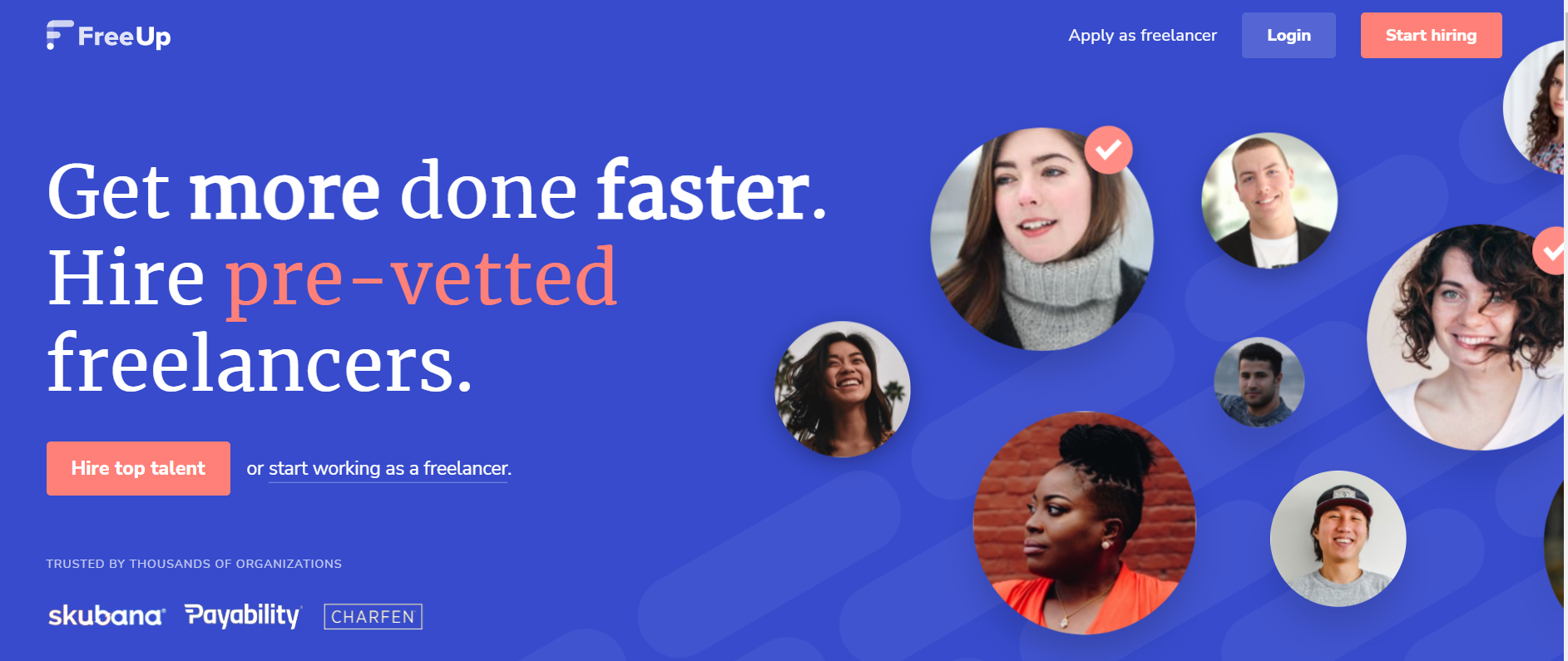 FreeUp helps thousands of businesses from all over the world hire from a global talent pool to develop their projects. It has its own internal team that recruits, interviews, and vets hundreds of US and international freelancers each week to check on skills, communication, and attitude. Only the top 1% of the applicants are allowed in. It offers over 85 different skill sets, including eCommerce, Amazon, sales and marketing, and more. They make sure to pair you with a qualified candidate within 24 hours.
‍
Why Use FreeUp As A Gigster Competitor?
‍
You can set an hourly or fixed rate for your services.
In case an applicant quits, they work hard to replace them immediately and cover applicable replacement costs.
The company provides 24/7 support to help you
You can choose from three levels of expertise based on your hiring needs.
‍