Andela is a global network of software developers. Andela was founded in 2014 in New York City. It started out as a training company focusing on African countries such as Nigeria, Kenya, Rwanda, and Uganda. Andela helped developers from these nations land jobs in North American companies. Post-pandemic, Andela became completely remote and extended operations to 37 new countries in Africa, Asia, Latin America, North America, and Europe.
‍Why Do Companies Choose Andela?
‍
Today, it's a well-known network of tech talent that assists companies and individuals in their hunt for top-quality engineering teams for their projects. However, it's worth noting that plenty of Andela competitors in the market offer similar top-end services at very reasonable rates.
Key Features of Andela
Andela offers a talent pool of 77,000+ software engineers from all around the world.
Its developers are all pre-screened.
It provides data-driven matches that determine a fit based on the technical and cultural fit that you demand.
Andela is best suited for long-term hires rather than minor projects.
‍
Despite all of these features, there are some concerns about hiring from Andela. Some of these are:
‍
It started off as a company that wanted to help African youth but has strayed very far from its initial vision.
There's very little transparent information on its pricing model and benefits.
Andela doesn't offer a trial period or a time frame for finding a developer.
‍
You'll be relieved to know that Andela has plenty of other competitors out there. To help you narrow down your options, here are some of the best Andela competitors on the market.
‍
‍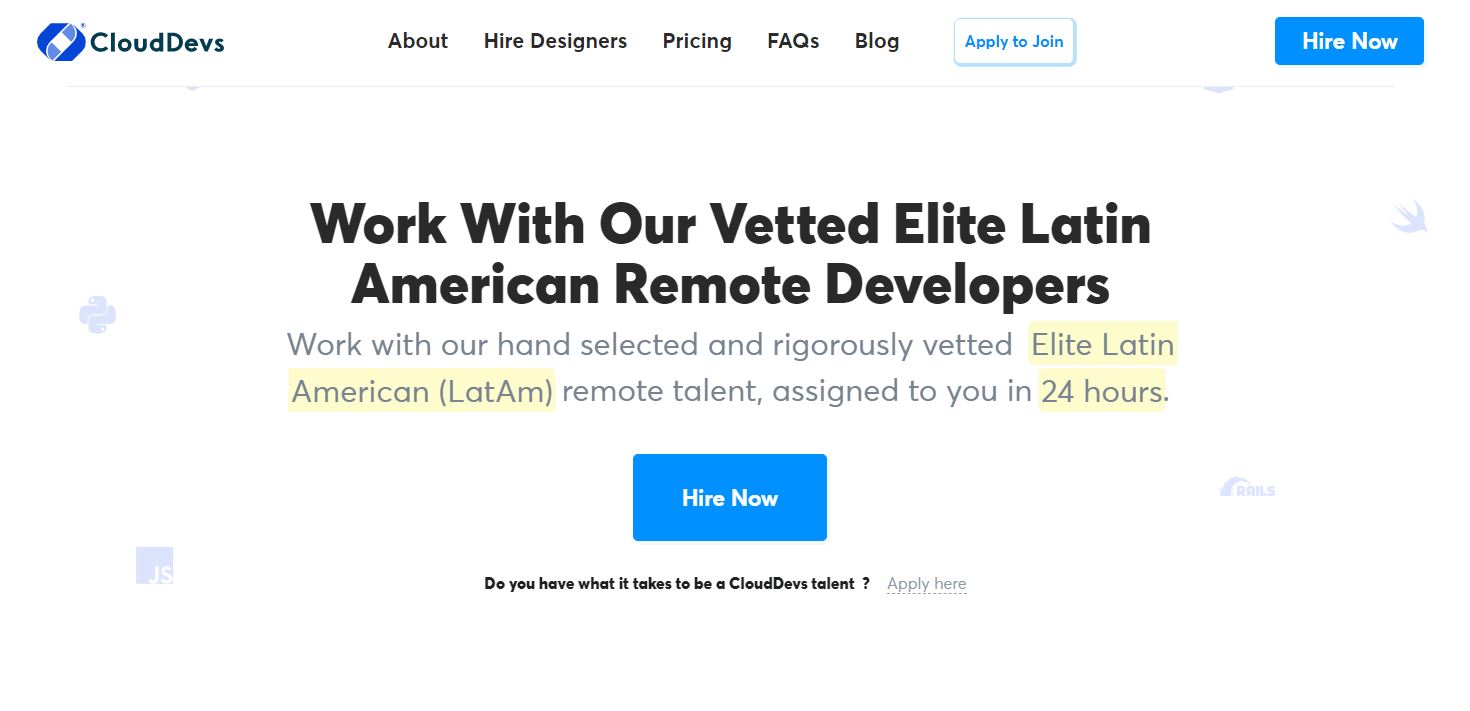 ‍
CloudDevs is an exclusive platform with over 8000 developers and designers from the Latin American regions. The platform uses a 5-stage vetting process to ensure its talent is thoroughly vetted. It is an excellent Andela competitor for start-ups and entrepreneurs searching for top-quality talent. CloudDevs makes sure to meet its clients' demands within 24 hours and has one of the most reasonable pricing scales in the market. It is one of the few Andela competitors that provide high-quality service at a reasonable price.
‍
Why should you consider CloudDevs as an Andela competitor?
CloudDevs ensures that talent is assigned according to the time zone of the client. This facilitates effective communication and service delivery.
You are offered a 7-day no-risk trial period to determine if it's the most suitable talent.
The platform makes sure that you are matched with talent depending on your experience, niche, and other requirements.
You can expect a talent match in under 48 hours.
CloudDevs offers a weekly rolling contract with no minimum commitment. This makes it easy to cancel projects as required.
‍
Pricing: CloudDevs charges a flat fee of $45-$70 per hour.
‍
‍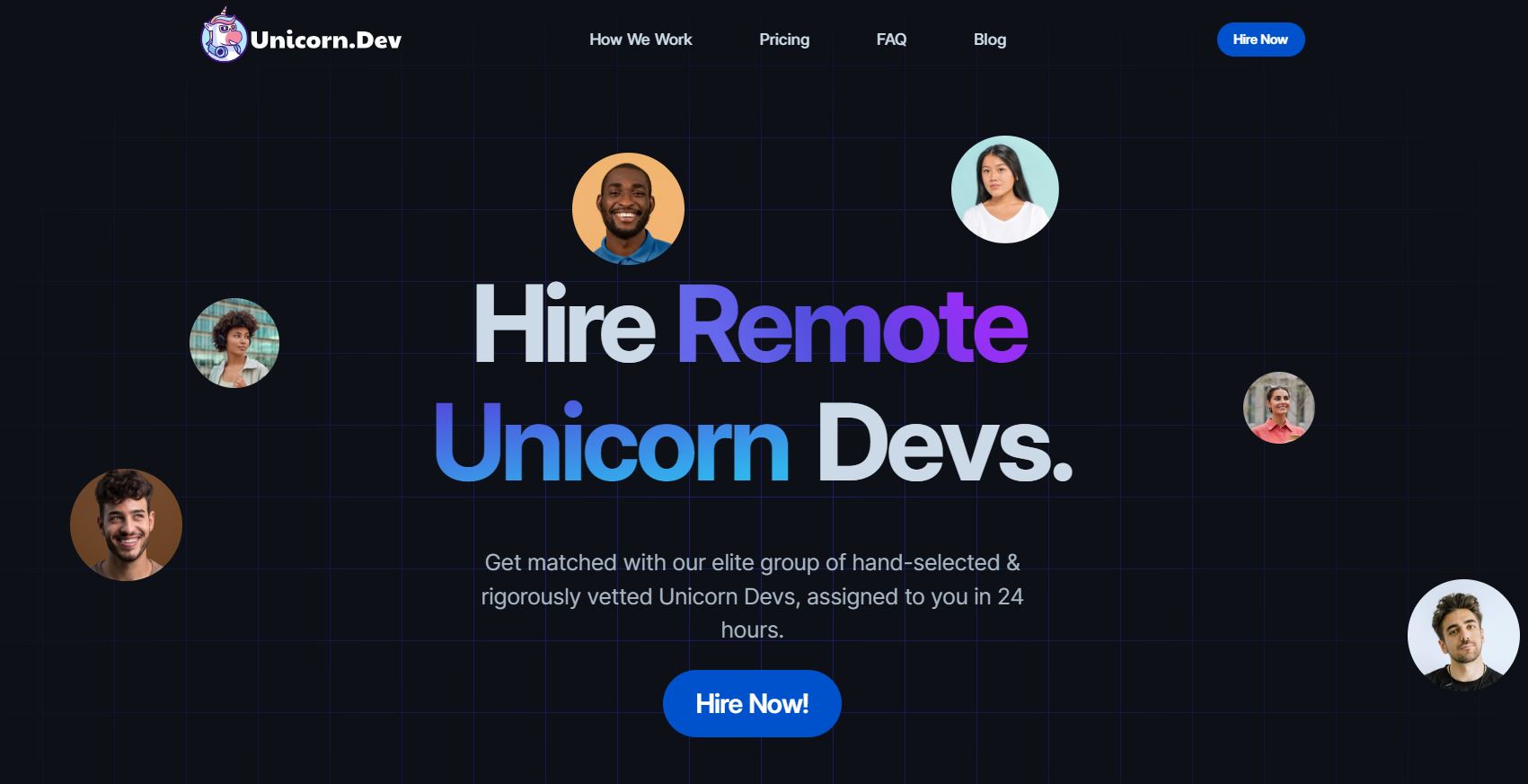 ‍
Unicorn.Dev is an exclusive freelance talent platform where you can employ highly vetted remote developers and designers for hire from around the world. It is considered as one of the most affordable tech talent platforms in the market. They focus a great deal on their talent and exclusively recruit people with a minimum of 5 years of work experience in their specializations. Unicorn.dev can assist you in quickly matching with suitable talent within 48 hours. Unicorn.Dev has you covered whether you're looking to hire a freelancer or an entire team of developers for your startup.
‍
Why Should You Consider Unicorn.Dev as An Andela Competitor?
‍
A 5-stage vetting process vets its talents. They aim to filter and select the most talented candidates.
It's one of the few Andela competitors that will match you with the right talent within 24 hours.
You are given a 4-hour time-zone overlap. This makes it easy to communicate and collaborate with internal teams.
It provides a week-long trial with each new hire.
‍
Pricing: Unicorn.Dev charges a flat fee of $35/hr for its senior pre-vetted talent.
‍
Toptal is a leading online platform that serves as a formidable competitor to Andela, specializing in connecting businesses with highly skilled freelancers in fields such as software development, project management, design, and DevOps engineering. With a stringent screening process, Toptal ensures that only the top 3% of freelancers make it into their talent pool, guaranteeing exceptional expertise and professionalism. By offering access to an elite network of professionals, Toptal empowers businesses to find the perfect freelancers for their projects efficiently and effectively.
Why Should You Consider Toptal as An Andela Competitor?
‍
Elite Talent Pool: Toptal sources the top 3% of freelancers worldwide, offering businesses access to exceptional expertise and professionalism.
Customized Matchmaking: Toptal considers project-specific requirements to match businesses with freelancers possessing the precise expertise and domain knowledge needed.
Agility and Scalability: Toptal's flexible engagement models accommodate changing project needs, allowing businesses to scale resources efficiently.
Cost-Effective Solution: Toptal provides competitive pricing options, delivering high-quality talent while managing budgets effectively.
Efficient Time-to-Market: Toptal's streamlined selection process connects businesses with skilled professionals swiftly, reducing time-to-market and accelerating project execution.
Seamless Collaboration: Toptal emphasizes effective communication and collaboration, ensuring freelancers excel not only technically but also in interpersonal skills.
4.
Fiverr
‍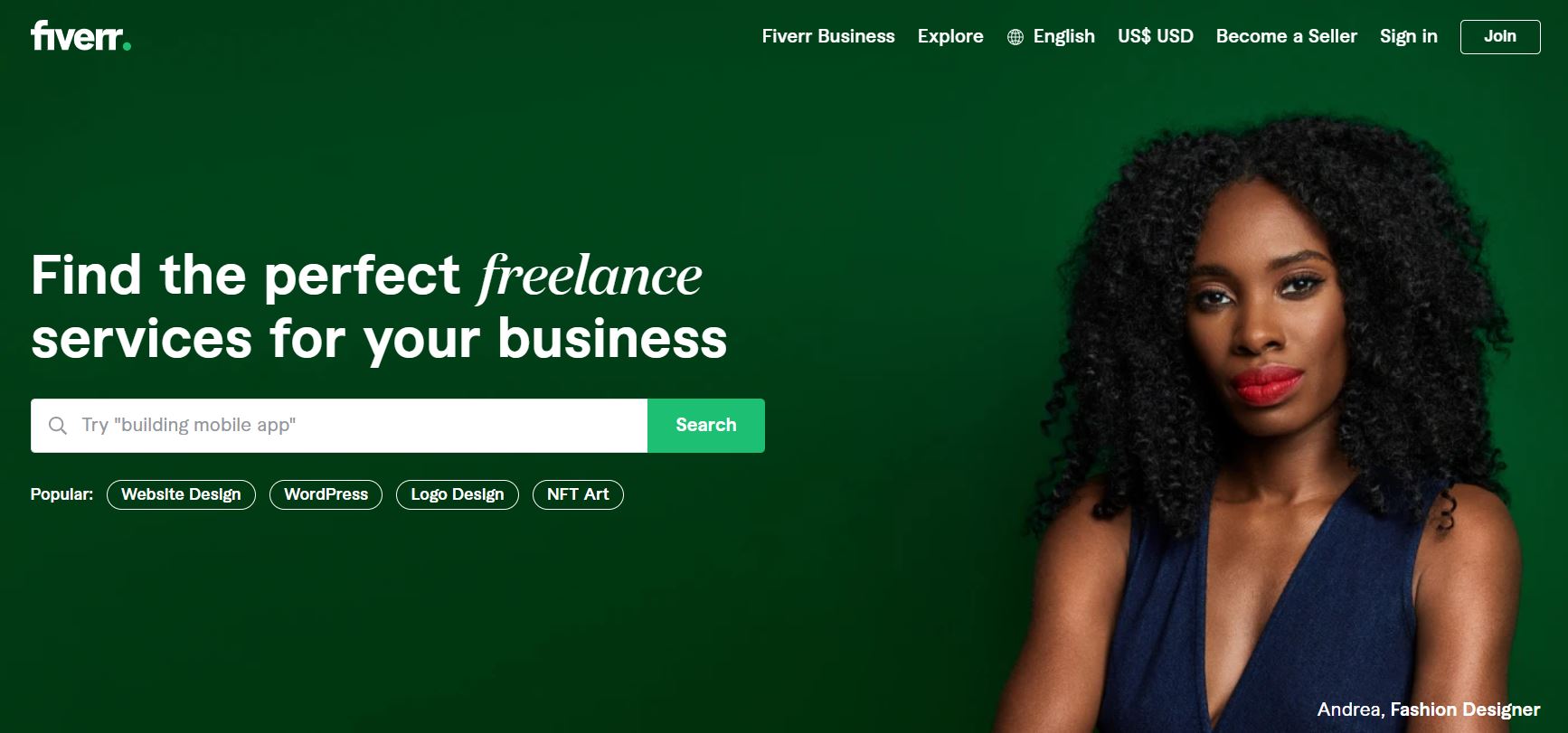 ‍
Fiverr is one of the most popular on-demand freelance marketplaces in the world. You'll discover a variety of freelancers here who can do almost any service. It's great for short-term freelance projects like voiceovers, animations, simple graphic designs, and data entry work.  Fiverr is one such Andela competitor that allows you to either post your project for bids from freelancers, or you could search their network and approach the right talent yourself. Fiverr is best suited for low-budget projects.
‍
Why Should You Consider Fiverr as An Andela Competitor?
‍
It offers freelancers with various skill sets.
You are offered comparatively lower rates than Andela because of its highly competitive bidding system.
Fiverr claims to complete its hires within days.
Fiverr Pro offers vetted talent who provides high-quality work.
‍
Pricing: Fiverr freelancers may charge between $5-$995 per project.
‍
‍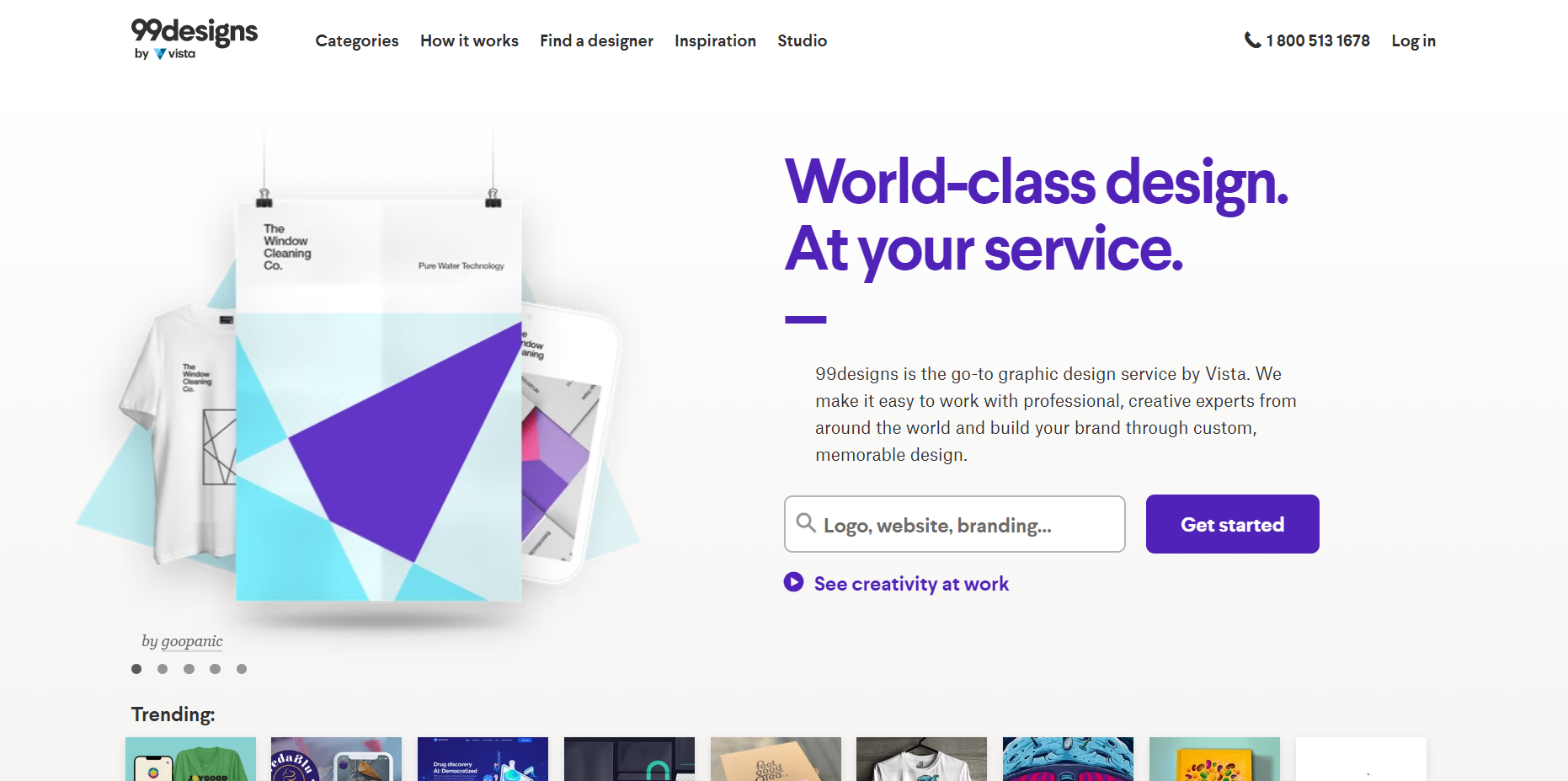 ‍
99designs is a graphic design service that allows you to collaborate with professional and creative experts worldwide. As a result, you get to build your brand through custom and memorable designs. Unlike other Andela competitors, it doesn't classify itself as a "freelance marketplace." But it's still considered one of the best in its niche. The platform takes pride in the quality of its work, so it makes sure to evaluate and assign a rank to each new freelancer. 99designs is ideal for small and medium-sized businesses that need a graphic or web designer to help them with everything from logo design to product packaging.
‍
Why Should You Consider 99designs as An Andela Competitor?
‍
Unlike Andela, 99designs specializes in design-related services.
You can directly contact designers on the platform and collaborate with them or provide your requirements, and 99designs will find a designer according to your needs.
Freelancer portfolios are provided to give you an idea of the designer's capabilities.
99designs perform regular quality checks on designer submissions to ensure quality is maintained.
‍
Pricing: 99designs fixed packages start from $299.
‍
‍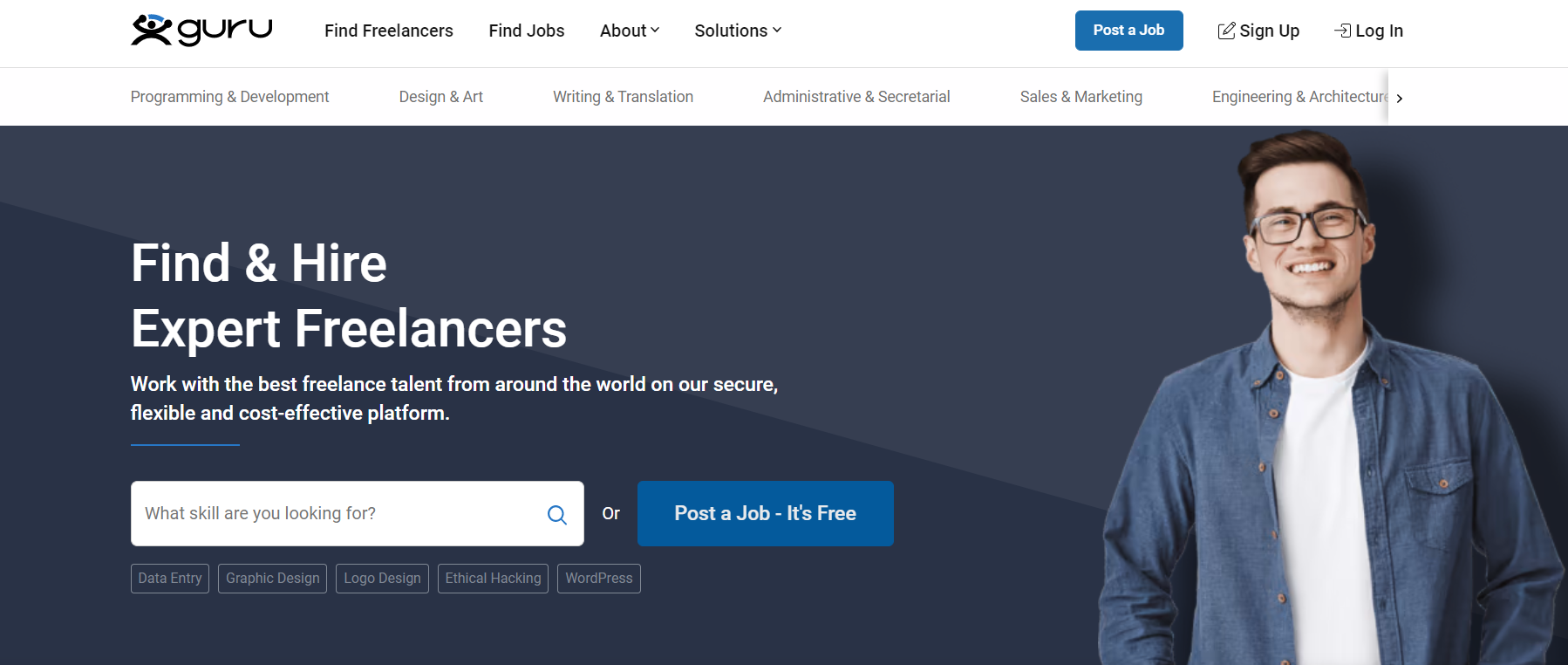 ‍
Guru is another generic platform where employers can hire freelancers offering various services. They strive to provide a straightforward experience where professionals can connect, collaborate and get work done in a flexible and secure environment. It has a vast talent pool with over 3 million freelancers to choose from in many different categories and expertise levels. You can simply sign up and post a job on Guru for free. It's a cost-effective platform that charges low fees in the freelance marketplace industry.
‍
Why Should You Consider Guru as An Andela Competitor?
‍
You can choose from four payment terms set by its freelancers. This includes fixed, hourly, task-based, and recurring.
Guru uses SafePay to ensure payment security so that you can feel secure.
You can review the work before paying an invoice.
Its dedicated support team is available 24/7 to help you navigate your way around the platform.
The freelancers can work together on the same project through WorkRooms.
‍
Pricing: Guru's packages start from $11.95/mo
‍
‍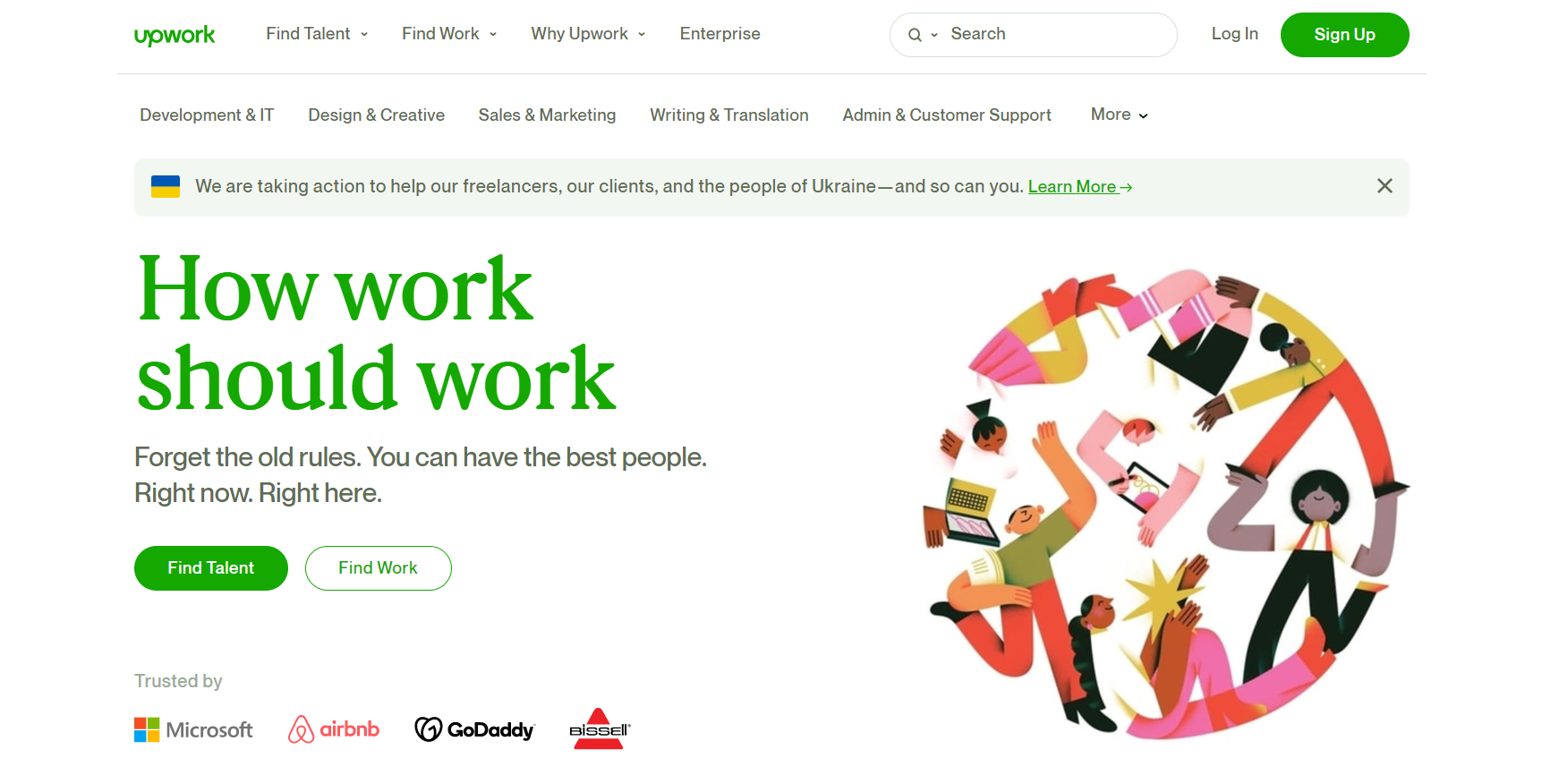 ‍
Upwork is one of the oldest Andela competitors. It has been on the market for over a decade and is one of the best-known platforms for anyone seeking remote work. Upwork has freelancers in many fields and categorizes them across various skills and expertise levels. However, unlike Andela, Upwork doesn't screen its freelancers, so you need to be willing to carry out the vetting process by yourself, and it may take up to 8 weeks to finalize the hire.
‍
Why Should You Consider Upwork as An Andela Competitor?
‍
Upwork uses a bidding system where freelancers get to bid on projects.
Upwork's robust search engine with multiple filters makes it simple to locate the appropriate match.
It has several policies to help you identify scams and fake profiles.
You can send, receive, collaborate, and give real-time feedback on a current job.
Upwork ensures you are billed fairly by allowing you to examine each Work Diary.
‍
Pricing: The average Upwork Developer rates are from $8-$15/hr, and they go up to $200/hr based on seniority.
‍
‍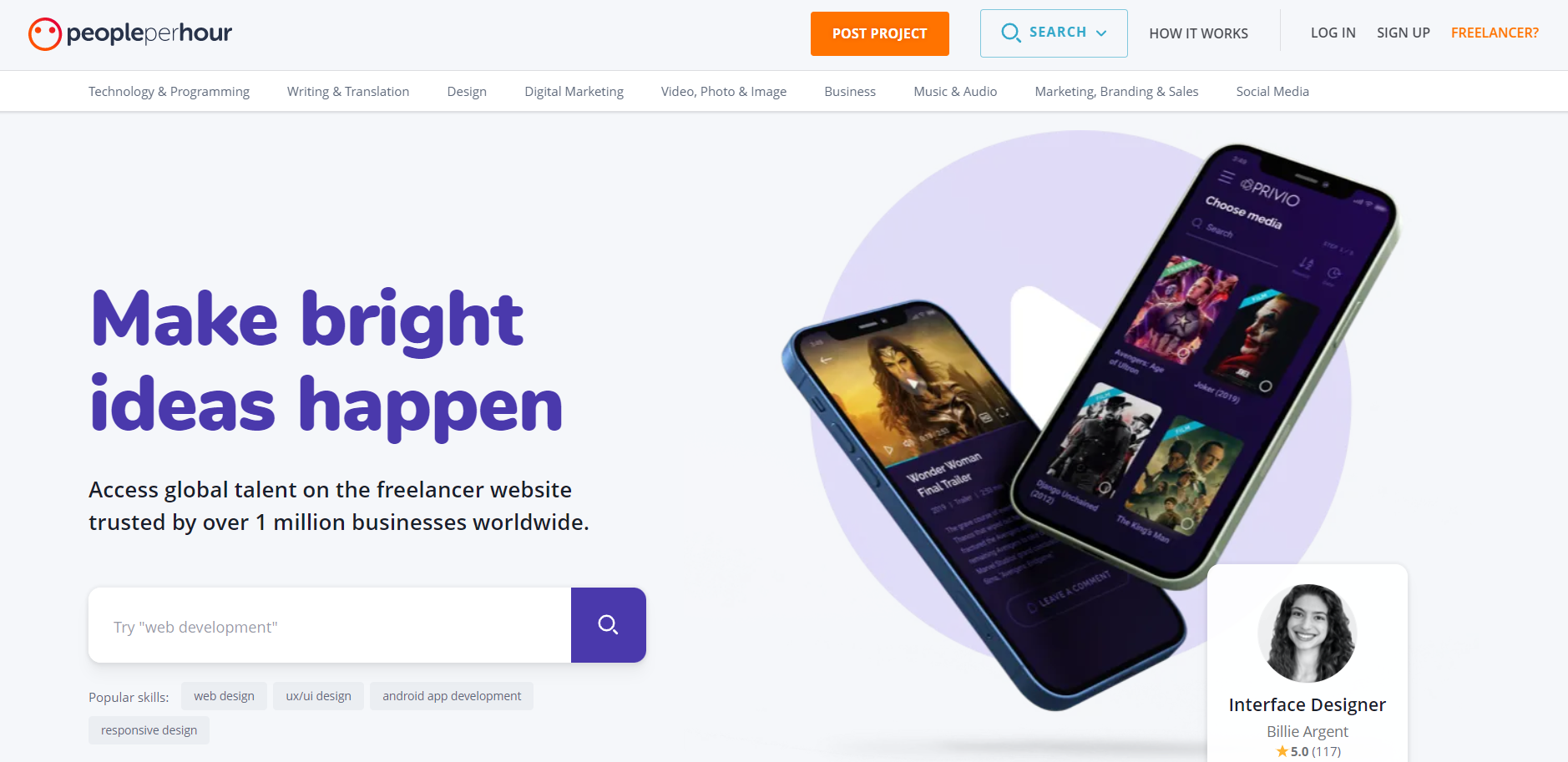 ‍
PeoplePerHour is a trusted dynamic platform that links clients to expert freelancers who can be hired by the hour or per project. Here freelancers can set their own prices for the services provided. It is the ideal competitor for anyone looking to work with a freelancer long-term. PeoplePerHour lets you set up your account and post your job for free. They use AI to find and contact the best freelancers for your project. The freelancers then come up with their own tailored proposals.
‍
 Why Should You Consider PeoplePerHour as An Andela Competitor?
‍
The "WorkStream" in your account lets you track activity, communicate and manage payments.
You are offered buyer protection, so it holds funds for the service you purchase in escrow until the project has been delivered.
It has a dedicated communication platform to help you track an ongoing project.
Unlike Andela, the project stream collates all your received proposals in a single place for you to compare and review.
‍
Pricing: Freelancers start at $8/hr, and project offers start at $10
‍
‍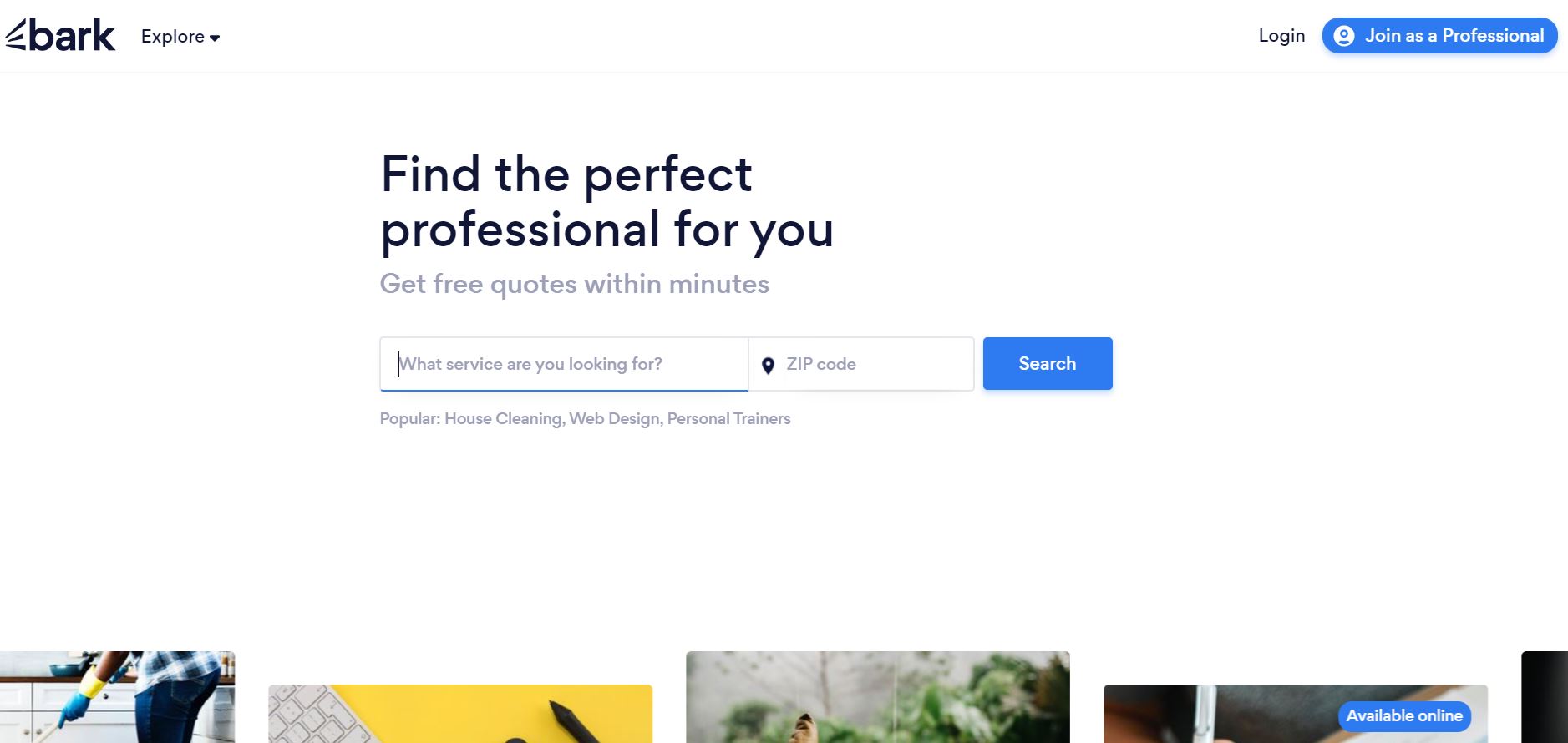 ‍
Bark is known as the Amazon of services. It is a web-based platform that connects buyers with service providers. It is used by millions of people worldwide to find what they need every day. They make sure to gather detailed information about your requirements to help you find what you're looking for. Bark sends freelancers requests from clients who are relevant to their skills and location. They do all the asking for you, and this helps you save so much valuable time. Bark has revolutionized how people hire or sell services online.
‍
 Why Should You Consider Bark.com as An Andela Competitor?
‍
You can save time as the platform contacts local professionals on your behalf.
The platform contacts a wide scope of professionals, including those not signed up. This way, you'll have plenty of options to make the best choice.
Bark Messenger manages all of your communications. It is a secure inbox, so you do not lose estimates or contact details shared by service providers.
‍
Pricing: Quote-based plans.
‍
‍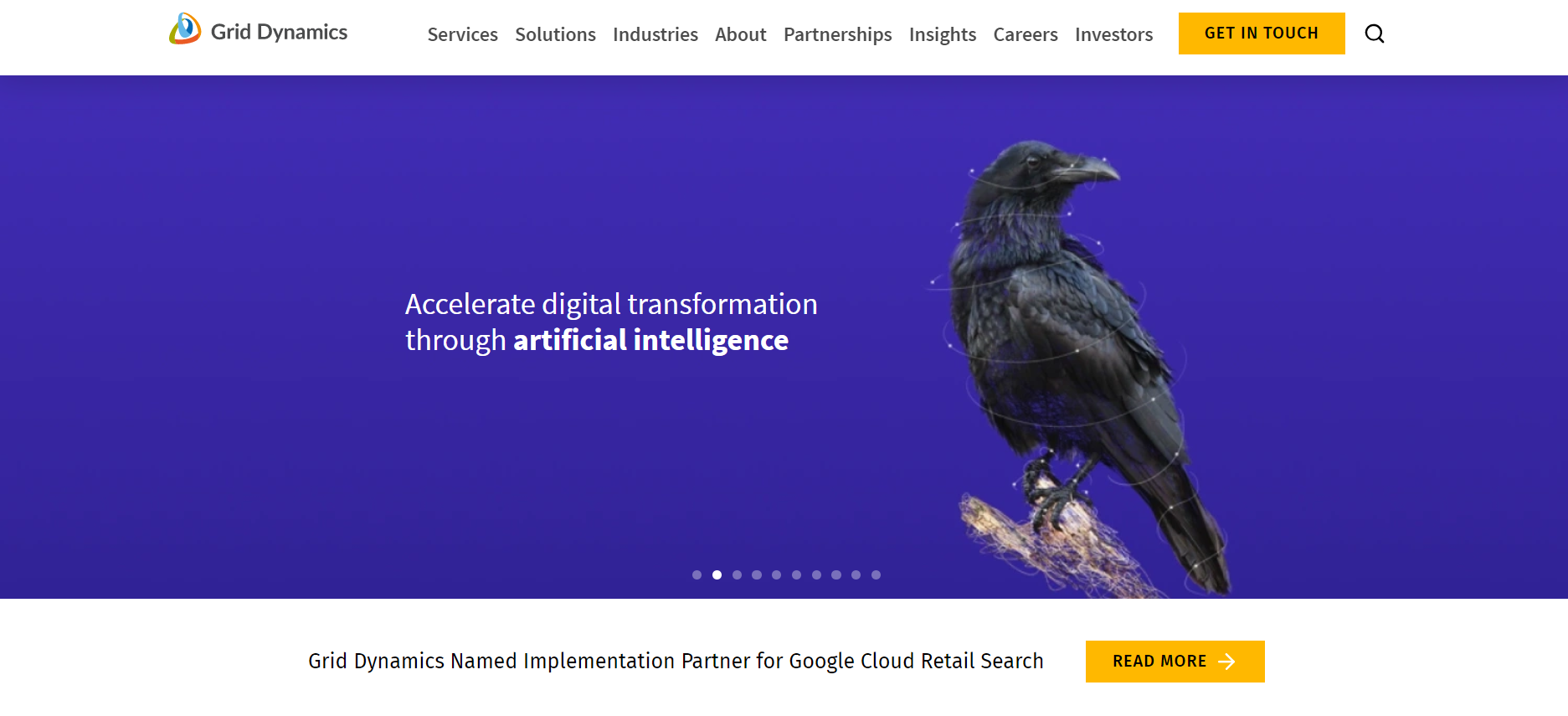 ‍
Grid Dynamics, formerly Daxx.com, is a global digital engineering company that can help you build your development team in weeks, not months. You can create a remote development team of high-end engineers from scratch or find tech professionals to strengthen your in-house team. It is easier and less expensive than hiring locally.
‍
Why Should You Consider Grid Dynamics as An Andela Competitor?
‍
Its co-innovation engagement model provides complete transparency into intellectual property and innovations being developed.
They make sure to provide training and certification programs to continuously improve the qualification of their talent and provide you with high-quality service.
The platform makes use of the best collaboration tools while maintaining the highest level of security.
‍
Pricing: The pricing strategies depend on different market segments and product groups.
‍