PHP is one of the most popular and widely used programming languages for web application development. According to W3Tech, almost 78.9% of websites are based on PHP. The founders and contributors of the language have spent enormous time and effort to make sure the technology is tuned with the present-day developer expectations to make it as optimal as possible. PHP is by far one of the simplest languages when it comes to the web application department.
Since its inception in 2004, PHP has only grown. Its growth has been diverse. This includes community, complexity, performance, and speed. Its growth has been phenomenal. According to the StackOverflow Developer survey 2019, PHP ranks 8th among the top 10 programming languages and this is why most businesses invest in this technology.
1. Factors That Affect PHP Development Cost
The sort of application you would like to develop has a very significant impact on the cost. The more complicated and feature-rich the application is, the longer it may take to complete it and this could affect the cost. Things like user satisfaction capabilities, purchases, geolocation, number of buttons, and displays are critical for app sophistication. The cost of development can also be determined by the number of machines you would like the app to run. You need to remember that some features might look easy to implement but proper implementation takes time. If you want to cut costs, you can create a list of the top-priority features for your app and create an MVP with the minimum features range. This will help you learn what features are important for your users.
This factor affects the final cost of software development. The price will depend on the type of partnership and team size. You can use outsourcing IT services as it becomes extremely popular. This is a smart move, as it leads to cost savings and convenient cooperation. This way you can also work with teams all over the world, as remote collaboration makes it effective and pleasant. Outsourcing a remote team can be cheaper than hiring in-house developers. The rates may vary depending on the country. Also, the bigger the project, the more developers will be required. This can be costly. 
Providing the best user experience is essential. A unique design and style are important, you do not have to always choose a dedicated solution. You need to consider the target audience for your product and the app's complexity. For ex: if you plan to implement software dedicated to improving internal processes, the design will not be the project's most crucial element. So you don't have to invest in unique and dedicated solutions. You can use ready-made options. However, if you intend on targeting a vast audience and offering a mass product that is being targeted at various markets, the design will be one of the most important factors. This will require additional work hours, as the investment will pay off and attract a large number of users. So the design definitely influences the cost of your application. 
Third-party integrations in web application development can vastly affect the PHP app development cost. External libraries are also a part of third-party integration used to create interactive and attractive applications. However, these third-party integrations of libraries sometimes decrease the performance of applications. A highly optimized app with these integrations will increase the PHP development cost. The cost of web app development can be quite high for such features as developers will have to spend a lot of time with application programming interfaces.      
2. Cost To Hire PHP Developers: In-House Vs Remote
With the concept of working remotely, many companies have decided to delegate their tasks to teams in different regions. Usually, the question of choosing an in-house or remote developer comes to the cost. Working with a remote team requires a lot of effort, especially if you do it on your own. It is no surprise that hiring a remote workforce is cheaper than hiring in-house development staff, as you can save on overhead.
Running a local unit and hiring in-house developers can be costly. You need to spend on recruitment, supply a working space, training, and equipment. In addition, corporate benefits will need to be provided. For example; meals, paid sick leaves, vacations, and so on. Also, the payment doesn't depend on the scale of work done. Even if the project finishes and the developers are waiting for the next one, you'll need to pay them to retain them.
However, when you hire a remote developer, you'll have to adapt your management style and workflows to integrate remote workers into your team seamlessly. It can be a challenge but once you overcome the initial period of change, it becomes easier. Companies that hire remote developers do not require the overhead costs of a centralized office. There's no need for rent, utilities, parking fees, and security systems. Most businesses can save a large amount of money by hiring remote workers. They will obtain significant benefits at a lower cost. You can choose developers from any country, so you have access to a much larger talent pool. 
According to Arc, a remote developer makes a global average of $65,613 per year while an in-house developer will make an average of $88,535 per year. There is a significant difference between the costs and this can make it the more attractive option.
3. Cost To Hire PHP Developers Based On Geographical Pricing
There are several low-priced locations for hiring PHP developers. The PHP app development cost can vary depending on the geographical location you choose to hire from. Check out the images below to understand how the costs for PHP development will change depending on the country.
Average PHP Developer Salary In The USA 
The United States has the highest average salaries for PHP developers in North America. This ranges from $83K to $150K per year. Amongst this, the position of a Full Stack PHP Developer is the most well-paid.
Average PHP Developer Salary In The United Kingdom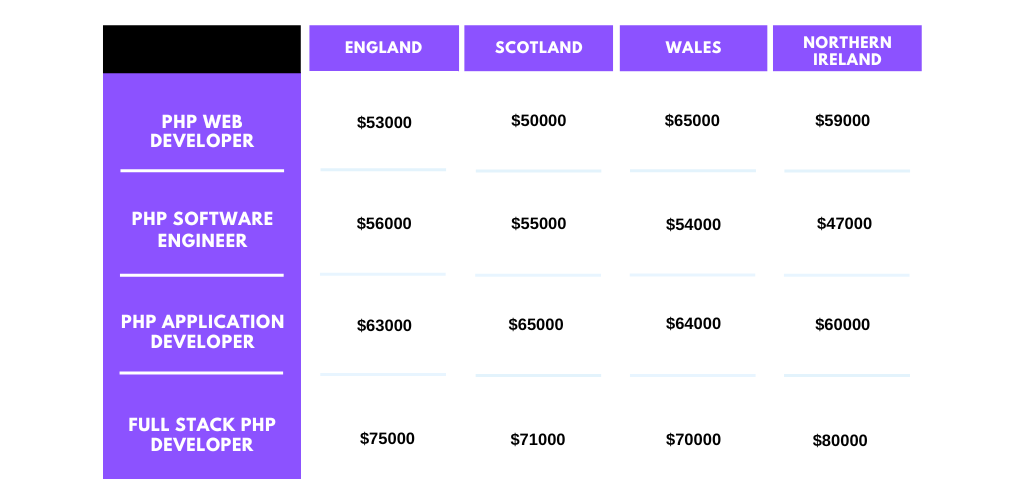 PHP developers have a decent income in the UK. It varies at the level of $47-75K. UK is the only country in Europe that divides the positions of "PHP Software Engineer" and "PHP Application Developer".  
Average PHP Developer Salary In Eastern Europe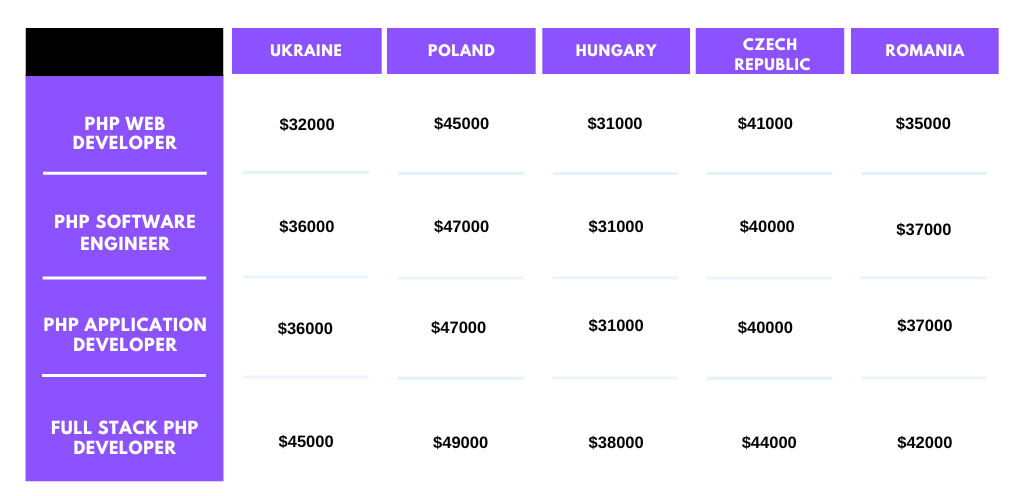 Companies in Ukraine pay moderate prices for local PHP developers. The pay range is small and varies from $32K to $44K and the highest mark is a PHP Full Stack Developer salary. 
The average pay rates in Poland are the highest in the region. It ranges from $44K to $48K a year. Skilled specialists that work as PHP Full Stack Developers make the most amount of money. However, salaries here are lower than in a lot of other European regions.
In Hungary, the different types of PHP specialists get about $30-37K per year. The salaries of a PHP Web Developer, PHP Software Engineer, and PHP Application Developer are around the same.
Tech companies in the Czech Republic offer the second-highest compensation rate for PHP developers in this region. However, these annual salaries are significantly lower than in the states of Western & Nordic Europe. 
Romanian salaries are very similar to Ukrainian ones. The average base pay varies from $34K – $41K per year with the highest salary for Full Stack PHP developers.
Average PHP Developer Salary In Eastern Asia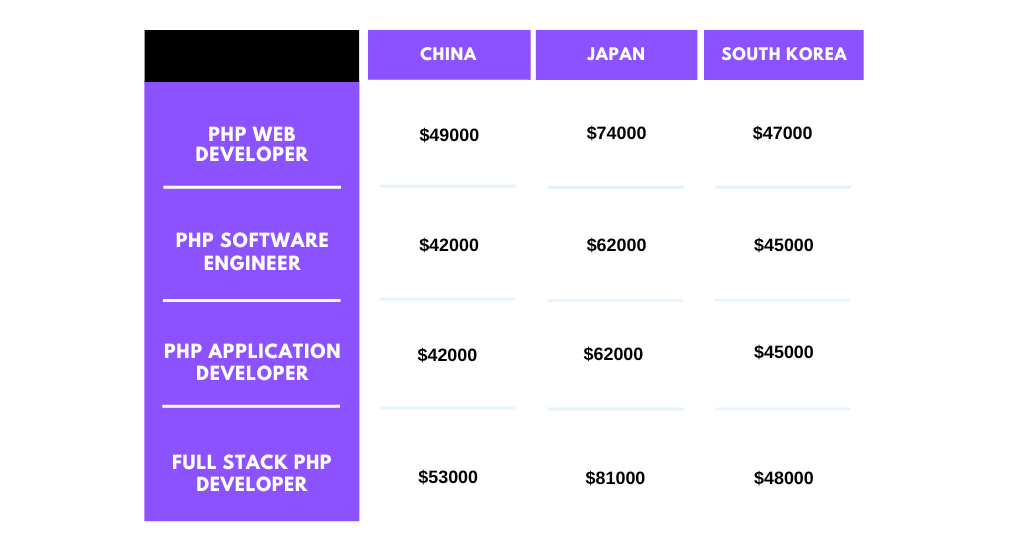 According to Salary Expert data, China ranks as the second country to provide financial rewards for PHP jobs in Eastern Asia.
Japan is a leader when it comes to the highest PHp salaries in this region. However, the average PHP software developer's salary in South Korea is slightly lower than the salary offered in China.  
Average PHP Developer Salary In Australia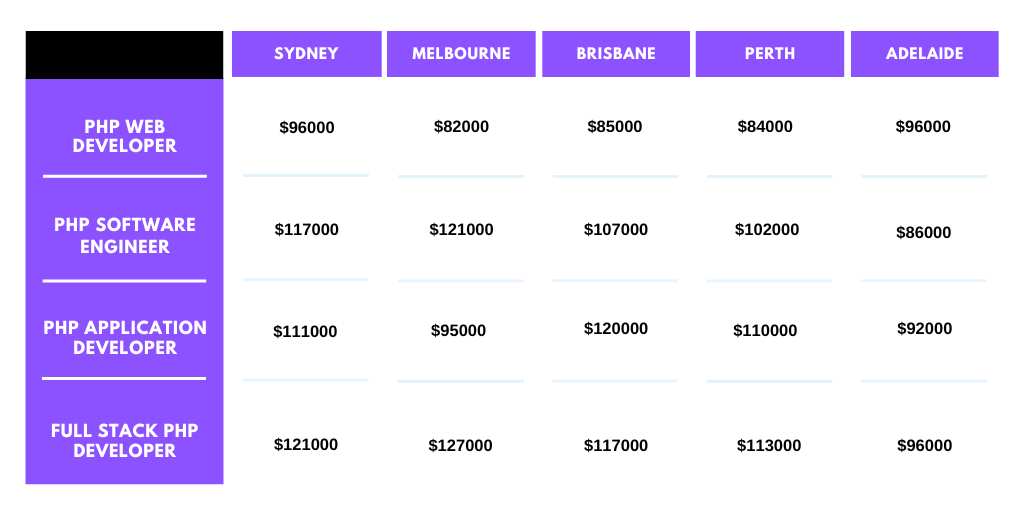 Australian compensation rates are quite similar to salaries in the US. They vary from $81K to $126K. 

4. How To Find And Hire Remote PHP Developers
These nearshore developers work freelance without the intervention of any platform, agency, or employment organization. These developers will use platforms like Linkedin to detail their services. This can save you money on third-party expenses but hiring these contractors can be a tedious task, especially if you know nothing about the region you're trying to hire from.
You can advertise on remote freelancing sites, create a posting that will attract the right type of developers, review responses, and conduct interviews. There are several websites like Fiverr and Upwork that will make it easier for you to source developers. However, despite its ease of use, you can't really evaluate the developers' skills and you'll also need to pay a fee to the platform. This isn't the ideal option if you're considering hiring developers for the long term.
Choosing a talent marketplace is probably one of the best options. These talent marketplaces will ensure that they provide developers who are best suited for the task. There are several platforms available for companies wanting to hire developers from Asia. Unicorn.dev is one of them. It has its own exclusive talent pool of elite developers. All of its developers have at least 5+ years of experience in their area of expertise. These developers are thoroughly vetted by an extensive 5-step vetting process. You will be guaranteed qualified talent this way. They allow you to work according to flexible contracts. This includes part-time, full-time, or even project-based contracts and you can pay as you go. This involves minimum commitment. In case you find a developer that you're pleased with, you can even buy him/her off the platform.
Unicorn.Dev makes sure to find the most suitable talent for your project within 24 hours. Once a suitable developer or team has been selected, you'll be able to communicate with the talent via a private Slack channel. To help cope with the time difference, you will be provided a daily 4-hour time overlap. This makes collaboration between you and your remote team easier. Schedule a call here to find out more information. 
5. Things To Consider When Hiring PHP Developers
If you want to hire the best PHP developer for your upcoming project, here are a few things you'll need to take into consideration. Let's explore these factors.
When you hire a PHP developer, experience is one of the most crucial factors. Experience says a lot about the reliability and success of your PHP developer. Before hiring a prospective PHP developer, make sure the developer has successfully completed projects in the past.
 

Technical skills and knowledge
If you want to create an application that stands out, your developer will need to be technically sound. You need to test the skills of the developer. If the technical knowledge resonates with your project requirements, you can hire. 
 

Good communication skills
Good communication skills are the key to all successful projects. Lack of communication can turn development efforts futile. It is pointless hiring an experienced PHP developer if they aren't able to communicate with the company and understand the requirements. 
6. The Cost To Hire PHP Developers Based on the Pricing Model
This model is a classic yet static approach in the early days of engagement. This price model is typically used when you have a set budget, fixed requirements, and a set deadline. The model is better suited for startups and medium-sized businesses. Project management by the client is not mandatory in this engagement. 
A dedicated team model is an excellent approach to hiring software developers from a vendor and establishing your own remote team. The client will choose the development journey, plan, and strategy. 
A dedicated development team will technically work for the client and adapt to the client's working style. You can select the number of developers you'll want on your team. This development is best suited for organizations with special requirements and features in their application development.
Just as the name suggests, this model depends solely on the number of resources and time taken to complete the development of a web app or a mobile application. Both parties will agree upon the time taken to complete the project.
However, the project managers and supervisors will need to manage and supervise the project to ensure timely delivery as well as quality. The flat rate for hiring Unicorn.Dev developers are $35/hr and you're offered a 7-day risk-free trial for all of its talent. If you aren't satisfied with the developer, you can ask for a replacement or get a refund right away.