Since 2010, hiring developers from the Philippines has become an appealing proposition for many businesses. This is mainly due to its well-educated pool of talent, which ensures efficient output. According to Global Data, the Philippines is considered to have the highest literacy rate in Asia at 99.27%.
Furthermore, the government gives substantial support to international clients by introducing liberal programs that provide fiscal and non-fiscal incentives. Most importantly, compared to other Asian countries, the cost of hiring developers from the Philippines is fairly low. For instance, a developer in China will typically earn an average yearly salary of $23,790, whereas a developer in the Philippines would earn around $7936 yearly. This is a significant difference that can be taken into account when considering the cost of hiring developers from the Philippines.
However, the Philippine developer hiring rates might differ from one company to another. Continue reading to learn more about why it's preferable to hire tech talent from the Philippines and where to hire from.
Reasons to hire Filipino developers
According to the World Population Review 2021, the Philippines is the world's 7th largest English speaking (as a second language) country. For a majority of them, English is either their native or second language. It is also one of the top languages spoken in schools and businesses. This makes communicating your expectations to your offshore Filipino developers so much easier.
World-class programming talent  
The programming talent in the Philippines is outstanding. This is why world-renowned corporations such as Google, Paypal, JP Morgan Chase, and others choose the Philippines to set up operations. It is the ideal location for your web development operations in Asia, as you scale your business in your own nation. According to the Tech-Voc Education Task Force (TVETF), the Philippines has around 261 tech-voc high schools. It is also believed that for 2019 to 2022 academic year, over 47000 students have earned a degree in Information technology. This means that there will be more talent available in the future.
A high degree of professionalism
The Philippines has a strong culture of professionalism and a positive attitude toward work. These developers tend to embrace core values such as teamwork, commitment, and work-life balance. So working with these professionals will be a breeze, resulting in high-quality work.
Savings on developer labor costs
By hiring developers in the Philippines, you may access the same talent found in first-world countries. There is one difference: the labor costs. You may still need to invest in premium local rates to acquire the best talent. But its costs are significantly lower than in the US, Australia, or the UK. However, there are a number of different costs to consider. Let's go over the breakdown of these costs in detail.
Standard Pricing Model 
The cost of hiring developers in Philippines is often assessed depending on the skill of the resource, the number of developers you want to hire, and the length of the contract. However, when hiring talent from the Philippines, companies will calculate their costs based on workforce costs, service fees, government-mandated benefits, and several other costs. All companies must follow specific laws. As a result, companies willing to hire remmote talent must develop unique service models based on their target markets.
You are always charged the workforce cost, as these costs are driven by the market rates for the positions you want to fill. These costs may vary depending on skill level, whether entry-level, experienced or expert. When it comes to workers in the Philippines, you can always expect highly-skilled workers who are very eager to learn new skills. When calculating the cost, you may also need to account for the exchange rates between your currency and the Philippine Peso. However, most businesses have standardized labor rates.
For example: According to Payscale, an entry-level Software Developer will cost around $3-6/hr on average.
Each company will have its own service fees. This fee generally includes a fixed monthly fee per employee that covers all of their operating expenses. These operating expenses will include equipment, utility bills, taxes, and more. Some companies may provide you with perks based on the total size of your remote team. This service fee may be negotiated.
Government-mandated Employee Benefits
According to Philippine labor laws, every employee is entitled to several benefits, such as the ones listed below. Your talent partner makes sure to manage all of these, as it's part of your payroll.
In the Philippines, the Department of Labour and Employment ensures that the 13th-month pay is equivalent to 1/12 of an employee's base salary and is prorated based on the employee's start date. It is given at the end of the year.
Most of the employees working under a Business Process Outsourcing company (BPO) firm work at night to accommodate their overseas clients.  For example, the Philippines is ahead of the US, although this may vary depending on the state. So if your remote team will be working according to your hours, you'll need to pay them a night differential pay of 10% on their hourly rate if they work between 10 PM to 6 AM.
– Social Security System (SSS) 
Every employee in the Philippines is eligible for a Social Security Systems account. This is a method for the government to provide social welfare services to Filipinos. It is shared by the employer and the employee. The contribution rate is 13% as of 2022. The employer is liable for 8.5%  of the total payment, while the employee is responsible for the remaining 4.5%. Remember these rates fluctuate year to year and are predicted to reach 15% by 2025.
– Home Development Mutual Fund (Pag-IBIG Fund)
It's the government's way of guaranteeing that these Filipino workers save money while they work. Every month, a set donation is made to the fund. The employer's contribution rate is 2% of the employee's basic salary and the remaining will be deducted from the employee's salary depending on the amount of the monthly compensation. This is typically used for housing purposes or when an employee wants to borrow money.
– Philippine Health Insurance Corporation (PhilHealth)
According to PruLife, the PhilHealth contribution is calculated using the employee's salary base. As of 2022. The PhilHealth contribution rate is 3% of the basic income as of 2022.  The employer is responsible for half of the contribution, while the remaining 50% is deducted monthly from the employee's salary. Despite the fact that some organizations offer separate health insurance from private providers due to the high cost of healthcare in the Philippines, this can be utilized as health insurance.
There are various factors to consider here, but the most essential is the cost of paying the employee's salary. Even if salaries are negotiated and agreed upon in your country's currency. They are almost always compensated in Philippine pesos. Unless you opt to work with an EOR, you will incur various bank charges and FX expenses.
The salaries of software developers depend on their location
The average income of developers in the Philippines may vary depending on the city. Cities with higher living costs would require higher salaries for developers. This is because the cost of living is tied to the salary. If expenses are higher in a city, such as Manila, the salary levels must be higher so that the talent from those areas can afford to live in that city.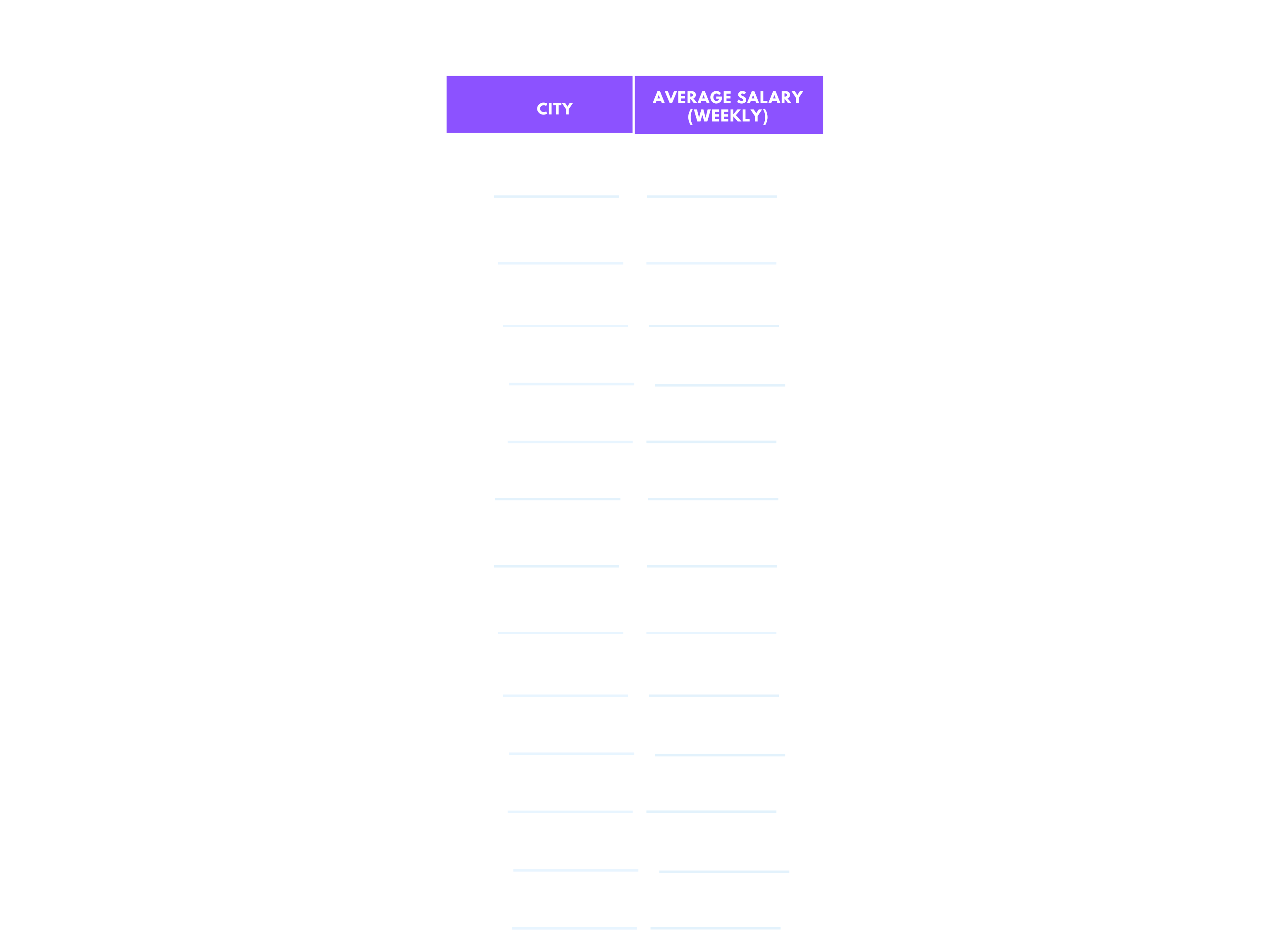 Cost of hiring developers based on their specialty
The average salary of a developer can vary depending on their specialty and tech stack. These are the average salaries for the year 2022.
Comparison of offshore development rates in other Asian countries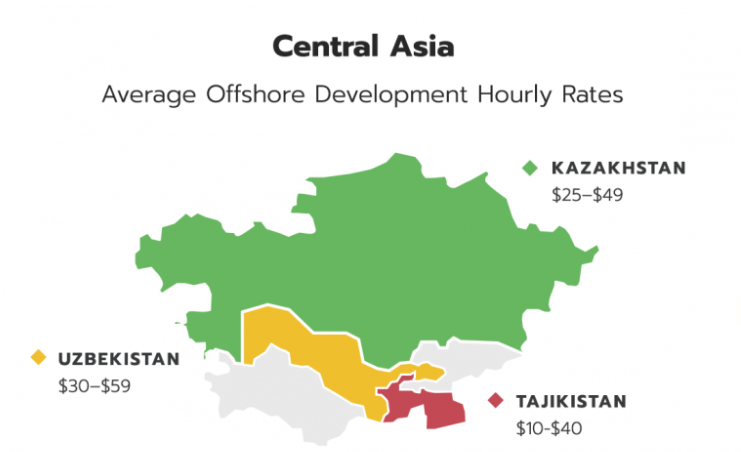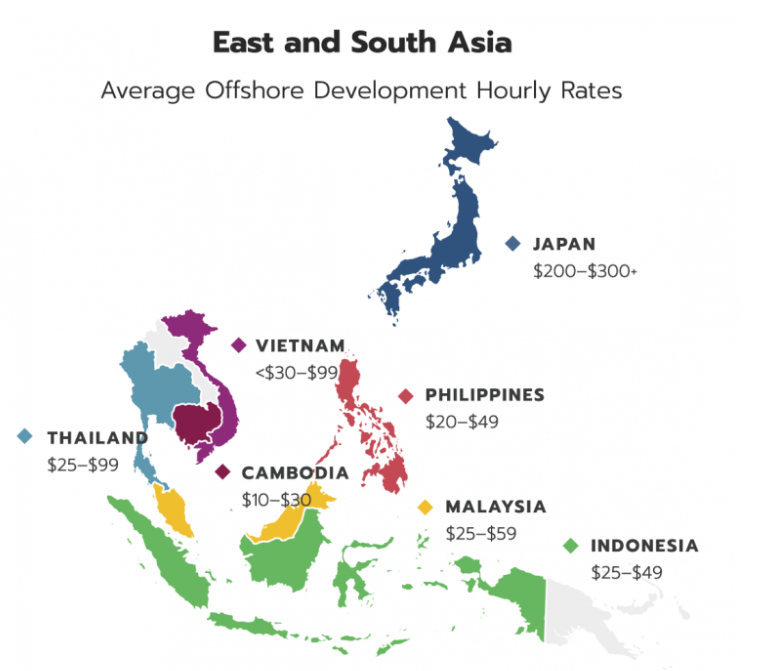 Source:https://geniusee.com/single-blog/outsource-developer-rates-in-2020-how-to-choose-a-software-outsourcing-country
Comparison of developer rates based on their seniority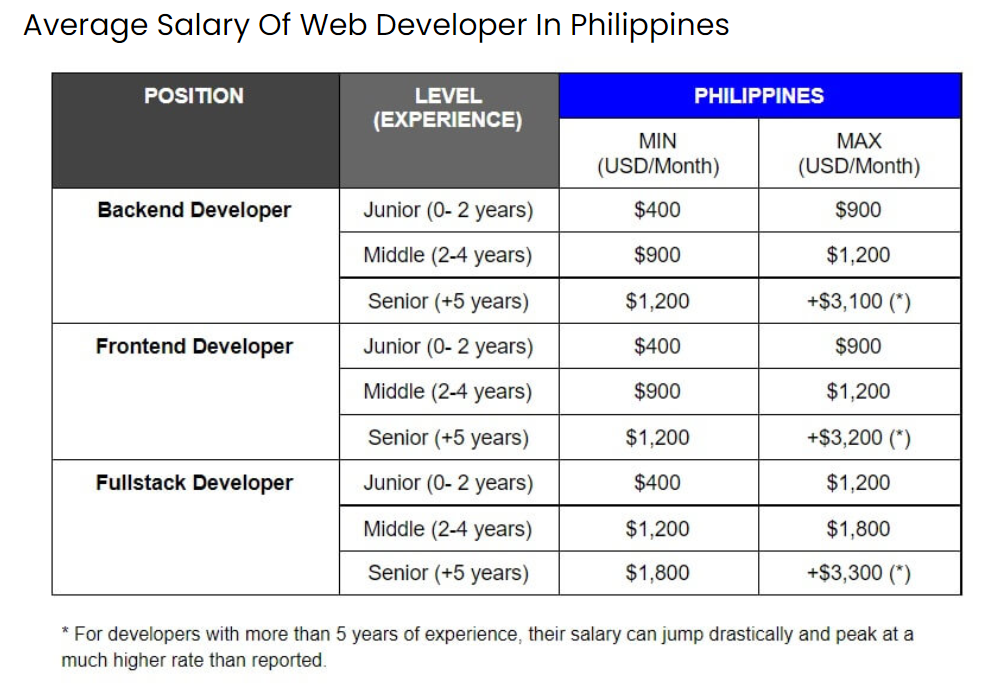 Source: https://talentjdi.com/essential-guide-to-offshore-web-developer-salary-vietnam-vs-philippines-vs-india/
Common problems with hiring offshore developers
Even though offshore might seem like the way to go, especially if you're on a budget and looking for an affordable route, there are drawbacks to hiring offshore developers. In recent years, many companies have experienced their fair share of challenges when hiring remote developers. Cost-cutting doesn't always ensure high quality and overall project management may vary significantly.
Communication – The lack of in-person interaction and communication with the developers can make it hard for them to cooperate, especially if they aren't accustomed to remote work.
The difference in business practice – Hiring developers may have a completely different outlook on business operations due to the business culture of their country. This can cause confusion and frustration.
High turnover rate – The IT field is known for its high turnover rates. It is believed that the turnover rates are as high as 50%. This can result in a loss of project knowledge and expertise, which in turn can impact the efficiency of the project and quality.
Vetting Process – You would have to conduct a vetting process to screen talent to make sure they meet your requirements and this can be a tedious task.
Why should you hire developers from a talent marketplace?
Hiring suitable talent can be expensive and time-consuming. You may need to post job openings across job boards, hire recruitment agencies and make callbacks. It is possible that you may need to hire headhunters. This is why you need a talent marketplace. It will help businesses get transparency on which skills are available. This way it's easier to choose the developers. They also do the recruitment and selection process, which makes things less hectic for the clients who are hiring talent. You can also scale up or down labor demands at any time.
There are various talent marketplaces like Unicorn.dev that will guide you and help you select the most suitable developers for your task.
Why should you hire developers from the Philippines through Unicorn.dev?
Unicorn.dev is an exclusive global pool of highly vetted remote developers and designers available for hire. It is your one-stop shop for hiring talent. Unicorn.dev makes sure to handle all of your talent management, payments, and compliance so that you have less work to do. They make sure to assign talent within 24 hours via your private Slack workplace. Imagine how convenient and less time-consuming this is.
To make sure quality is maintained, Unicorn.dev ensures that its senior talent has at least 5 years of experience in their specialty. These developers are hired after an extensive screening process. This 5-stage vetting process includes:
Discovering and interviewing
Coding challenge to determine the quality and coding speed
Problem-solving challenges involving logical thinking
Background check to screen references
Client's evaluation process to allow you to evaluate them yourself
They also guarantee that quality is maintained through continuous monitoring and assessments.
Unicorn.dev offers a 4-hour time overlap for clients. When hiring remote developers, this makes it simple to collaborate despite the time difference. You are also provided a week-long trial for you to test out your new talent. If you feel like they aren't the right fit, you can immediately get them replaced with a new dev who will also have a 7-day trial or you can simply choose to not use its services.
Unicorn.dev offers a diverse range of talent catering to different specialties and it charges a flat rate of only $35/hr.
If you wish to hire developers from the Philippines, then Unicorn.dev is the most viable talent marketplace. Get in touch by scheduling a call today.