Thailand's economy is the second biggest in Southeast Asia and is one of the world's fastest-growing economies. It is a country well-known for its vibrant culture, amazing tourist industry, and exquisite cuisine. But what most people aren't aware of is it is also an Asian talent-hiring landmark. Hiring tech talent in Thailand has grown in popularity among several international companies due to its low labor costs and aspiring IT market. 
Thailand's extensive plans to create a smart city that prioritizes innovation and technology, as well as the government's focus on driving growth in the IT market, has made it an appealing destination for companies to hire developers. In this article, you'll be given an overview of the software development talent landscape in Thailand. This will help you determine if your company should hire developers in Thailand for your tech talent hiring requirements.
Country Profile
Capital: Bangkok

Official Languages: Thai

Currency: Thai Baht

Population:70,209,677  

Timezone: UTC+07

Number of developers – 100,000+

Average developer's salary: USD 70,691 per year

Political Stability

(scale -2.5 to 2.5): – 0.55

Ease of doing business:

19/100

Biggest Tech Hubs: Bangkok (Thailand Science Park and Software Park Thailand), Samut Prakan City, and Nonthaburi City  

Popular Technologies: Java, C++, C, Python, JavaScript, .NET, PHP, Ruby, and MySQL
1. Benefits Of Hiring Developers in Thailand
Thailand has been experiencing rapid economic growth over the past few years and remote talent-hiring has been one of the key drivers behind this growth. In recent years, Thailand's application development market has grown by nearly 10%.
 It owes its growth largely to smart IoT technology, which facilitates the use of wireless data collection. 3D printing has also driven growth in the IT sector. Furthermore, most developers' blockchain adoption has fueled growth in the finance sector, as banks seek higher security for data retrieval. 
Many companies today are hiring developers in Thailand, mostly due to their expertise in advanced dev tools. Many top development firms use JFrog's Helm repository to build enterprise-ready custom software. Using this tool, they are given access to reliable privacy, high availability, and massively scalable storage. For example; local Helm repositories provide developers with high security when sharing charts across organizations. 
Businesses can also save money on data breaches by using fine-grained access control from a single URL. These advanced dev tools enable these developers to handle the company's growing user base, servers, and interactions.
Wide Range Of IT Services
When companies hire developers in Thailand, they are given access to a wide range of IT services. Bangkok and Chiang Mai offer some of the top database designs, administration, and maintenance services. Thailand also offers blockchain development if you want to create cryptocurrencies or mobile banking apps.
Thailand is located in Southeast Asia and serves as a gateway to the world's fastest-growing economic market. It is linked to other Asian giants like China, India, and Indonesia by world-class transportation infrastructure. This makes it simpler for business owners to meet with developers in person. Because of Thailand's booming economy, several multinationals have set their headquarters there.
Thailand is a top location to hire developers mainly due to its ability to offer fixed-cost projects. This allows business owners to get a rough estimate of how long it'll take developers to complete a project. Before the project starts you usually get the total price of the project too. This is great if you are on a tight budget. 
One of the primary reasons why one should hire developers in Thailand is so popular is because of the low salary rates and other related costs. It is often said that software developers in Thailand provide top-quality service at a cost that is over 60% less than that of US professionals.
2. Cost Of Hiring Developers from Thailand
The average annual salary of a remote developer in Thailand is around $70,691. Remote developer salaries in Thailand are amongst the highest in Asia. The cost of hiring software developers will depend on taxes, operational costs, and the availability of talent within the location. The size of the project, tools and methodologies used, team expertise, and other costs like maintenance and support will also affect the overall cost of hiring developers. To make things simpler, it is better to seek localized professional advice. 
Monthly Salary Rates For Junior And Senior Software Developers In Thailand
The salary breakdown has been extracted from Glassdoor. The estimated total pay for a Developer is THB 150,000($4162) per month, with an average salary of THB 50,000 ($1387) per month. The estimated additional pay is THB 100,000 per ($2775) month. This additional pay could include a cash bonus, commission, tips, and profit sharing. However, the average salary of a developer may change according to their level of experience.
Junior Web Developer – the estimated total pay is THB 55,000/month ($1526) with an average salary of THB 35,000/month ($971) and an estimated additional pay of THB 20,000/month ($555).
Senior Web Developer – the estimated total pay is THB 162,001/month ($4510) with an average salary of THB 62,000/month ($1726) and an estimated additional pay of THB 100,001/month ($2784). This is higher than the average salary of a developer.
Yearly Salary Rates In Thailand Based On Speciality
The average salary of a developer will differ according to their skill sets and expertise. We've gathered information to help you compare salaries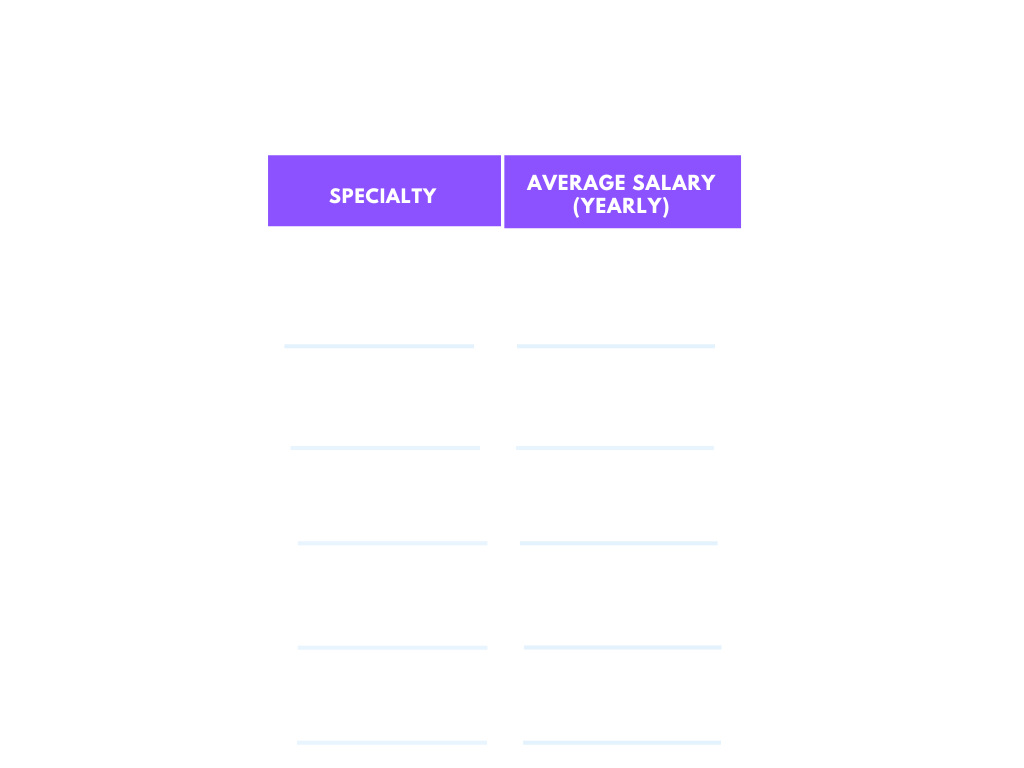 3. Things To Consider Before You Hire Developers in Thailand
There are many challenges unique to hiring remote developers. It may seem like the ideal solution but there are several factors to consider when trying to hire developers in Thailand.
Recommendations

– look for recommendations and referrals. Get recommendations from businesses or entrepreneurs in your professional network who have already hired remote software developers. Be open to recommendations, listen for warnings and check which firms you should avoid.

Communication and accessibility

– this is one of the most important aspects in determining the success or failure of your tech project. When hiring remote developers, you'll need to think about elements like language, cultural and time-zone differences.

Understanding of the project

– your developers must have a good understanding of the project. Before hiring, make sure to dig into specifics. 

Transparency

– this is one of the most difficult but crucial elements. Your developers need to display total transparency and show no reluctance to present information.

The capability of the developers

– once you've found a developer who is reliable, focus on their coding skills. High-quality, clean code is a must. You can ask for examples of their past work to assess their skills.
4. Challenges When You Hire Developers in Thailand
Thailand ranks 89 out of 100 on the English Proficiency Index. This is considered a "very low" proficiency score. This will make remote deloper hiring complicated, as it'll make communication between developers and the company more difficult. In some situations, even if employees know the language, they might not be fluent enough to carry out professional conversations. 
In order to avoid this, you'll need to interview your developers to help you gauge their proficiency in English. To make things convenient, you can use a talent marketplace like Unicorn.Dev. Their talent pool consists of elite developers that have been thoroughly vetted and have over 5 years of experience. This way you won't have to worry about hiring developers who are unable to communicate in English.
Lack Of Cybersecurity Infrastructure
Thailand's software piracy levels were at a startling 66% in 2018. This sort of widespread cybercrime raised concerns regarding the safety of both customer and company data. Thailand is also facing a distinct cyber security talent shortage. So many companies are vulnerable to cyberattacks and must take matters into their own hands. As a result, the government has prioritized cyber-resilience in its Thailand 4.0 plan.
One of the most overlooked challenges, when you hire developers in Thailand, is the time zone difference. If you're a US-based firm, your remote developers will be 12 hours ahead of you. As a result, you'll be working in two different time zones. This can affect projects since different time zones might cause delays and make communicating with your team more difficult. However, if you use a platform like Unicorn.Dev, you are provided a daily time overlap of 4 hours. This will make collaborating with your remote team easier.
5. Where To Hire Developers In Thailand
There are several software development companies in Thailand catering to your tech talent hiring requirements. These firms are a very cost-effective option, as they handle recruitment and payment procedures. They have years of expertise and a trusted network. So they are able to streamline the recruitment process and help your company find the right developers. However, most of them compromise on quality, which is why you should check their reviews before using their services.
Direct contractors are freelance developers who work without the intervention of any agency, platform, or employment organization. These developers may have their own website advertising their services or you can find them on Linkedin. However, since you'll be working directly with them, you can save on fees for third-party organizations. Hiring suitable contractors can be a tedious task, as you'll need to carry out the recruitment and selection process yourself.
Freelancing platforms became increasingly popular a while back, especially with the rise of COVID-19. You can advertise on remote freelancing sites to find developers according to your requirements. This is quite an easy approach but despite its simplicity and convenience, it has a few downsides. For starters, you cannot evaluate the developers' skills and have no control over their work. The following are a few popular freelancing sites:
The most in-demand method to hire developers would be to use a talent marketplace. A talent marketplace lets you reap the benefits of hiring developers fromn Thailand while eliminating the constraints. It has also grown quite popular as a result of its high rate of success. This is where vetted developer platforms like Unicorn.Dev comes into play.
When you reach out to Unicorn.Dev, you're matched with a developer within 24 hours. You'll have your own private Slack workplace to communicate with the developer. An added advantage would be the option to purchase devs off the platform if you've discovered one that you're pleased with. They provide weekly contracts so there's a minimum commitment. You are also given a 7-day free trial with your talent and if you aren't satisfied, you can immediately choose an alternative or get a refund right away. Whether you're searching for talent on a part-time or full-time basis, they make sure to cater to your needs. If you're interested and want more information, schedule a call here.
Key Takeaways
Despite having several tech talent hiring options, Thailand is unquestionably one of the most attractive options for most US companies. There are several benefits that these companies can be confident of. You may have to deal with a few drawbacks, but the advantages outweigh the disadvantages. The key benefits include:
Economic growth – Thailand's steady economic growth has created a healthy working population. This has fueled growth in the IT sector, as new technology such as IoT is adopted.
Advanced dev tools – Thailand's expertise in advanced dev tools enables developers to execute their jobs better by allowing them to write higher-quality code more efficiently.
Wide range of IT services – companies have access to a wide range of IT services. This includes top database designs, administration, and maintenance services.
Great location – Thailand is positioned as a gateway to Asia. Its prime location makes it a preferred destination for foreign companies looking to invest.
Fixed-cost projects – before the project begins, you are given an estimate of how long it will take to finish it and the entire cost. This helps you stay on budget.