Upwork has been in the freelancer market space for over a decade. It is currently one of the best-known platforms for anyone seeking remote work. Upwork has boosted millions of freelancers in a multitude of fields by connecting them with employers from all over the globe. Upwork is most recognized as a freelance service platform that offers a range of professionals with different skillsets and expertise levels. But you might want to look into some Upwork alternatives if your talent requirement is niche or if you prefer pre-vetted expert talents.
‍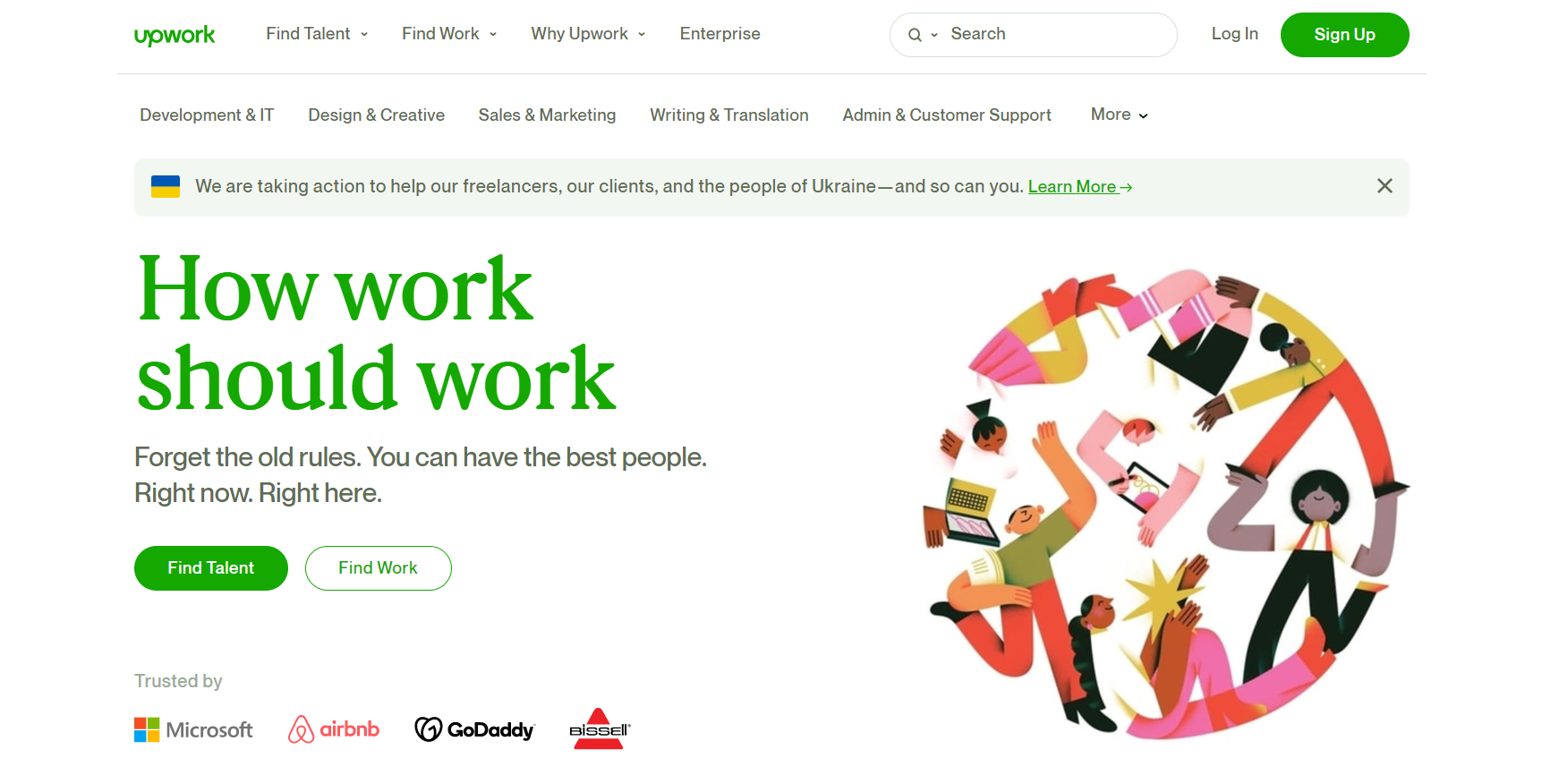 ‍
Here are some of the top reasons why would require Upwork alternatives:
‍
There is no vetting or screening process on Upwork for the freelancers
‍
Upwork makes it extremely easy for freelancers to join the platform, create their profiles, and start offering services to clients. But as a result, it does not provide a series of screening processes to ensure the talent is legitimate and skillful. hence, for those in search of pre-vetted talent to ensure the quality of services, there are other Upwork alternatives that you may want to consider.
‍
Upwork is a generic talent platform offering all ranges of freelance services
‍
While this may seem as a positive, for a serious and specific hiring requirement, it would be difficult for the client to peruse the range of services that are offered at different skill levels and rates in order to narrow down on your potential candidates. This may result in extended time required to finalize a hire. hence for those wishing to fill requirements fast, an Upwork alternative that caters to your niche market would be a better fit.
‍
‍
Upwork's customer support team can be slow at providing feedback and are often uninterested in solving systematic problems. As a result, the platform's unable to solve complex issues.
‍
Up next, we present the best Upwork Alternatives for hiring freelance talent:
‍
Listed below are some of the key features of the most popular Upwork competitors to help you explore alternative freelancer outsourcing platforms and find one that suits your requirements.
‍
‍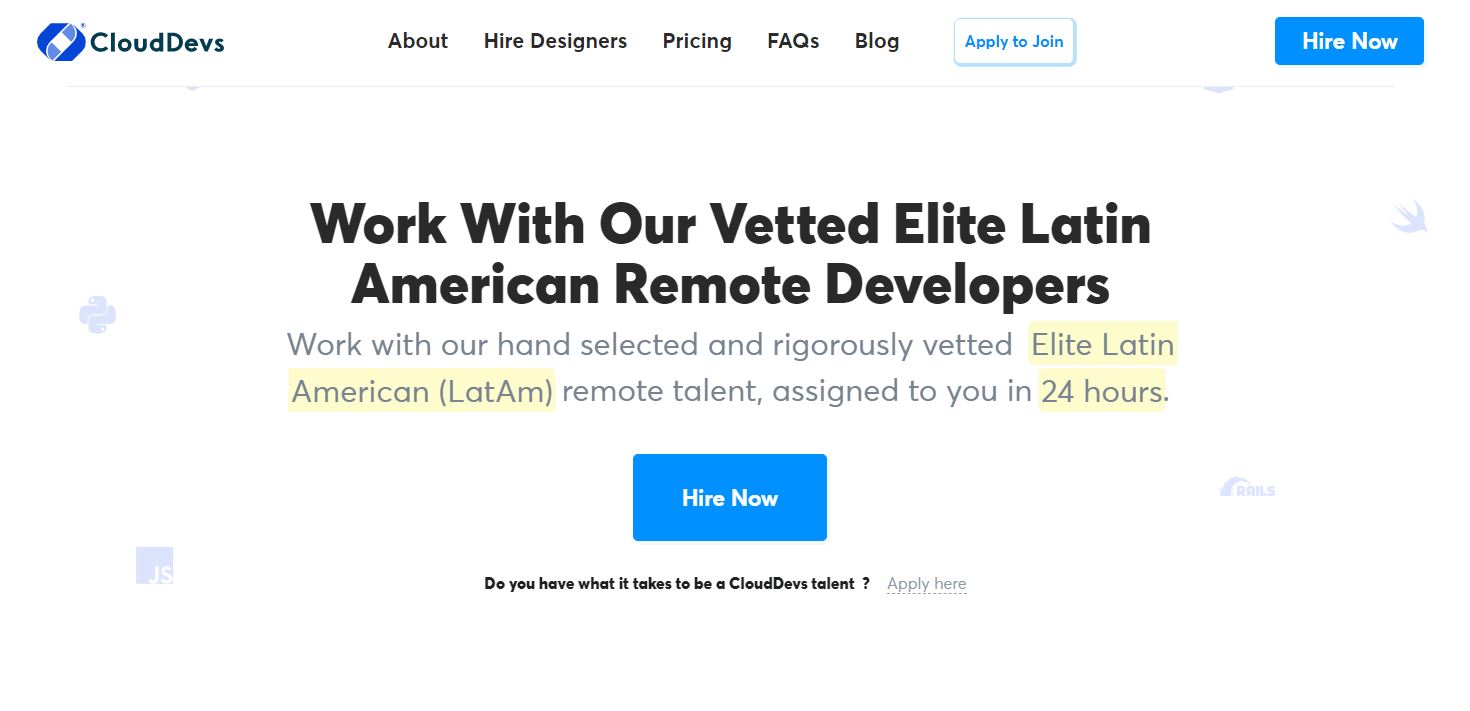 ‍
CloudDevs is an exclusive platform of vetted developers and designers and is a highly recommended Upwork alternative for startups and entrepreneurs searching for quality tech talent. Unlike other tech talent platforms, CloudDevs offers some of the most reasonable pricing scales in the market. With a talent pool of 8000+ elite senior developers and designers from Europe and Latin America, CloudDevs ensures that its clients' demands are met within 24 hours. It is one of the top-ranked Upwork alternatives for hiring freelancers for web development, mobile app developments as well as for building ecommerce and Shopify sites at a reasonable cost without sacrificing quality.
‍
Why should you consider CloudDevs as an Upwork alternative?
‍
Unlike Upwork's globally distributed talent, CloudDev's talent base is exclusively from the European and Latin American regions.
CloudDevs ensures all its talents are assigned from the same time zone as the client. This way communication and delivery of service can be conducted efficiently.
CloudDevs offers a 7-day no-risk trial period to guarantee the chosen talent is the right fit for the client.
CloudDevs offers a weekly rolling contract with no minimum commitment and allows their clients to cancel projects whenever needed.
The clients are matched with talent based on experience, niche, and many other requirements.
‍
Pricing: CloudDevs charges a transparent rate of $45 to $70 per hour. 
‍
‍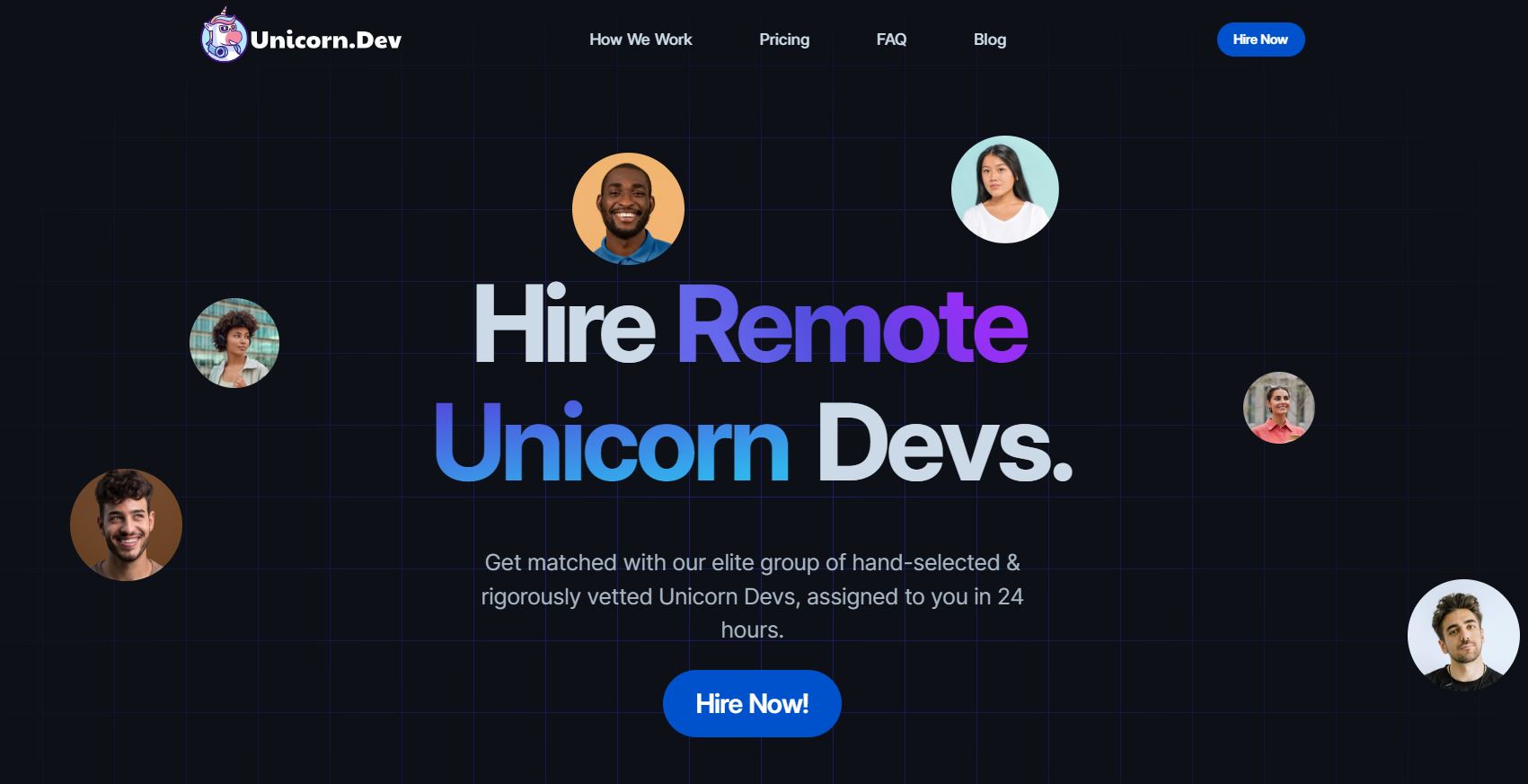 ‍
Unicorn.Dev is an exclusive global pool of highly vetted, remote developers and designers for hire. They are specialized in the tech talent niche and are considered one of the most affordable tech talent platforms in the market. With a focus on the quality of talent Unicorn.Dev ensures their talent has a minimum of 5 years of work experience within their specialties. These freelance programmers and designers are all senior talents and they've undergone five stages of screening and vetting to enter the exclusive platform. Whether you're looking to hire freelancers to fill a short term requirement or require an entire developer team for a project, Unicorn.Dev can provide you with a shortlist of elite programmers, in record time.
‍
Why should you consider Unicorn.Dev as an Upwork alternative?
‍
Unicorn.Dev offers a global network of tech talent for hire.
Unicorn talents are highly vetted and screened unlike the talents at Upwork.
Unicorn.Dev can provide you a talent match within 24 hours.
They provide a 4-hour time-zone overlap for clients. This makes it easy to collaborate and communicate with internal teams.
It provides a week-long trial for the clients with each new tech talent hire.
‍
Pricing: Unicorn.Dev charges a flat fee of $35/hr for all their senior pre-vetted talent.
‍
‍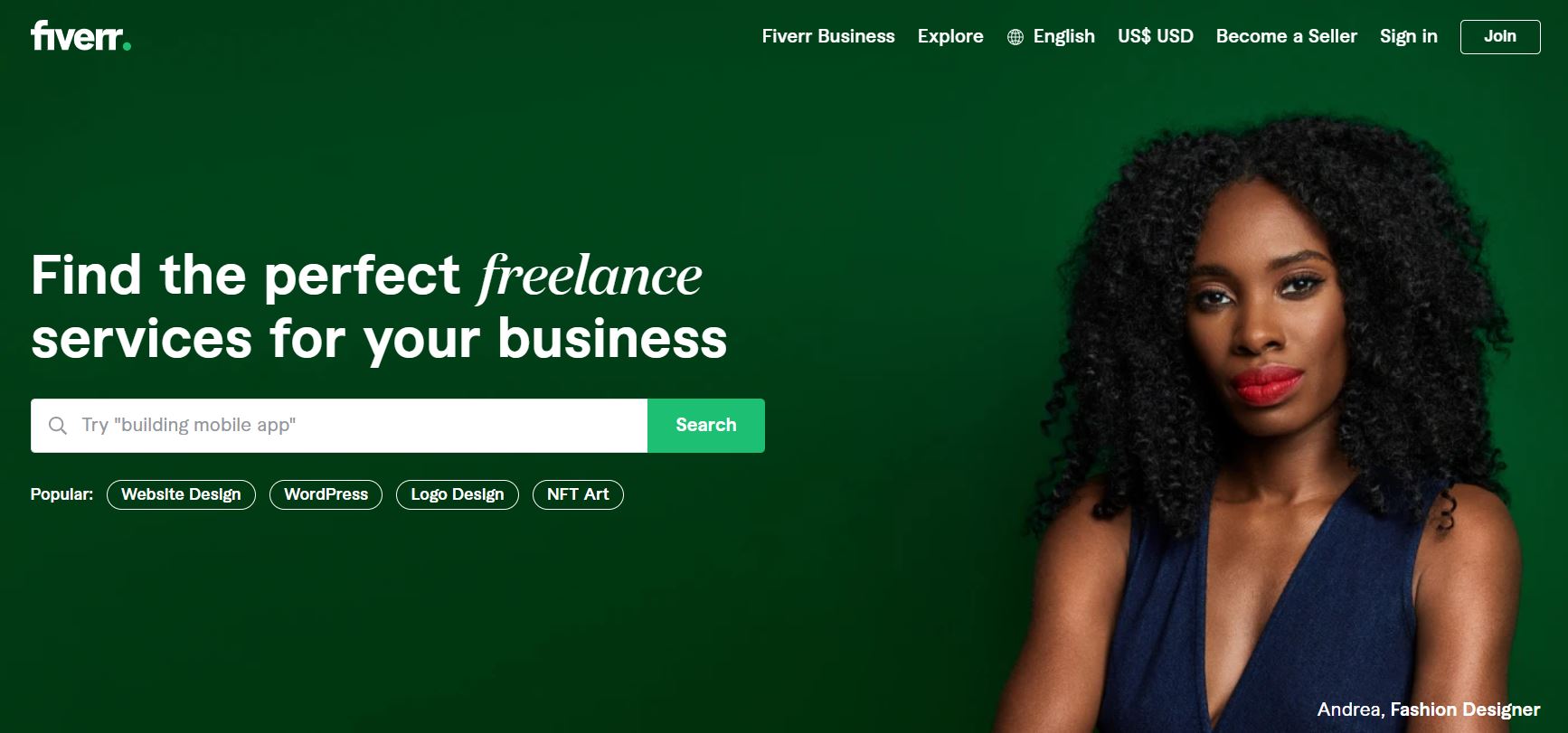 ‍
Fiverr calls itself the world's largest on-demand freelance marketplace. But long gone are its days of offering freelance services at $5. You can discover a variety of freelancers who can handle just about any kind of service. It is ideal for short-term freelance projects such as voiceovers, animations, simple graphic designs, and data entry work.
‍
Why should you consider Fiverr as an Upwork alternative?
‍
It is best used for gigs with predetermined outcomes.
You can either post a project or browse through gig offers to find something that fits your requirements.
It covers a wide range of services and is more diverse than most platforms.
Fiverr Pro offers vetted freelancers that offer a higher quality of service.
It is best suited for people who want to job done within a small budget.
Before placing an order, you can create a free account and communicate with the freelancers to determine if you want to make that hire.
‍
Pricing: Fiverr freelancers charge between $5 - $995 per project.
‍
‍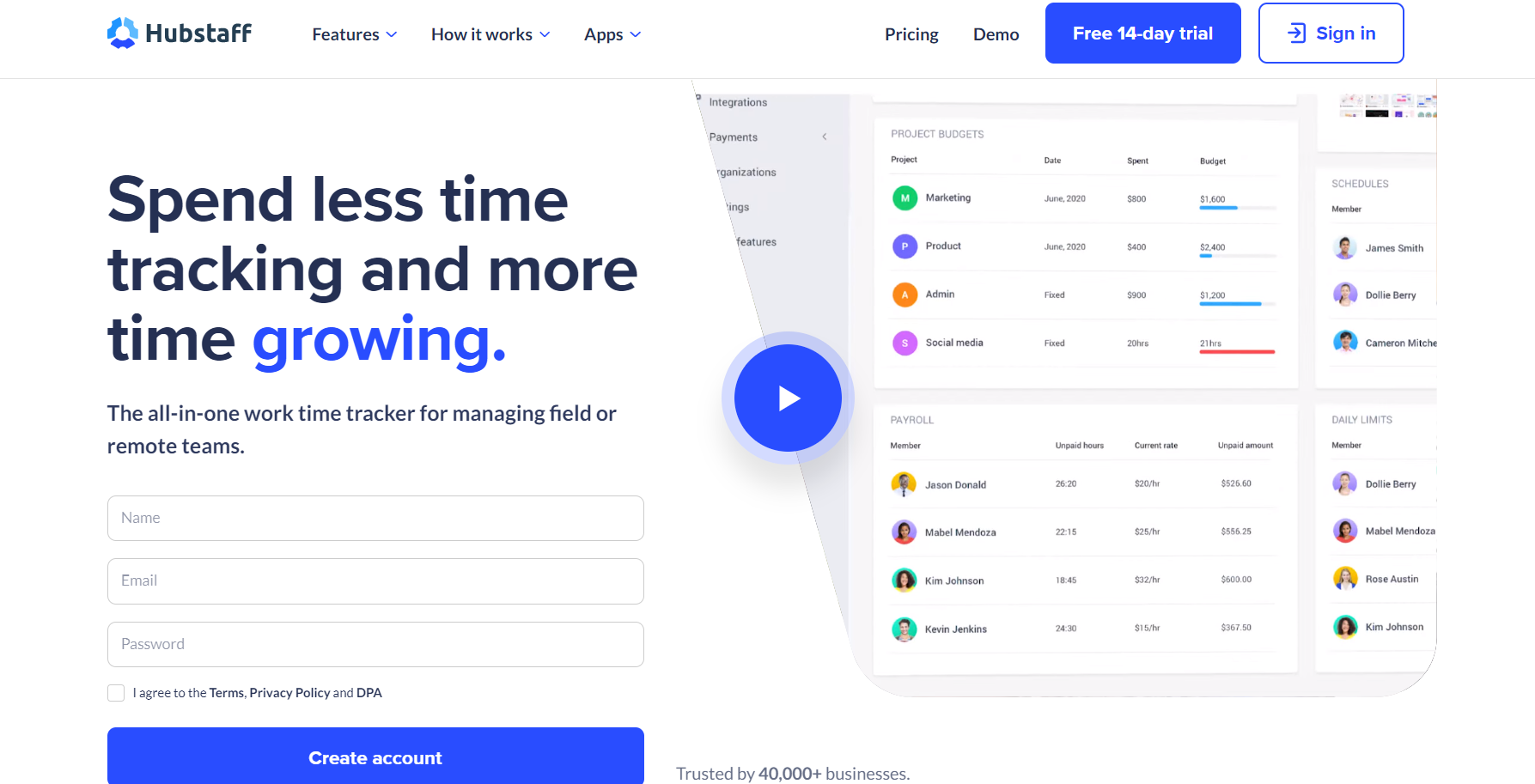 ‍
Hubstaff Talent specializes in remote team building and management. It efficiently and effectively connects freelance professionals with clients. The platform displays a freelancer's hourly rate, skills, experience, availability, resume, and languages spoken. This makes it easy for candidates to select the right freelancer. You can filter profiles by skill, availability, years of experience, or country and also run a search for keywords or phrases. When you want to find freelancers and agencies, you can simply browse profiles on Hubstaff Talent, contact the chosen freelancers, decide on work terms, and get started.
‍
Why should you consider Hubstaff Talent as an Upwork alternative?
‍
It's completely free for companies looking for global remote talent.
There are no markups and no fees on either side.
Hubstaff's project management software, Hubstaff Tasks can be used for an additional monthly fee.
There are no fees levied on projects or hourly work.
You can also add Hubstaff time tracking software which comes with invoicing and payroll options via PayPal, Bitwage, and Payoneer.
It offers a diverse freelancer pool.
You can search for freelancers working in a part-time or full-time capacity.
‍
Pricing: Starting from $5.83/user/mo
‍
‍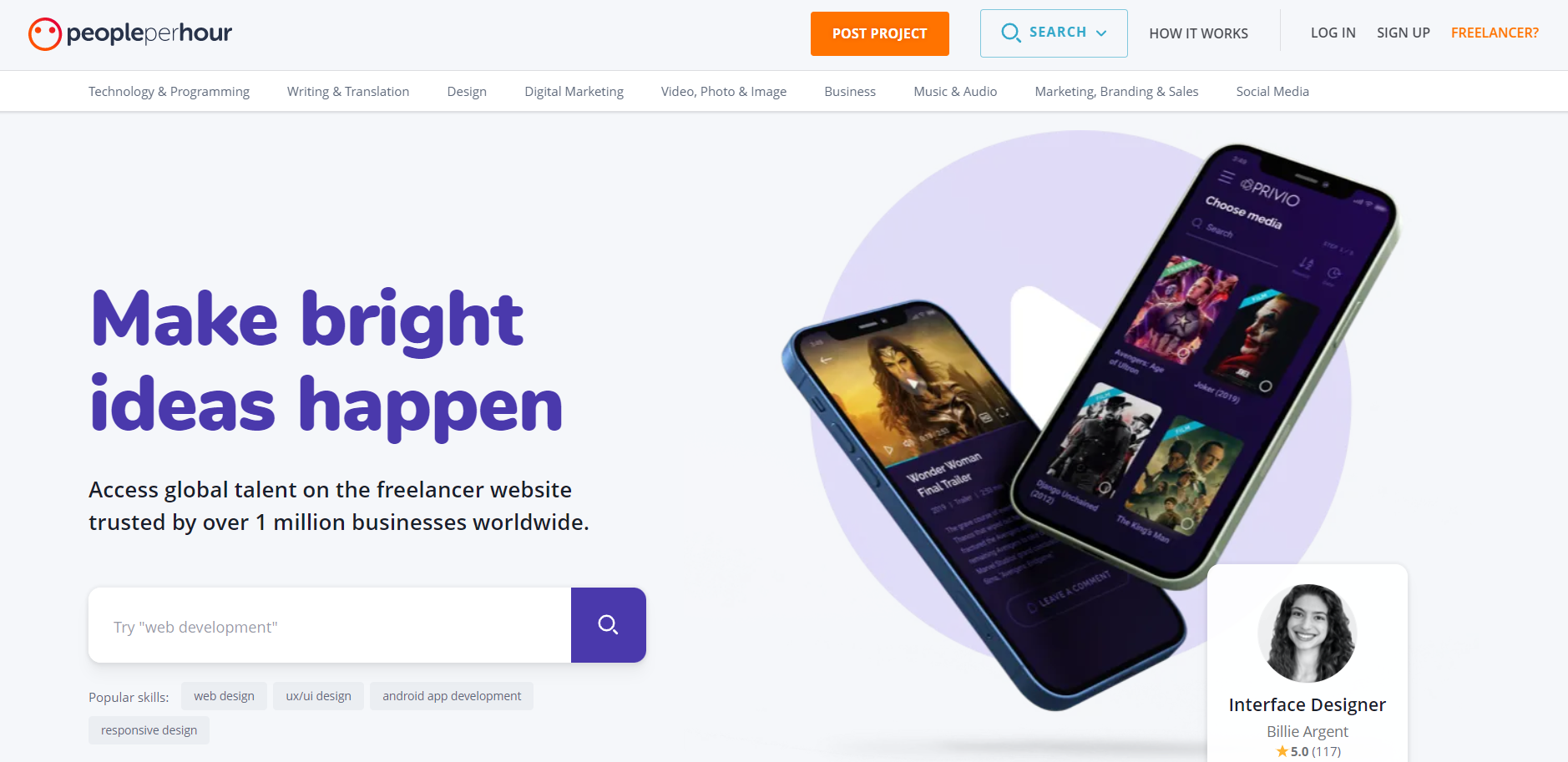 ‍
PeoplePerHour is a trusted dynamic platform where you can post a job and have freelancers apply for it. Freelancers get to set their own prices for their services on the platform. It uses a system of projects and proposals to make sure the right freelancers and clients connect. PeoplePerHour is a good way to work with a freelancer on a long-term basis.
‍
Why should you consider PeoplePerHour as an Upwork alternative?
‍
It is free to set up an account.
You can post a job on it for free, but if you want to feature a job listing, there's a fee.
The "WorkStream" in your account is a single dashboard that lets you track activity, communicate and manage payments.
PPH offers buyer protection. This way, it holds funds for the service you purchase in escrow until the assignments have been delivered.
There are no fees involved in hiring a freelancer, but there's a payment processing fee when using a credit/debit card or PayPal.
It has a dedicated communication platform to help everyone keep track of an ongoing project.
‍
Pricing: You could expect to pay on an hourly basis of around $25-$55.
‍
‍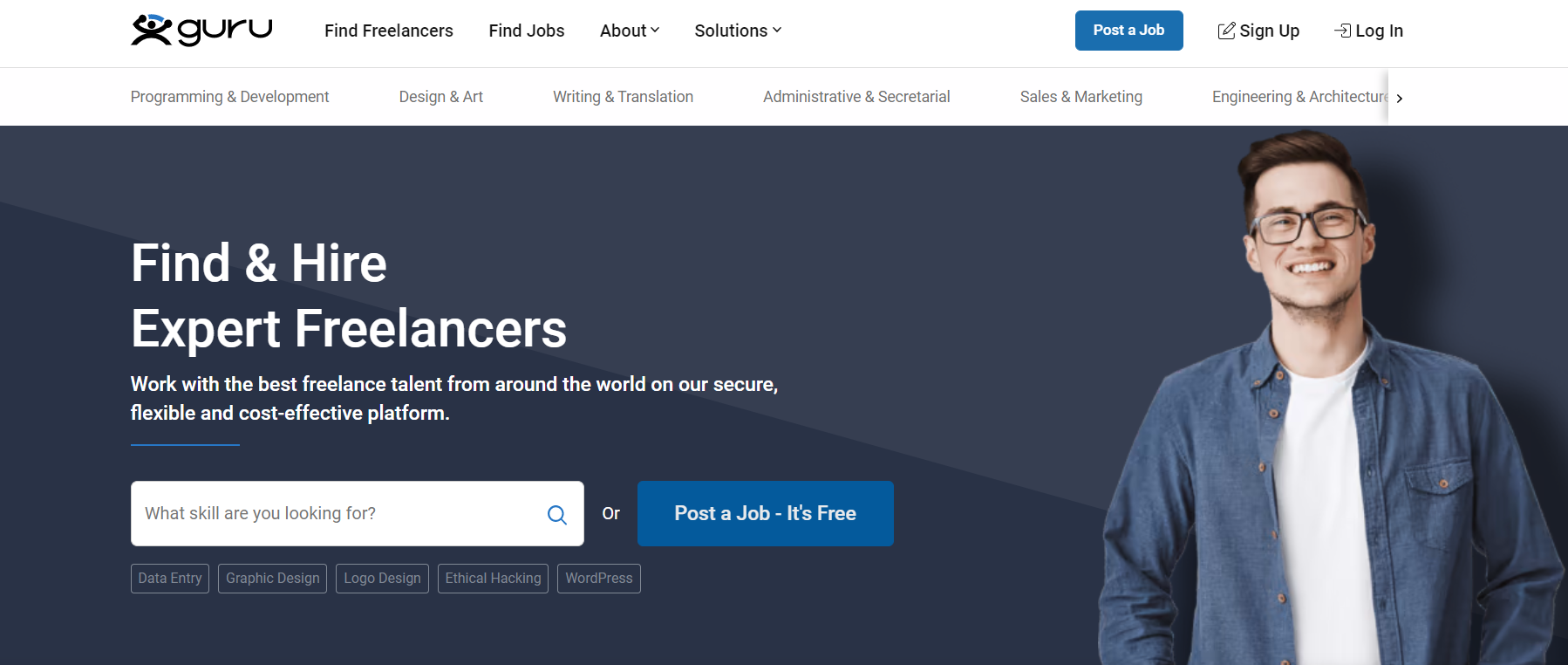 ‍
Guru is another on of the generic freelancer platforms that offers all manners of services within its platform. It provides freelancers and employees with a straightforward experience. It has a large pool of talent to pick from, giving you a variety of options. If you have the time and patience to sift through them all, you can most definitely find a good talent that suits your needs.
‍
Why should you consider Guru as an Upwork alternative?
‍
You can sign up and post a job on Guru for free.
It has several freelancing job categories such as sales, development, and writing to choose from.
You have four payment terms to choose from: fixed, hourly, task-based and recurring.
The SafePay ensures payment security by assuring freelancers that funds are available.
Guru's freelancers can place bids for jobs. They receive 10 Bids every month with the free membership.
Freelance talent can work together on the same project through WorkRooms.
Employers can post unlimited jobs on Guru and use SafePay and WorkRooms at zero cost.
‍
Pricing: Starting from $11.95/mo
‍
‍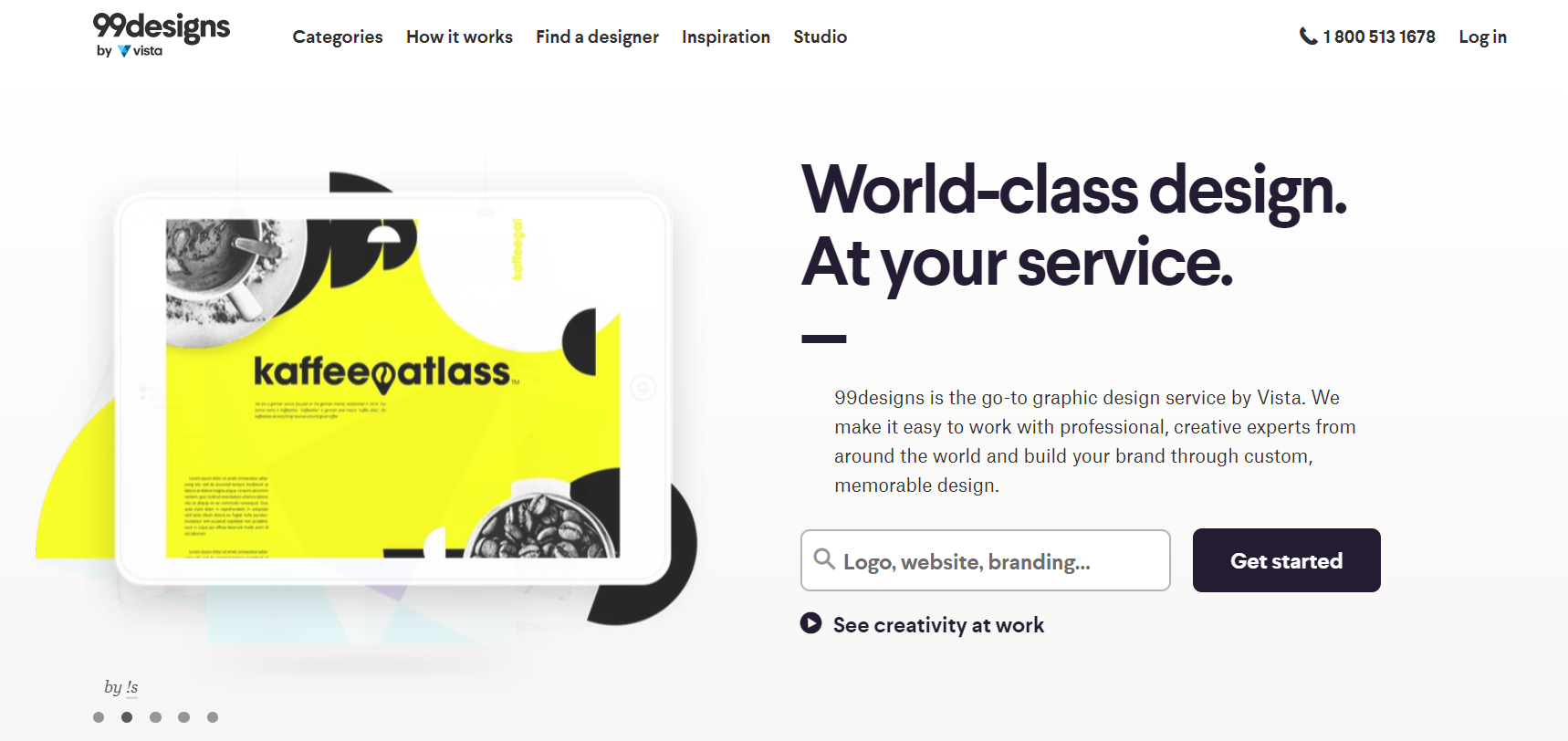 ‍
99 designs doesn't bill itself as a "freelance marketplace" like most platforms but perform the same core function. 99 designs focus exclusively on design services and have gained recognition as one of the best in their niche. Small & medium-sized businesses turn to this platform looking for graphic or web designers to help them with almost everything from logos to product packaging. 99 designs value excellent service and make sure that every new freelancer is evaluated and assigned a rank.
‍
Why should you consider 99 designs as an Upwork alternative?
‍
The platform specializes in design-related services making it easier to source your talent.
There are two ways to get your project done: you can provide your design needs, budget, and deadlines, and 99designs will find a suitable designer. Also, you can directly contact designers through the platform and negotiate and collaborate with them.
You'll be able to view portfolios to give you an idea of the designer's capabilities before you decide to hire them.
99designs performs quality checks on designer submissions to expect quality.
It offers a premium service called Studios. This aims to help with projects that require creative campaigns instead of design pieces.
‍
Pricing: Starting from $199
‍
‍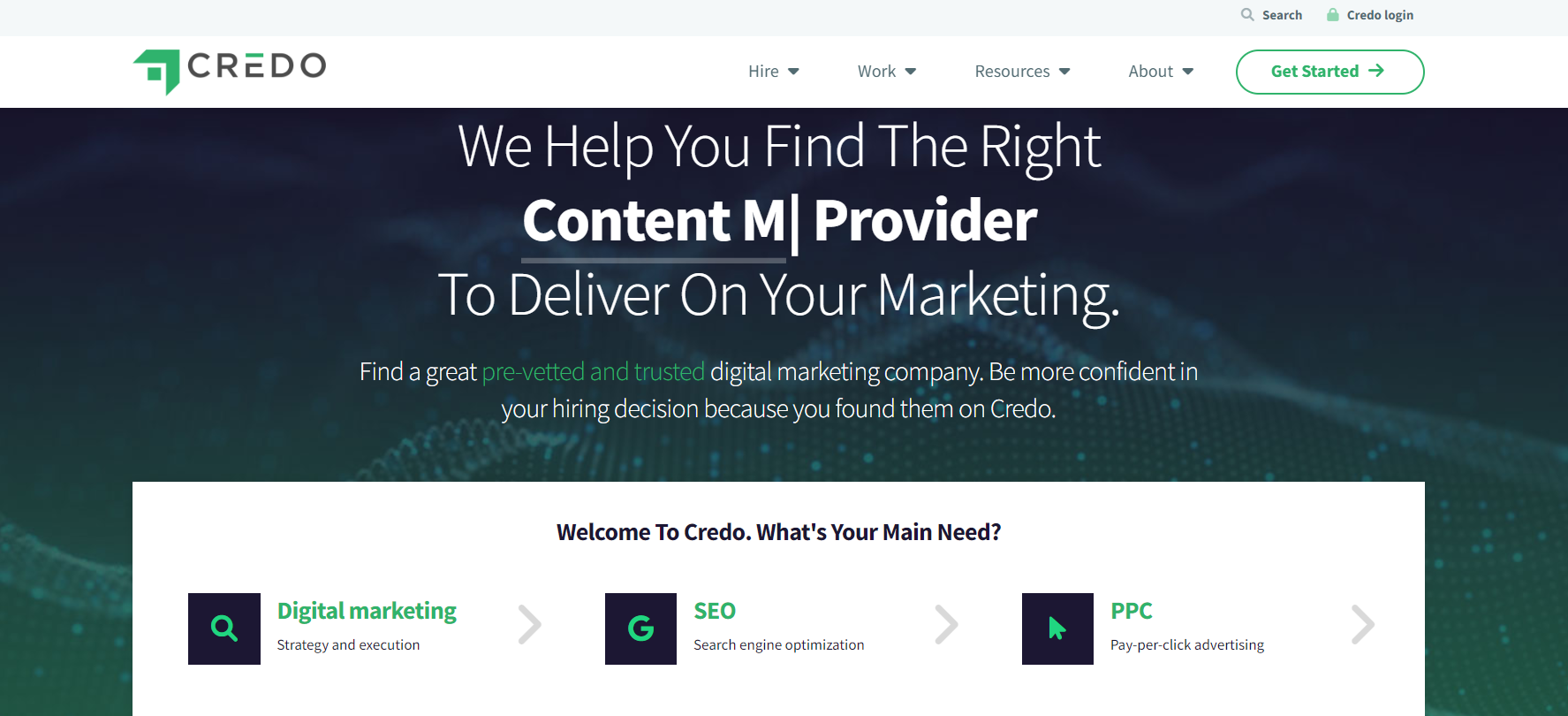 ‍
Credo is one of the oldest in the online marketing services space and is known for its high standards. Credo aims to solve the issue of untrustworthy freelancers by allowing clients to check out the freelancers' portfolios. Unlike most freelance marketplaces, Credo specializes in SEO and marketing and it has a list of services that you can choose from. This includes SEO consulting, SEO site audits, content marketing, paid social ads, and more. Credo makes sure to closely vet its providers so that you can be confident about getting top-notch talent.
‍
Why should you consider Credo as an Upwork alternative?
‍
Credo acts more like a concierge service that guides you throughout your project.
Credo makes sure to vet every agency and consultant in their network.
They make sure to complete the hiring process in under 24 hours.
Credo reaches out to potential agencies and freelancers who are the best fit.
It also helps with project proposal reviews and clarifications and checks in from time to time to make sure the project is moving well.
Credo offers a more hands-on approach to the job-filling process.
‍
Pricing:  You have to contact them to get a quote directly.
‍
‍
Toptal is one of the best Upwork alternatives for high-end tech talent. The platform specializes in hiring high-quality freelancers. Their platform includes software development, design, project management, and finance professionals, and their rigorous screening process ensures that only the top 3% of talent enters their platform. This makes it a premium platform for only the most qualified freelance talent. It is a great platform for clients looking to work with specialists in a more steady capacity on more complex projects.
‍
Why should you consider Toptal as an Upwork alternative?
‍
Toptal's strict application process ensures that clients work with highly qualified freelancers.
Your Toptal tech talent hire will be accompanied by a project manager that will oversee all your project proceedings.
You cannot browse freelancer profiles. Toptal will do the matchmaking for you based on your needs.
‍
Pricing: Varies based on the talent and location they are from.
‍
‍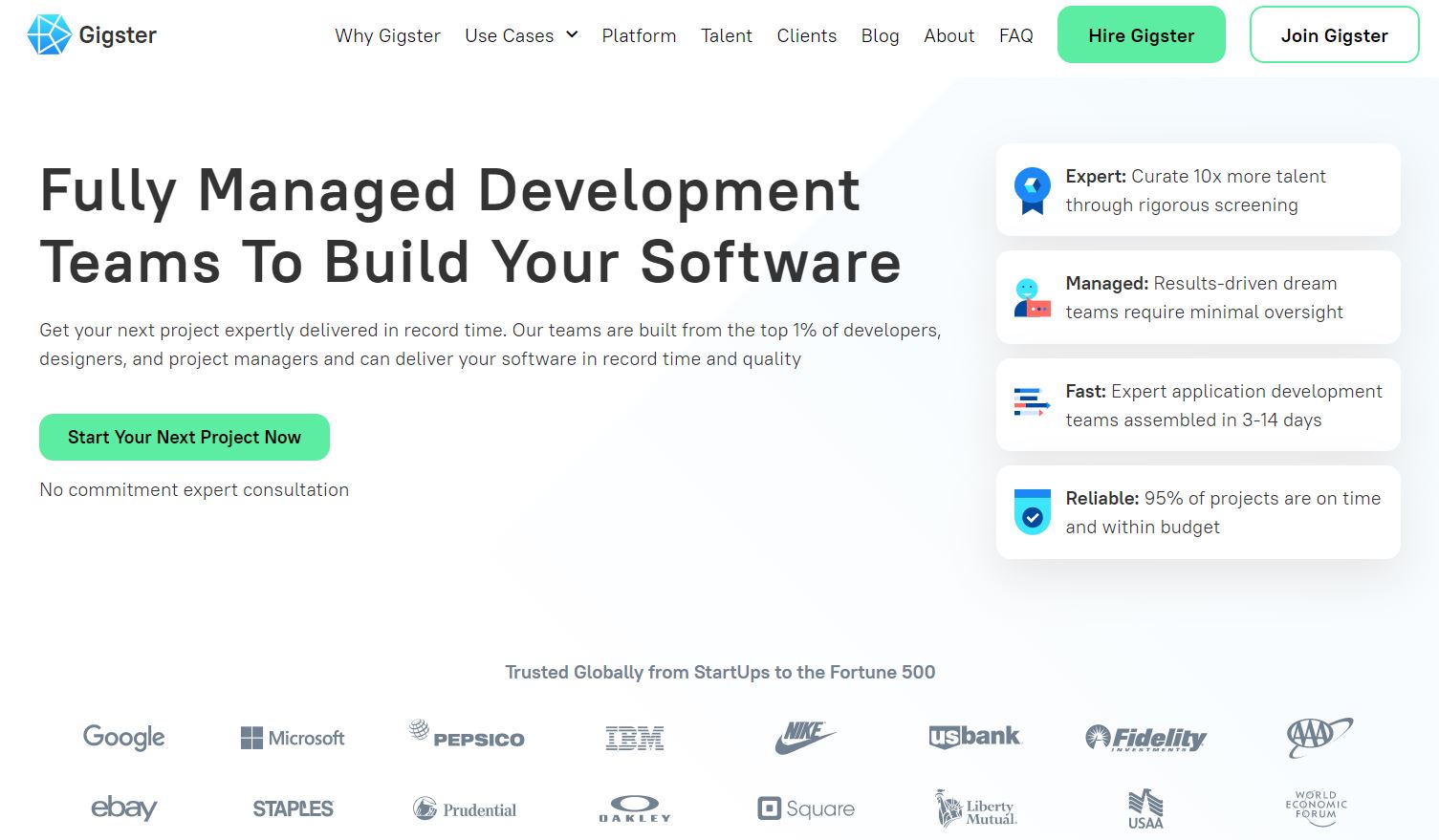 ‍
Gigster specializes in offering entire tech teams for hire. It provides access to a pool of top-quality developers and project managers. The company uses AI-based algorithms to put together the ideal team for your project. Its global network of developers extends across multiple time zones. Gigster guarantees that they will locate suitable candidates for your project in less than 10 days.
Why should you consider Gigster as an Upwork alternative?
‍
Gigster offers free cancellation of your project at any given time.
Freelancers can bid on your projects, and you can communicate through a messaging service or video chat to interview applicants.
You can upgrade to premium features such as promoting your job listings.
Pricing: They charge a minimum of $52,000 per project license.
‍