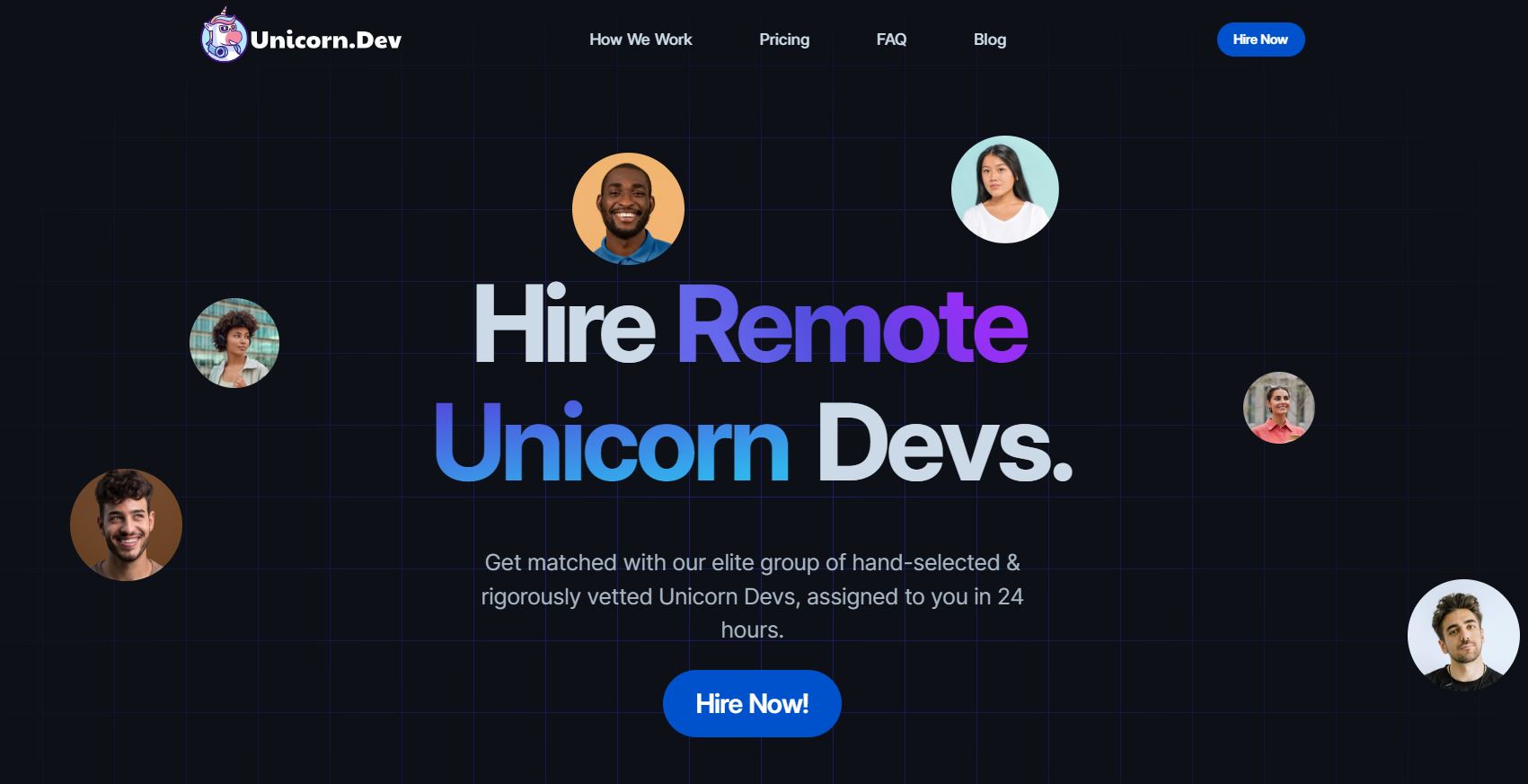 ‍
It is your one-stop shop for hiring remote tech talent. You can source senior tech talent from its global pool of 8000+pre-vetted developers and designers. Compared to other Toptal alternatives, Unicorn.Dev ensures that all their senior talent has at least 5 years of experience. Unicorn.dev handles all of your talent management, payments and compliance, so you don't have to worry about anything else. Unlike Toptal, you'll be able to begin working with your assigned talent within 24 hours via your private Slack workspace.
Pricing:
Unicorn.dev charges a flat rate of $35 per hour.
Vetting process:
Unicorn.Dev employs a stringent vetting process to make sure its clients from all around the world receive the best quality of work.
This includes a 5-stage vetting process:
Discovering and interviewing
Coding challenge to determine the quality and coding speed
Problem-solving challenge incorporating logical thinking
Background check to screen references
Client's evaluation process to help clients evaluate the talent themselves
Continuous monitoring and assessment to ensure high standards are maintained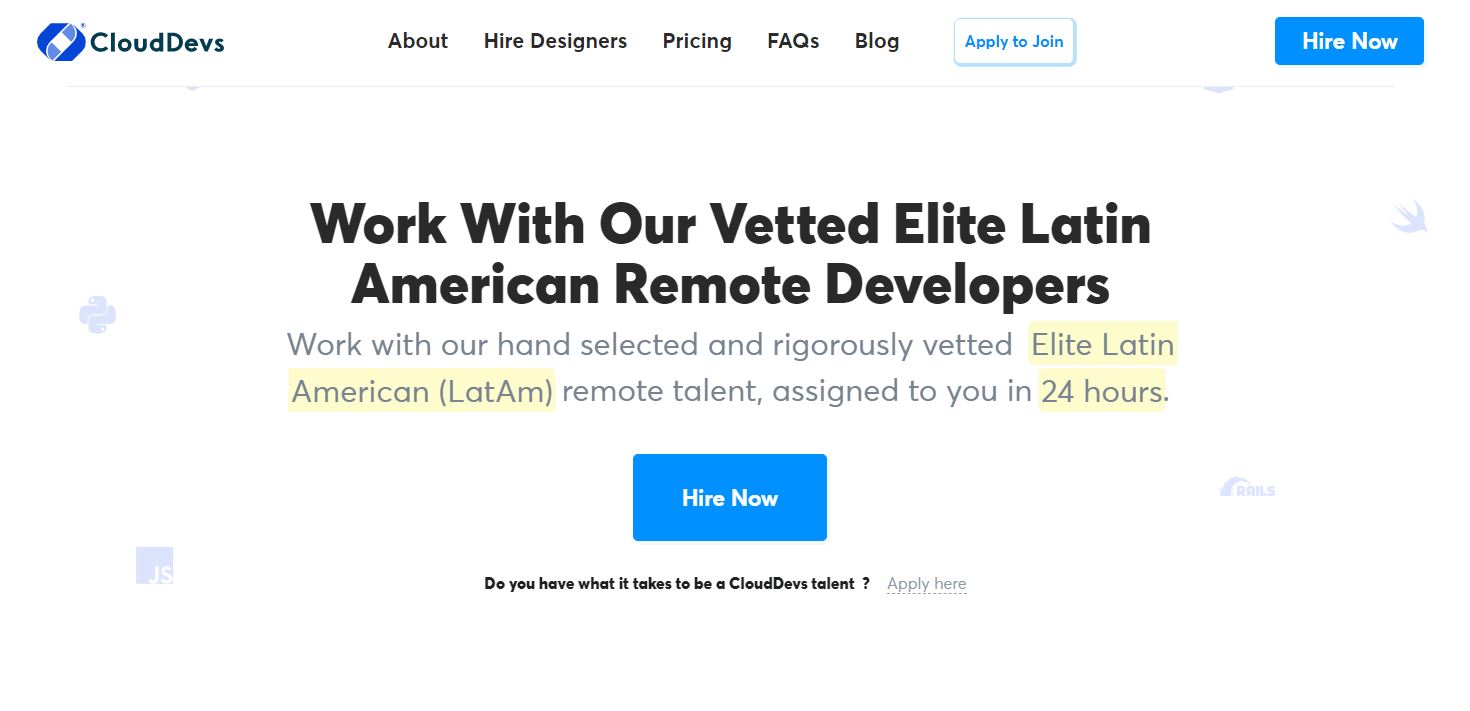 ‍
CloudDevs is a recognized Toptal alternative that offers pre-vetted freelance developers and designers for hire. With a talent pool of 8000+ elite senior developers and designers from Europe and Latin America, CloudDevs ensures that its clients' demands are met within 24 hours. The entire business is conducted remotely so they're able to keep their overheads low and provide the lowest possible rate to their clients. It is the only top-ranked Toptal alternative to offer a reasonable cost without sacrificing quality.
Pricing:
CloudDevs charges a flat rate of only $40 per hour.
Vetting process:
CloudDevs comprehensive vetting process consists of 6 steps to ensure that all candidates have the requisite technical skills and English proficiency to perform at their best.
This 5-stage screening process consists of the following steps:
Discovery
Coding challenge
Problem-solving challenge
Background check
Client's evaluation
Continuous monitoring
‍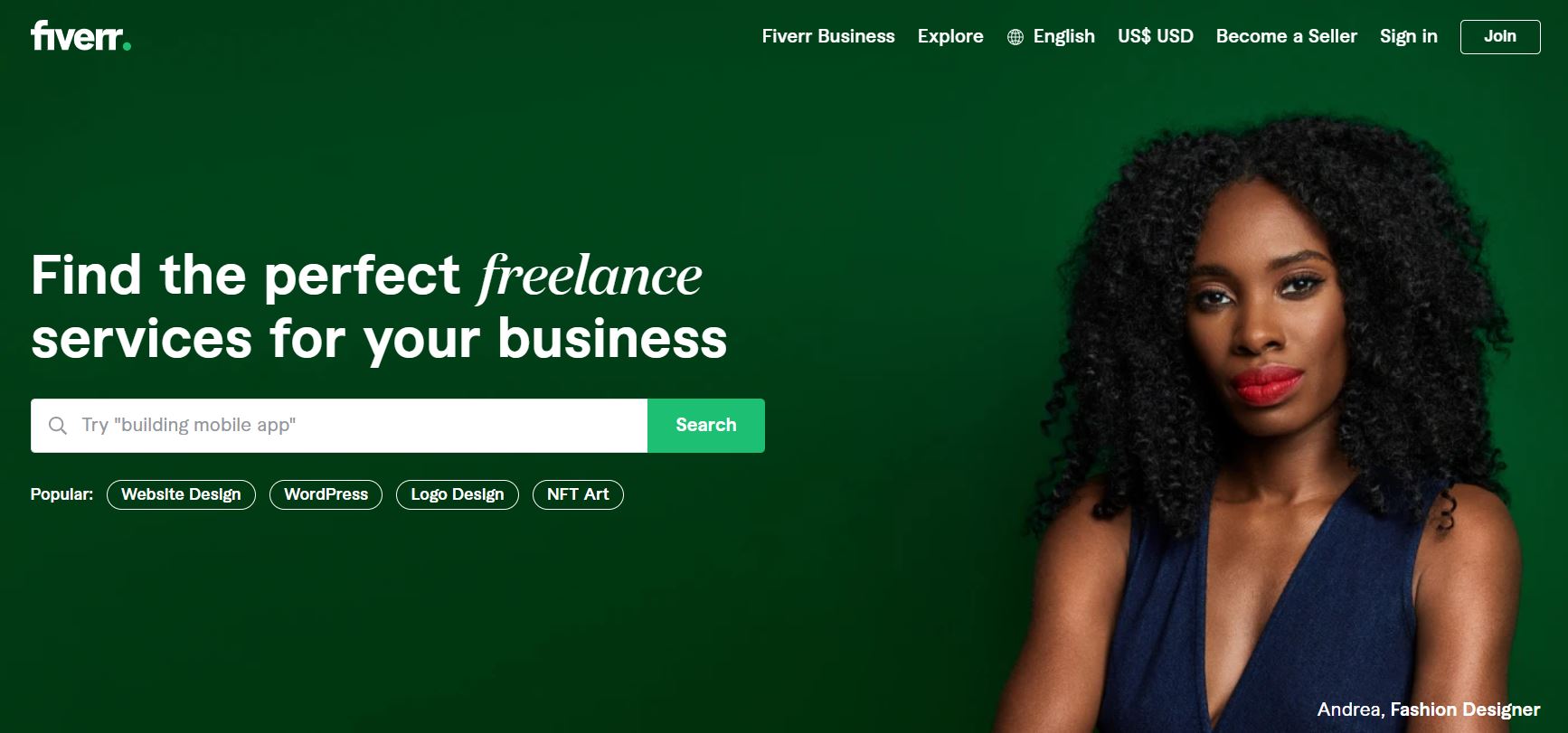 ‍
Fiverr is a convenient service that popularized the concept of hiring developers based on orders. It is the ideal Toptal alternative for hiring talent for one-time or small-scale projects. Fiverr is the hub for cheap-skilled labor and you can search for freelancers based on their profiles and review all the details and ratings to ensure you're making the right pick.
Pricing:
Freelancers charge between $5-$995 depending on the project.
Vetting process:
Due to the large number of candidates available on the site, Fiverr is unable to check the competence level of these freelancers.
‍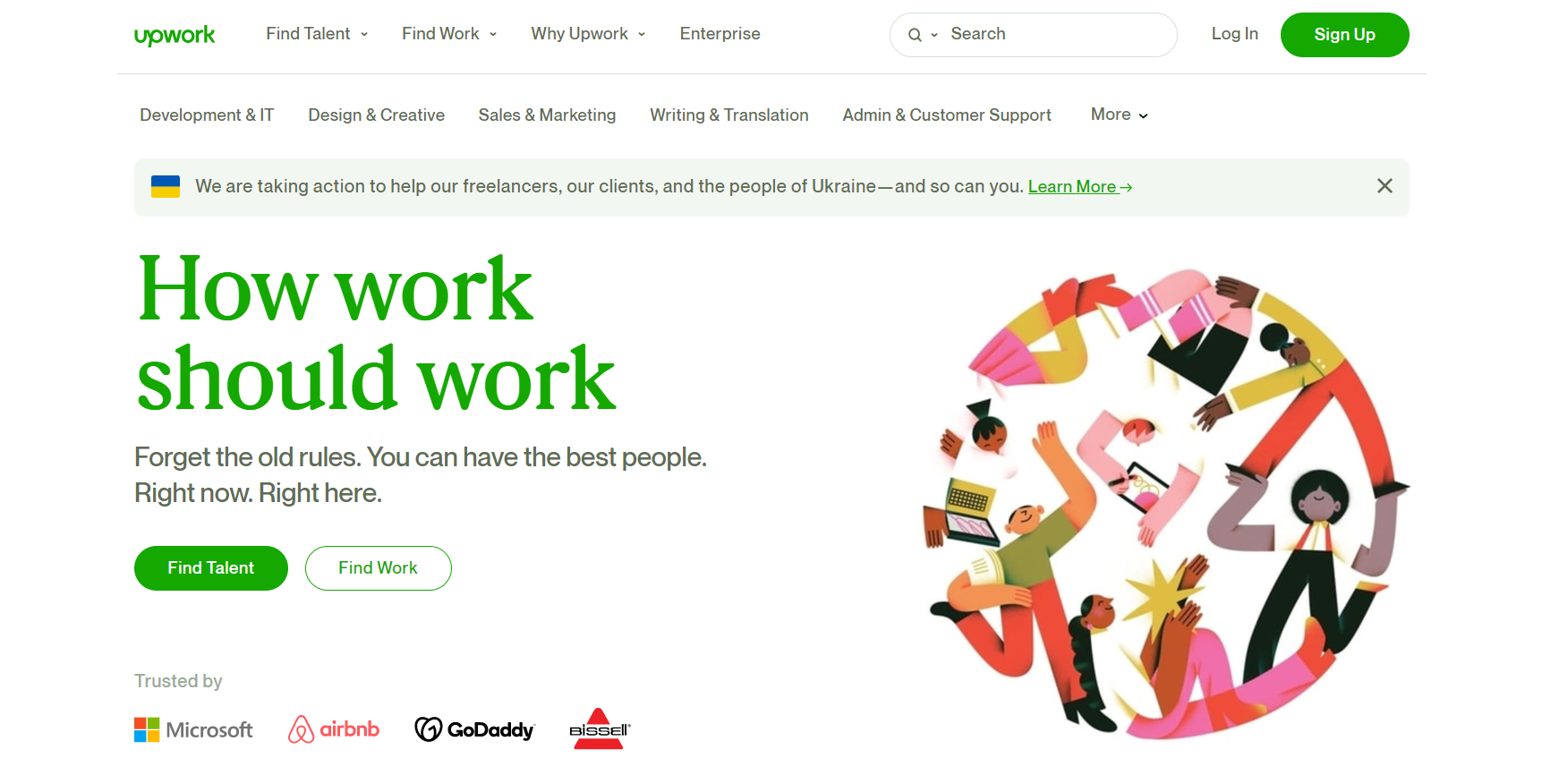 ‍
Upwork has been on the market for over 10 years and is a great Toptal alternative for small businesses where cost is the main concern. It has a huge database of freelancers in over 50 verticals, including freelance developers, designers, writers and video editors. Upwork isn't as much of a fit as Toptal if you're looking for developers for a long-term project. You are able to browse talent from various categories and you're provided 24/7 support if needed.
Pricing:
The average rates of developers start as low as $8-$15/hr and go up to $200/hr.
Vetting process:
It doesn't screen its developers. Instead, their profiles are uploaded on the site with samples, client reviews and identity verification to choose the most suitable one.
‍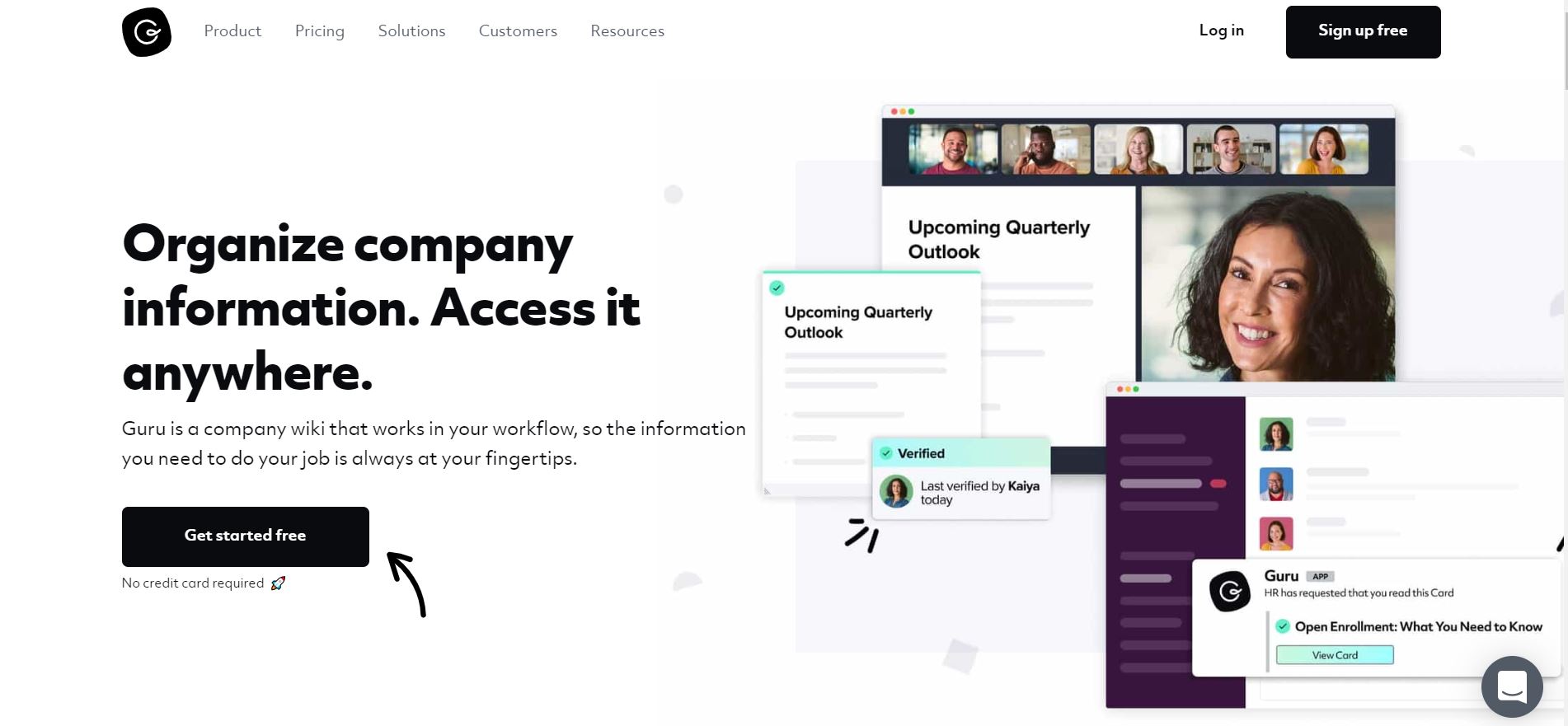 ‍ With over 2 million freelance accounts, it is one of the largest freelancing Toptal alternatives in the market. With integrated Work Rooms, it's simple to manage several freelancers working on a project. You can explore these freelancers' profiles, propose projects and secure all of your transactions with its Safe Pay system. It has a fantastic customer support team that serves both freelancers and job seekers. Unlike Toptal, Guru, like every other budget-friendly freelancing site, struggles with quality.
Pricing:
Its basic plan starts at $0 and may cost up to $20/month with its expert plan.
Vetting process:
Guru's team verifies these freelancers, publish their feedback scores and All-Time Transaction Data to help you find time-tested professionals from across the globe. ‍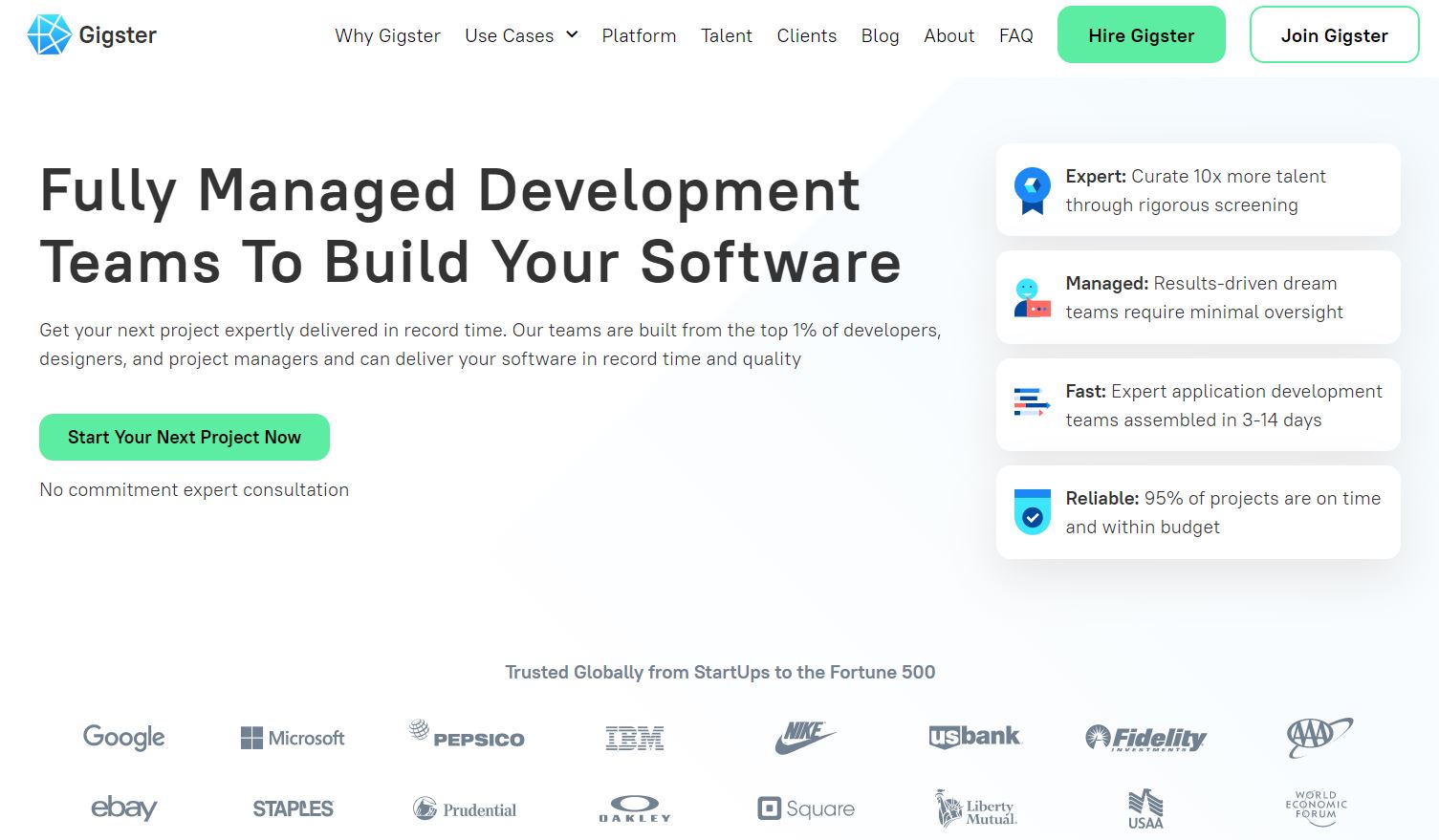 ‍
Gigster is the perfect Toptal alternative platform for enterprises looking to quickly augment their tech team. It lets you assemble an entire tech team in 3-14 days. Gigster uses AI-based algorithms to assemble the right team for your project based on the scope and customer requirements. Compared to Toptal, they only take on projects that are worth above a certain minimum threshold and you can obtain complete ownership and licensing for the software built.
Pricing:
It depends on the complexity, type and speed of the project. For ex: Apps for different devices can cost as little as $52,000.
Vetting process:
It doesn't have a vetting process to filter out its developers.
‍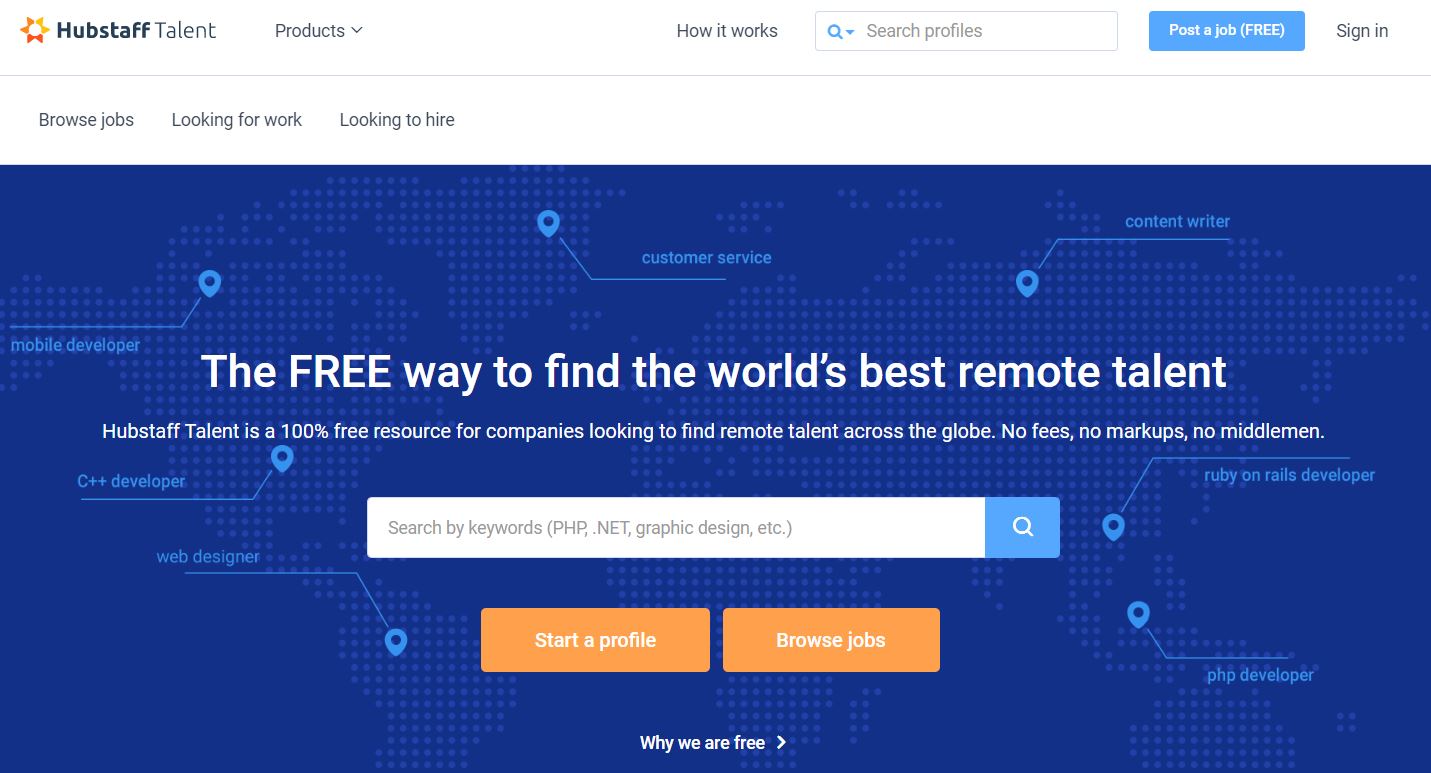 ‍
One of the more recent Toptal alternatives that offers a completely free service. It is the perfect alternative for hiring both independent freelancers and agencies. Hubstaff Talent is a transparent marketplace that allows clients to explore developer profiles and contact them directly without the need of intermediaries.
Pricing:
It is free for both clients and freelancers.
Vetting process:
It does not carry out a manual screening procedure to vet its talent.
‍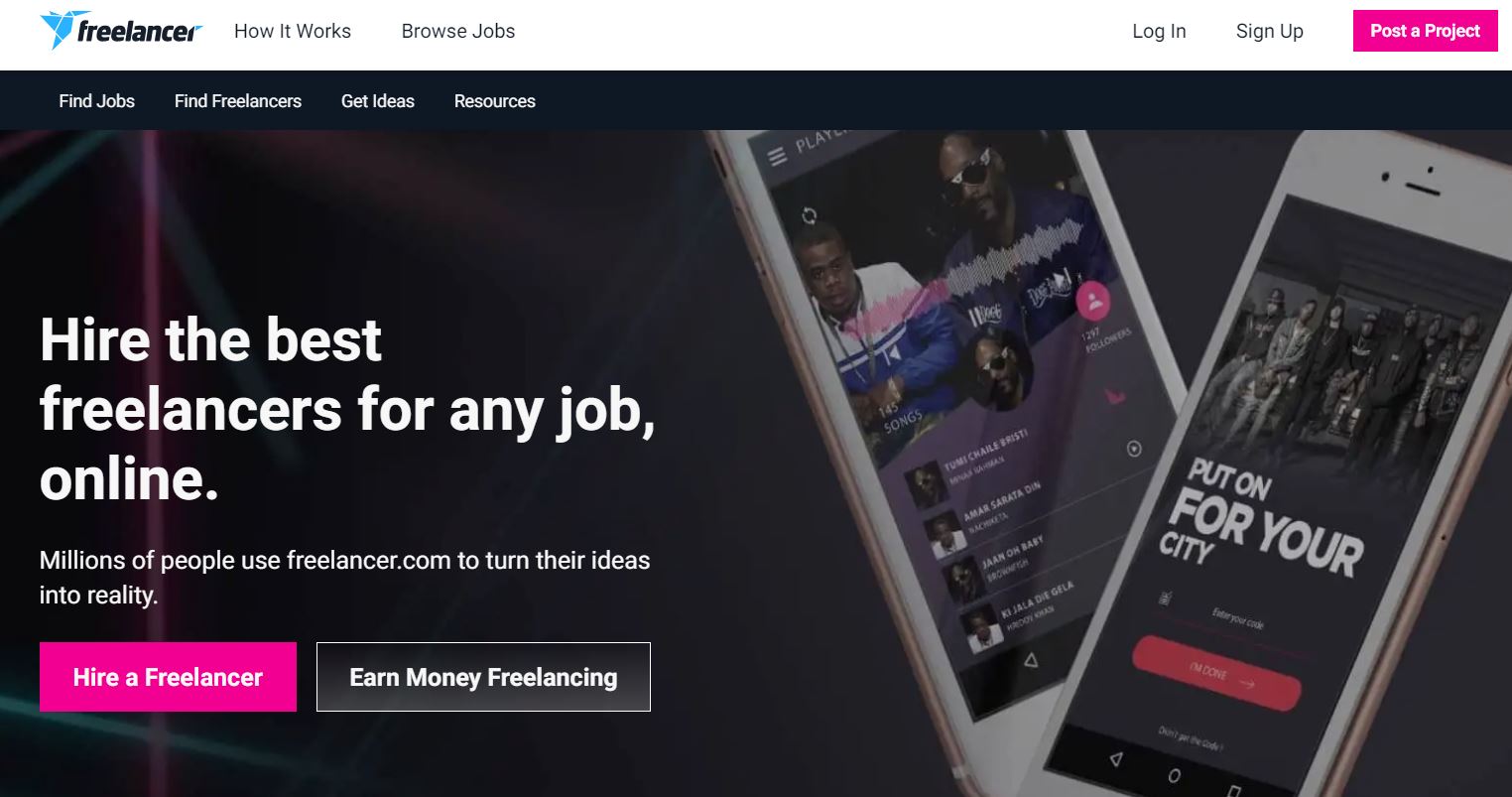 ‍
Freelancer is a popular online crowdsourcing and freelancing platform where businesses can hire freelancers for various projects such as creating a simple logo or a website. With over 50 million candidates, you can browse through their samples of work and read their profile reviews to find the best fit. This Toptal alternative offers a time tracker and a mobile app that keeps you informed and on-the-go.
Pricing:
It has various pricing plans ranging from $4.95/month to ¢59.95/month for its premium plan.
Vetting process:
Unlike Toptal, Freelancer has no screening process. So you'll need to do quality control.
‍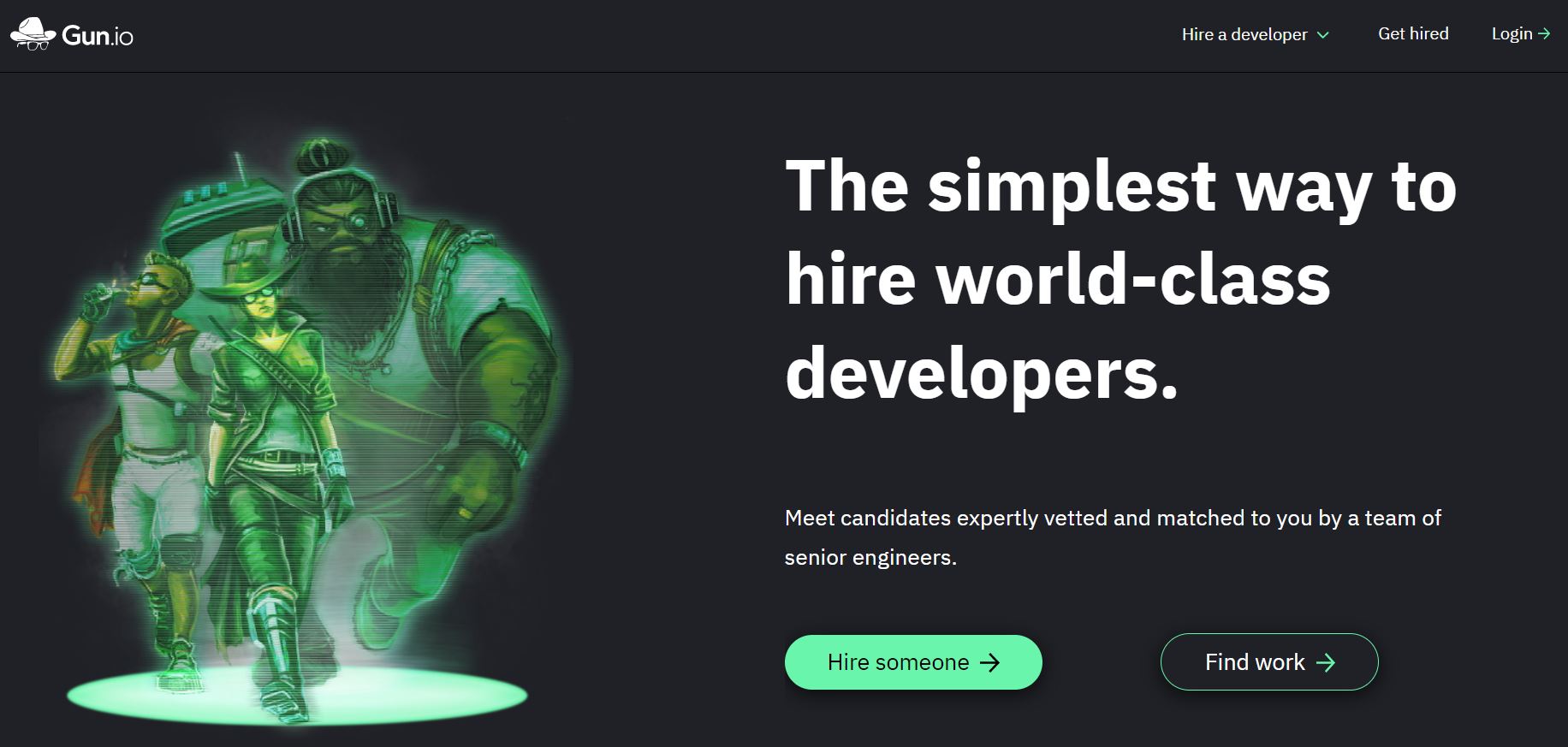 ‍
It is one of the few Toptal competitors that focuses solely on the recruitment of software developers. It has an invite-only, close-knit network consisting of elite software developers. Gun.io makes sure to match its developers with companies using a customized recommendation process. It relies on user relationships to handpick developers.
Pricing:
Depending on the region from which they work, freelancers might charge anything from$20.00 to $88.00/hr.
Vetting process:
They conducting-depth interviews with its applicants to verify the abilities they possess.
‍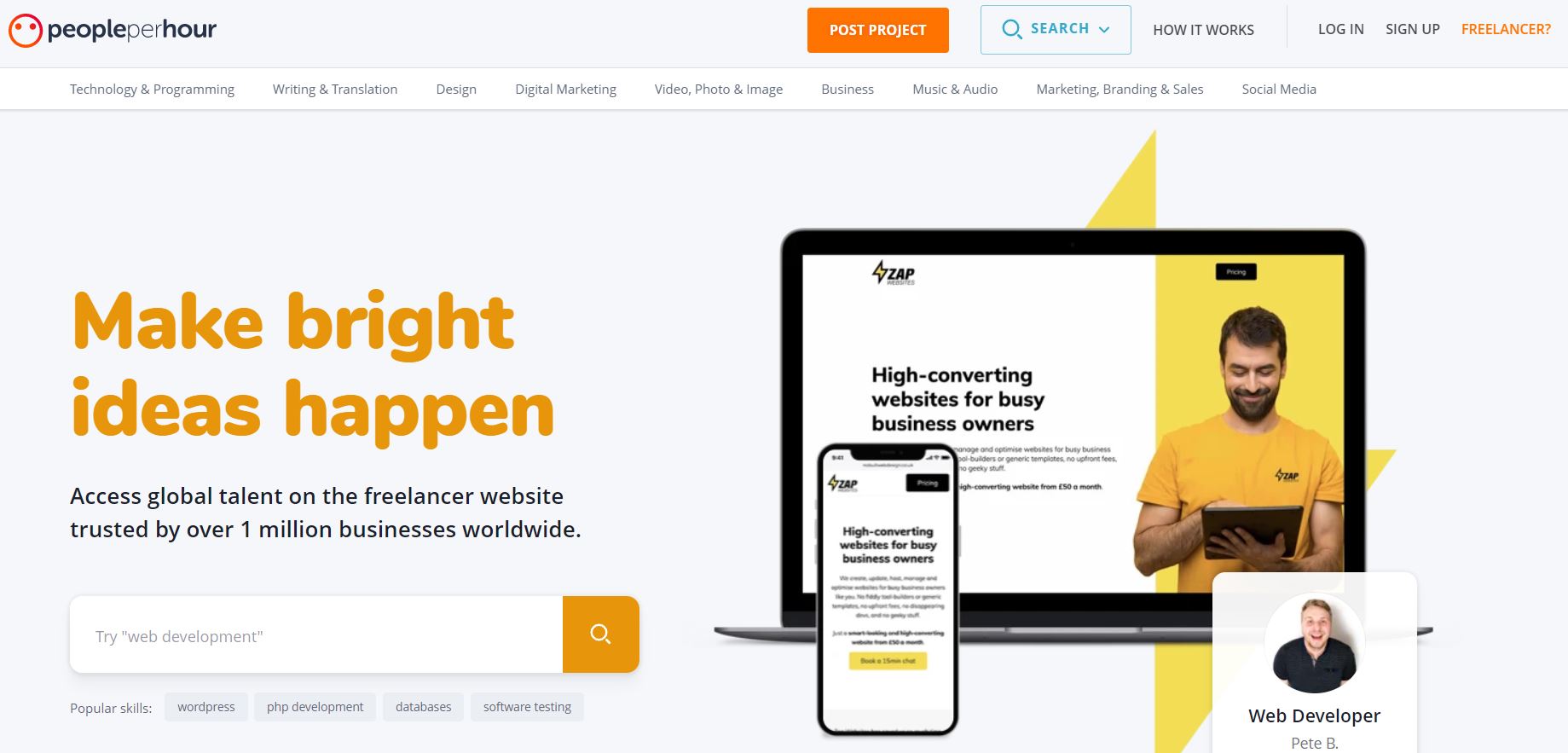 ‍
People per hour is a long-standing freelancer platform that has been in operation longer than Toptal. This Toptal alternative has been in operation since 2007 and does a splendid job in making sure that its clients are matched with expert freelancers within minutes. They has a dedicated customer service team available 24/7 to assist you. People per hour offers a money-back guarantee and anti-fraud protection to ensure the security of your transactions. Its job seekers are scattered across a range of specialties, including programmers, design developers , SEO professionals and writers.
Pricing:
You can expect to find a developer on People per hour in the range of $15-$50.
Vetting process:
Every freelancer must be approved by People per hour in order to join.
‍

‍
It is the world's highest quality crowdsourcing marketplace and like Toptal, it handpicks a selected community of leading designers. It only accepts 5% of the candidates that apply to the platform. They do this to ensure that they can produce high-quality designs. Unlike most other Toptal alternatives that offer a wide range of freelance services, DesignBro solely specializes in providing top quality graphic designs for various projects, such as logos, packaging and branding.
Pricing:
Its top five design pricing packages are within the range of:
Logo design ($199-$479)
Website banner design ($199-$479)
Brand identity design ($399-$679)
Packaging design ($499-$1,034)
Website design ($499-$779)
Vetting process:
Freelancers and designers submit a high-quality portfolio and are chosen from this pool.
‍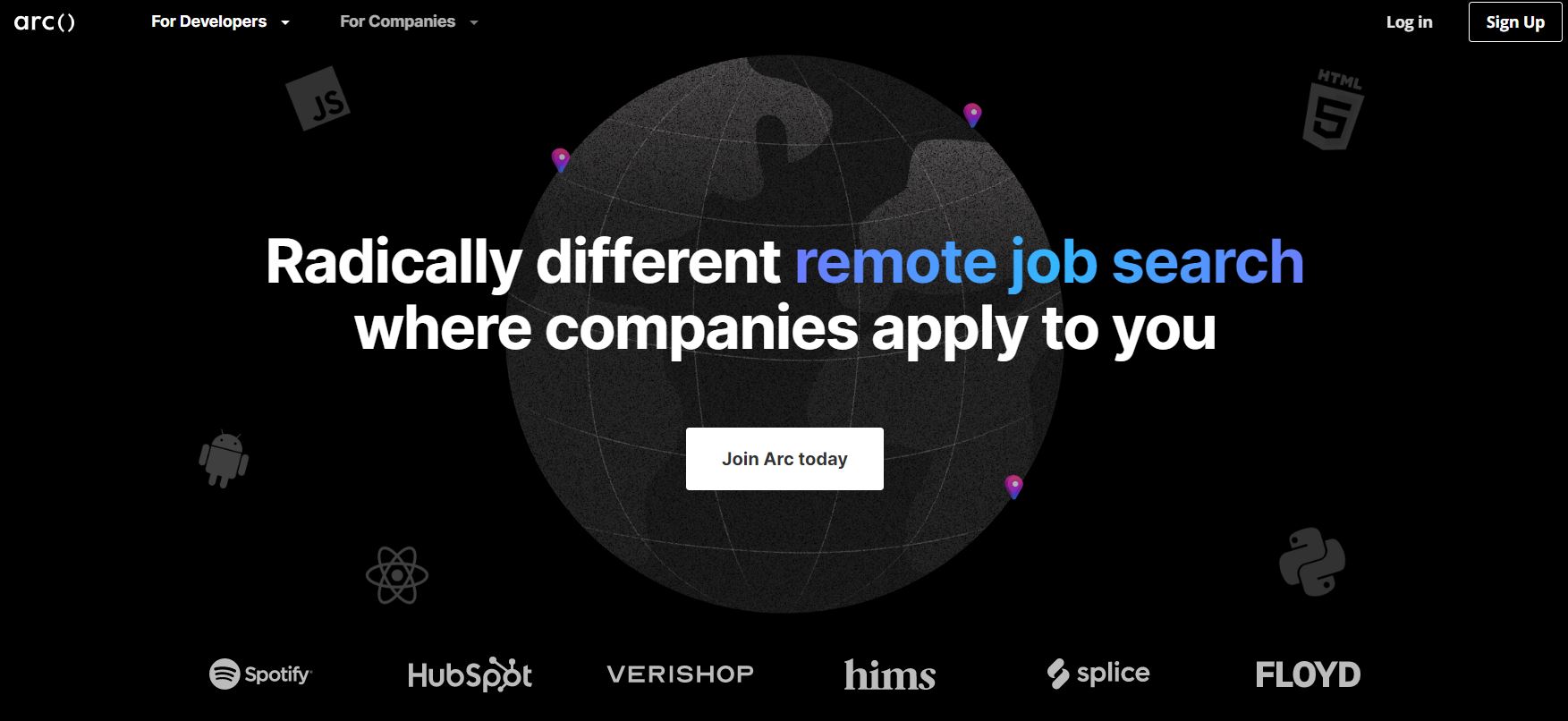 ‍
Arc.dev covers every tech stack and time zone and makes sure to deliver complex projects under tight deadlines in a variety of industries. Like most other Toptal alternatives you are able to hire both permanent and freelance remote developers, as well as access "hidden gems" outside your local area. Arc.dev lets you hire freelance developers in 72 hours and permanent developers can take up to 14 days.
Pricing:
Arc.dev lies in the higher price scale with developers costing anything upwards of $60 to $200 per hour.
Vetting process:
It uses a Silicon Valley-calibre vetting process similar to Toptal. Initially, they examine a candidate's English proficiency and technical skills. Then you'll be invited toa "Quick Chat" to introduce yourself and answer questions to verify your eligibility. This is followed by a technical skills assessment, such as according challenge or online technical interview.
‍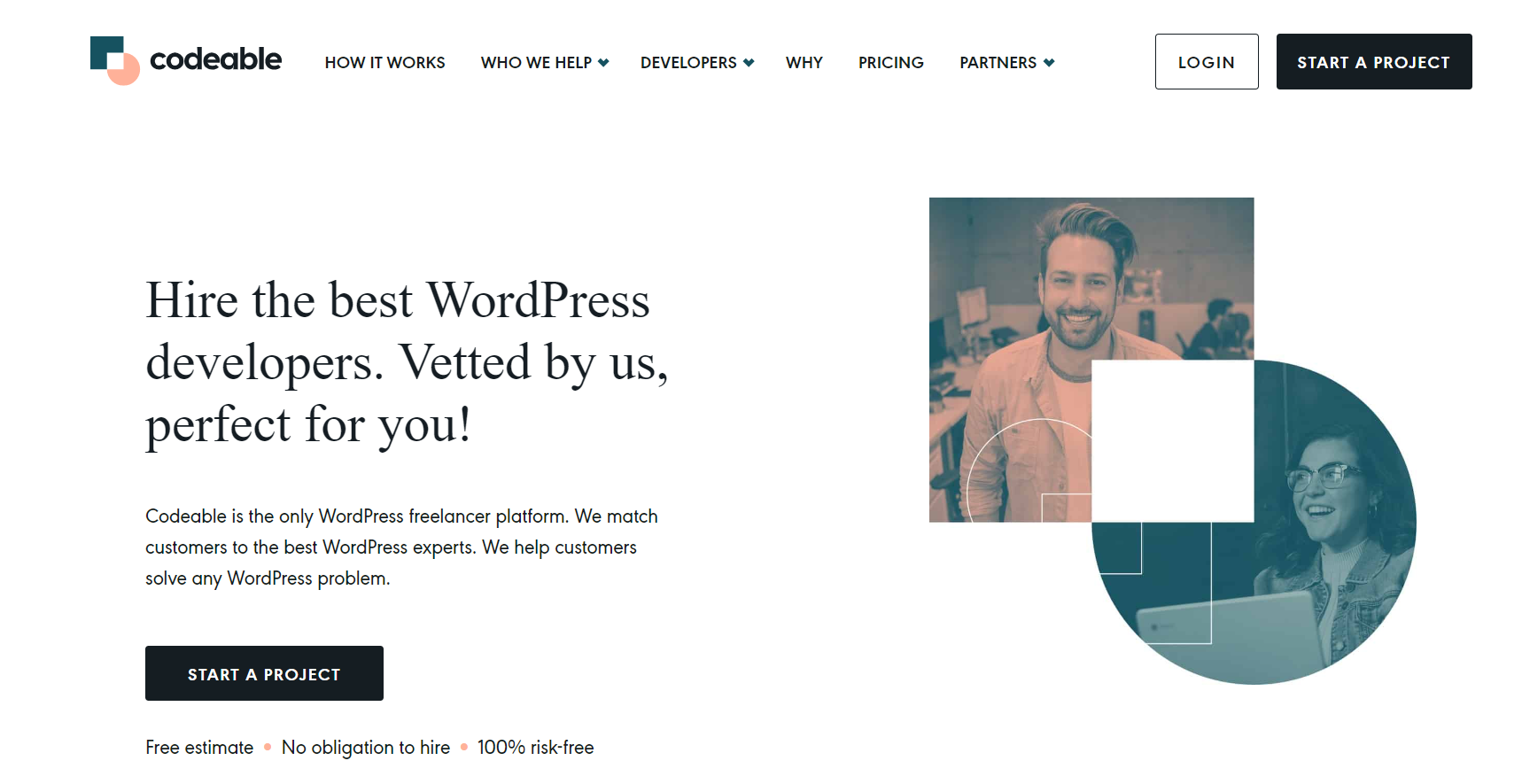 ‍
Codeable is the only Toptal alternative that purely focus on WordPress developers, allowing you to build WordPress projects that are short-term, recurring or full-time. It has a limited number of profiles, thus recruiting is quick. However, Toptal does not have nearly the same amount of freelancers as Codeable. 97% of its developers have 6+years of professional WordPress experience and these specialists are spread over 60+ countries. Codeable's single-price algorithm eliminates undercutting and over-pricing.
Pricing:
Codeable developers all charge the same rateof $70- $120/hr, which is determined by the scale, complexity and urgency of a project.
Vetting process:
Codeable employs a six-step screening process to vet their freelancers. This process includes:
Professional review
Technical exam
Behavioral interview and live coding test
The Codeable Academy exam
45-day trial period
Ongoing excellence monitoring
‍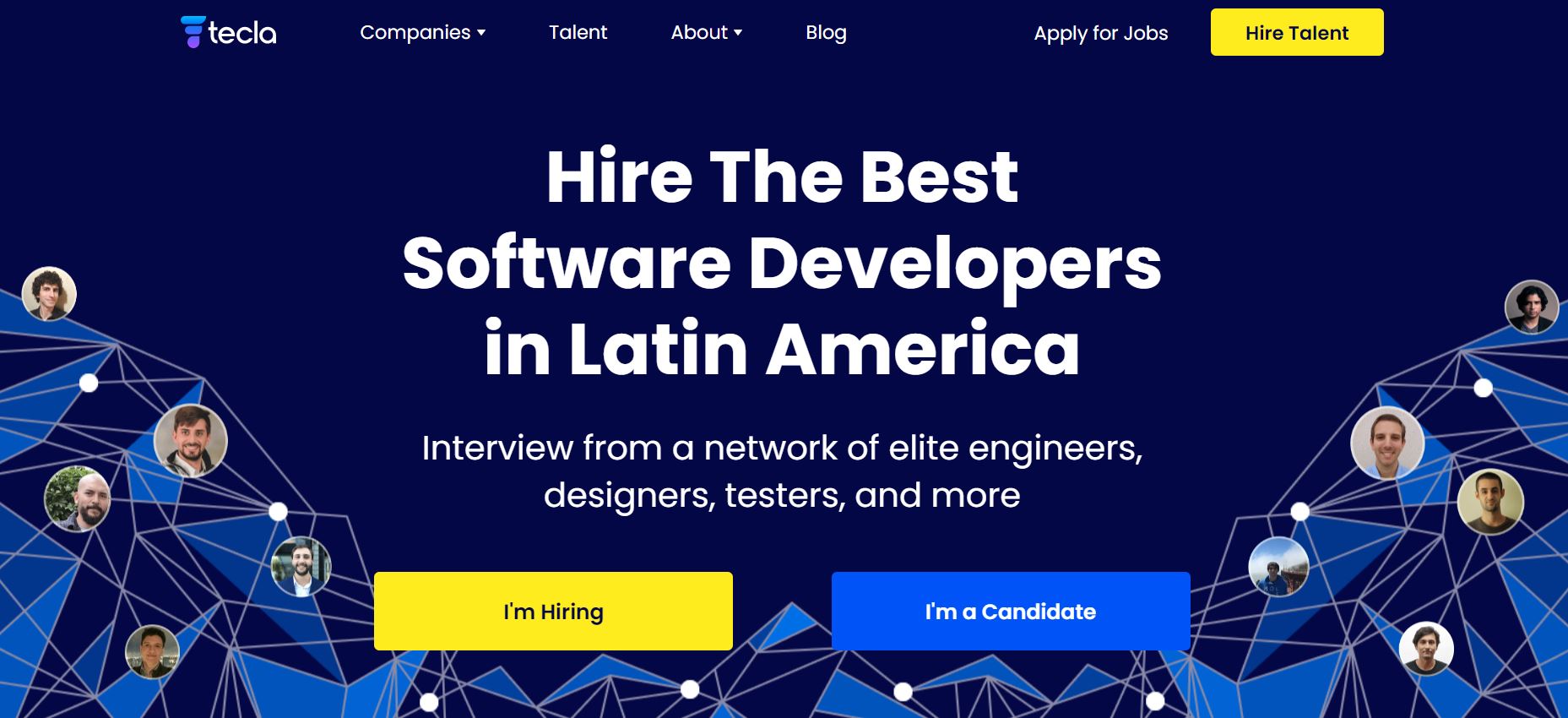 ‍
TECLA is a Toptal alternative which acts as premium hiring platform connecting the world's best tech companies with the best tech professionals in Latin America. Its matching technology saves you weeks in time-to-hire and allows you to employ the top tech recruiting professionals in LATAM. These candidates are only invited if they have a career trajectory of working at top companies.
Pricing:
The price will vary depending on the project.
Vetting process:
Its stringent verification process involves checking the candidates' English proficiency, communication and soft skills, track record, repositories, references, portfolio, culture fit and soft skills.
‍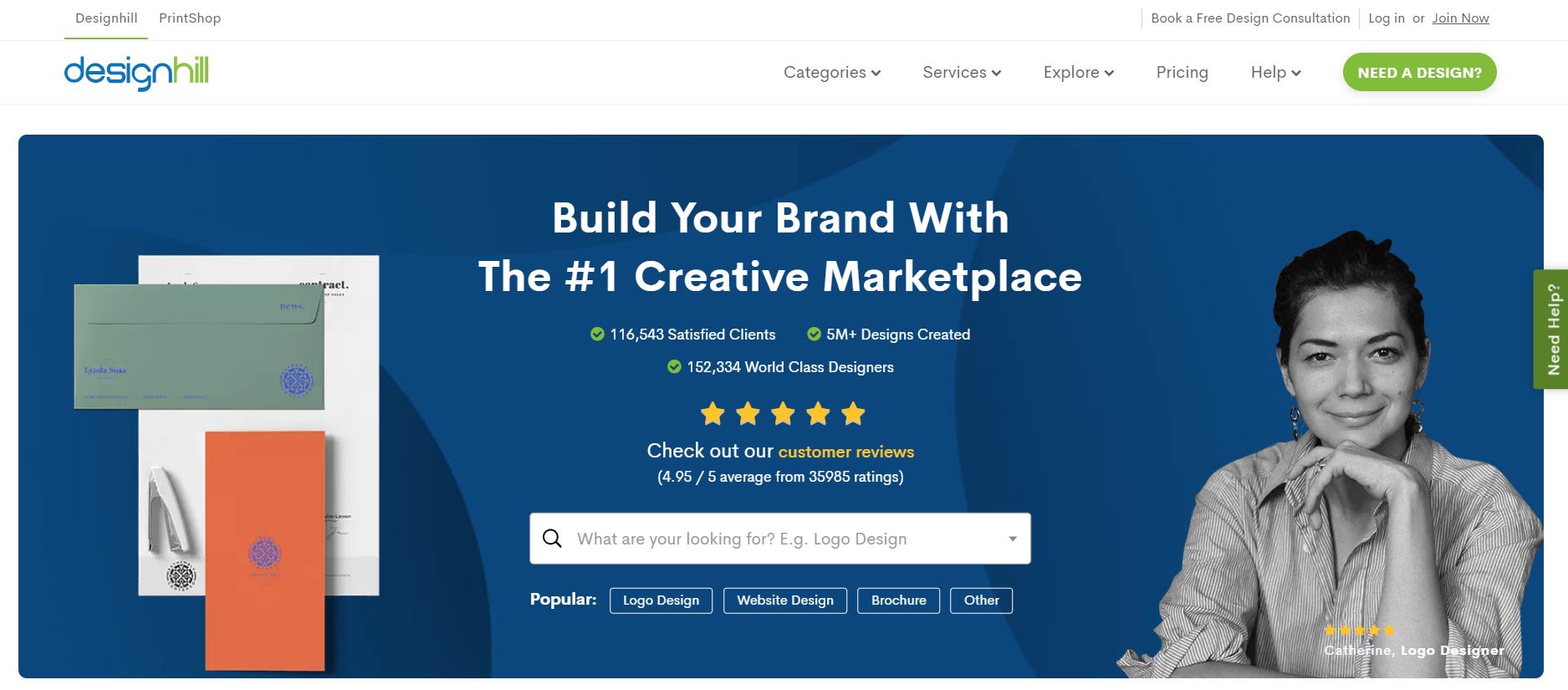 ‍
Designhill is a designer focused Toptal alternative helping you find designers for a variety of projects such as website design, landing page, banner ad and blog design. Simply fill out a design brief and post a project you want to work on. You can expect to receive 70+ designs within 7 days of posting a project. Designhill also provides 24/7 customer support and access to 70,000+ designers with a 100% money-back guarantee.
Pricing:
These prices could range from $169 - $599depending on the type of project.
Vetting process:
Its 'Pro Designer' and 'Pro Contest' program is used to reward designers based on their performance. This helps clients pickhig her rank designers for better assurance.
‍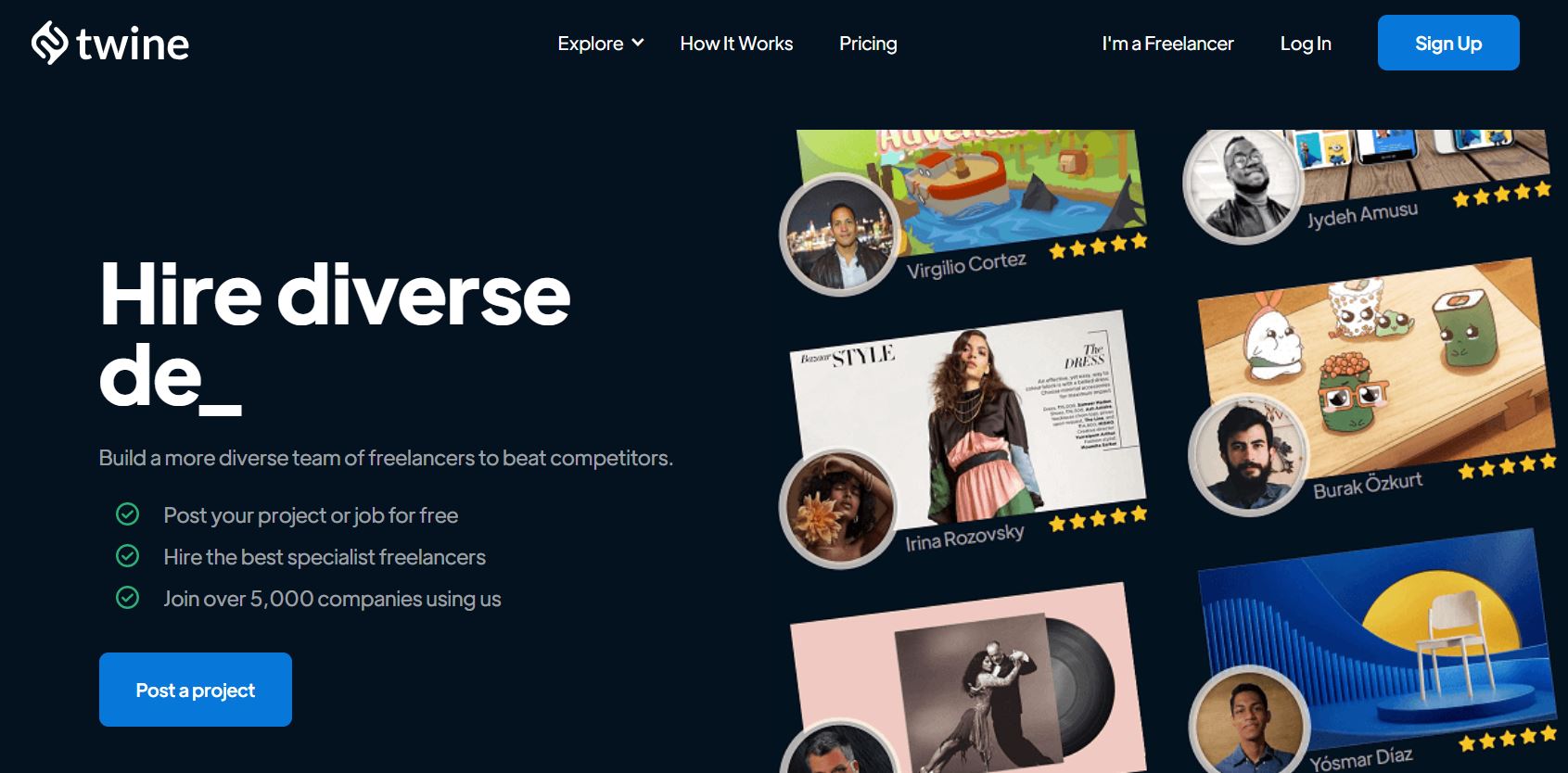 ‍
No matter what skill or roles you require, this Toptal alternative offers a global network of over 450,000 freelancers are there to guide you. Twine's freelancers can build large audio and video datasets to help reduce machine learning bias. You can use its escrow service to safely pay for a job, knowing that you will either get the desired result or your money back. Twine's diverse global talent can help diversifyyour team. It upload its freelancers' portfolios to make it easier to discover the perfect person for your task.
Pricing:
Its basic membership starts at $8 per user per month.
Vetting process:
There is no vetting process to filter out the candidates.
‍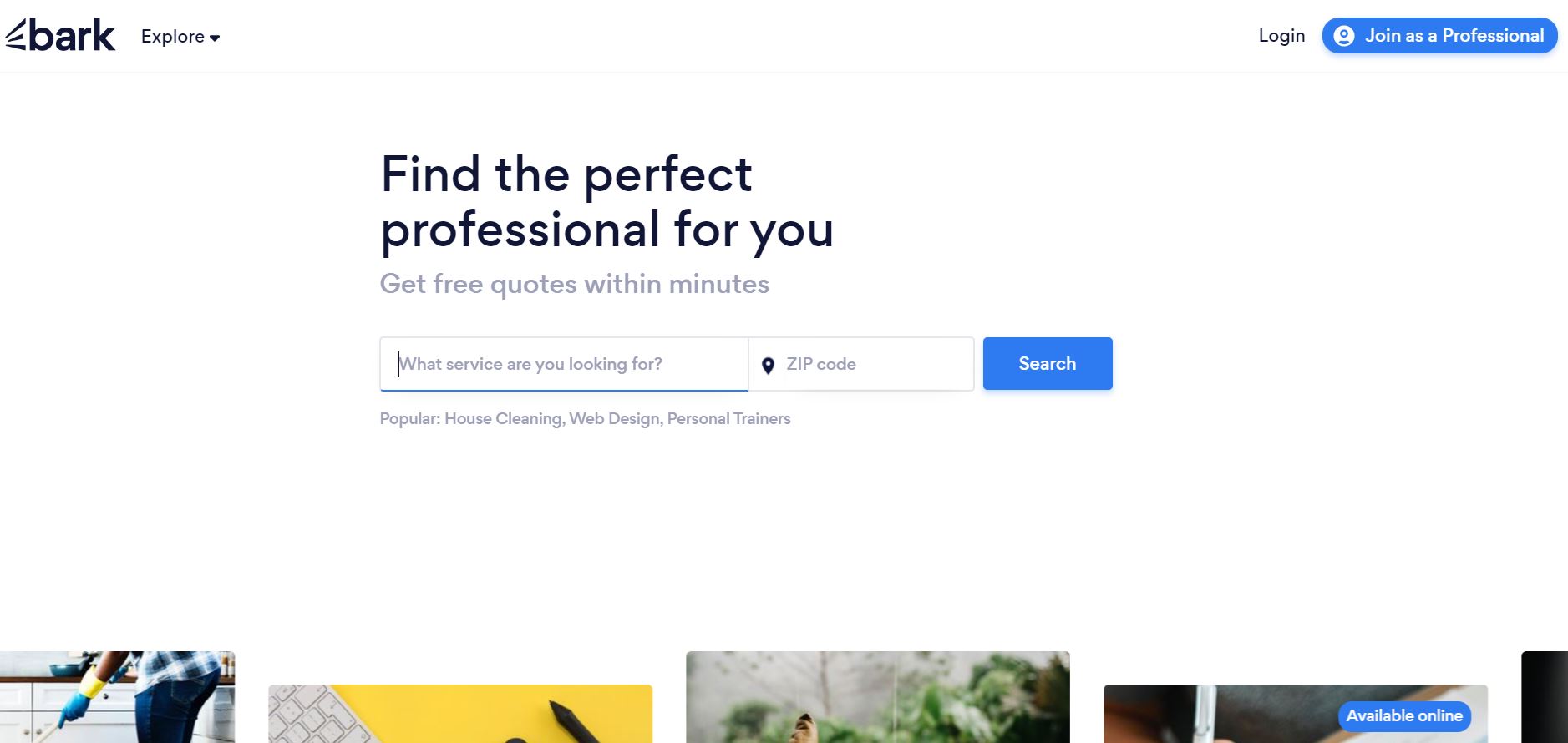 ‍
Bark is marketing services focused Toptal alternative. Whatever the marketing related service you're looking for, Bark will help you find a professional for the job. They make sure to search thousands of professionals to find the most suitable fit. You can checkout their profiles, reviews and websites to help make a decision. With a Bark pro, you get an online profile to boost your web presence and an award-winning customer success team to promote your business.
Pricing:
The prices are calculated based on the service and value of the job.
Vetting process:
These professionals aren't vetted but there's a review system to help customers determine who to hire.
‍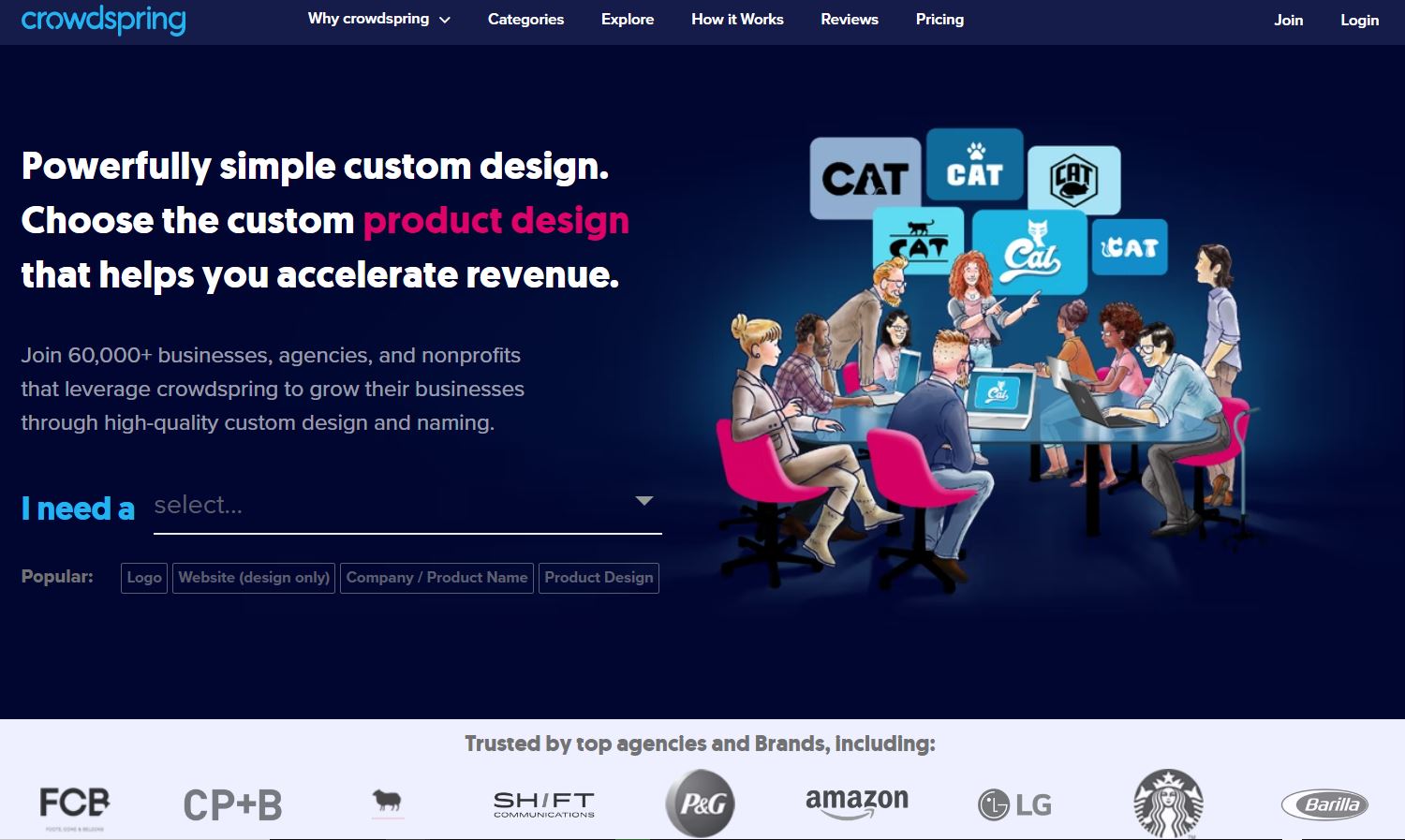 ‍
Crowdspring is another design focused Toptal alternative offering freelance designers competent in website design, landing page, banner ad design and more for a tier-based pricing. It is home to over 220,000 designers and you're provided with 24/7 customer support and free design consultations to simplify things. Once you post your requirements, multiple designers will submit concepts for you to choose from.
Pricing:
There are several plans ranging from $299 -$1999.
Vetting process:
Unlike Toptal, it has no vetting process to filter out candidates.
‍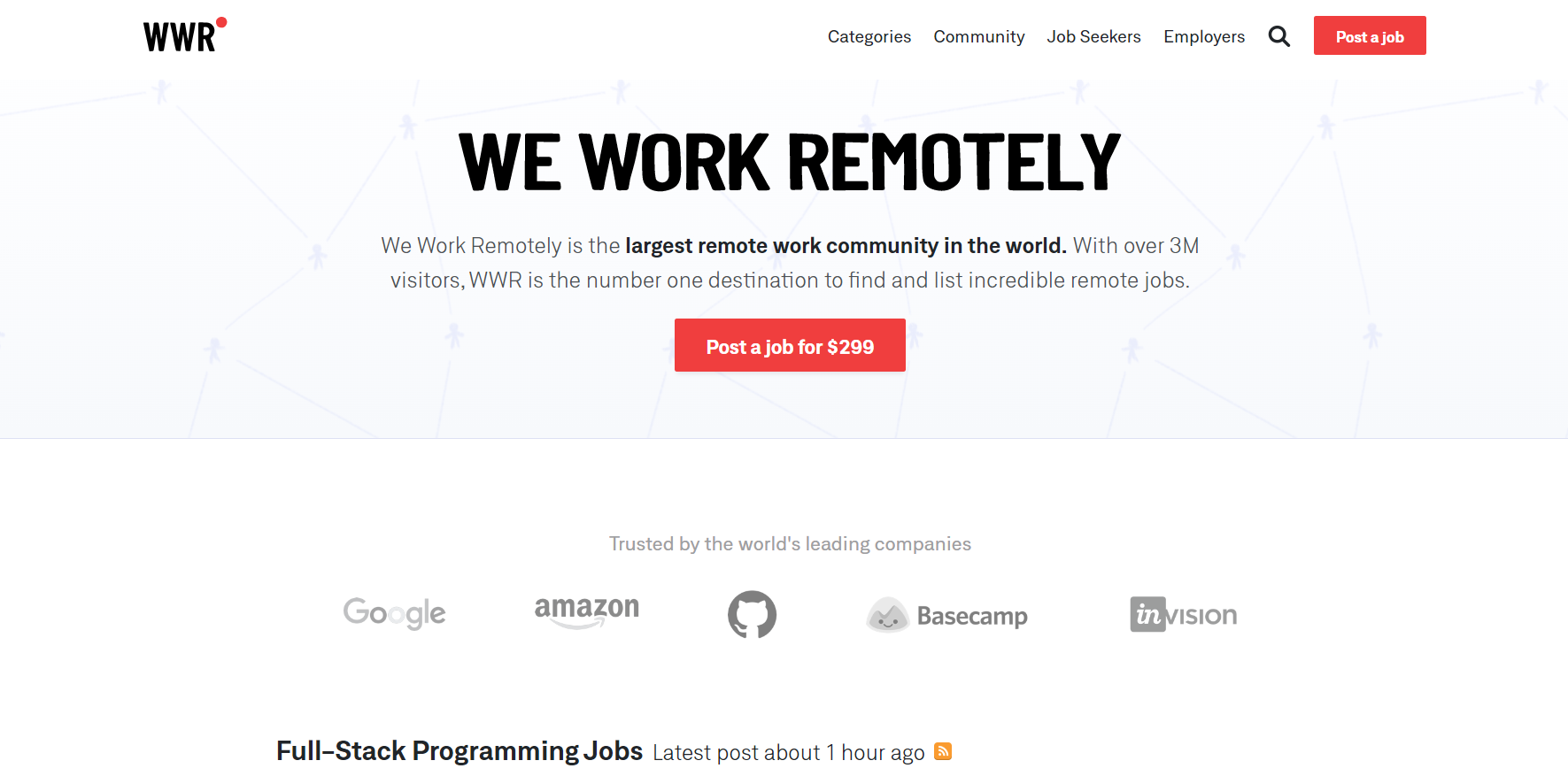 ‍
WWR is one of the largest Toptal alternative hiring sites in the market. It has one of the biggest remote communities in the world and they make sure to fill 90% of the positions held. You can receive manually prioritised batches of applicants so you don't have to waste your time sorting through hundreds of applicants. Simply post your job on WWR and it'll also be featured on Google Jobs Network, SitePoint, Unicorn Hunt and over 20 independent niche job sites.
Pricing:
The base pricing for a job listing on WWR is $299/month but you may upgrade to various plans depending on the visibility of your listing.
Vetting process:
WWR doesn't offer vetted talent as it's an open platform where anyone can post a job.